Have you ever had an indoor snowball fight? If not, you don't know what you are missing out on! Marshmallows, games, fun snowballs, and a great time with is had by all! They are the perfect way to have fun indoors without getting too cold. It's also a great way to add fun into your routine if you live in an area, unlike me, that doesn't get much real snow each year.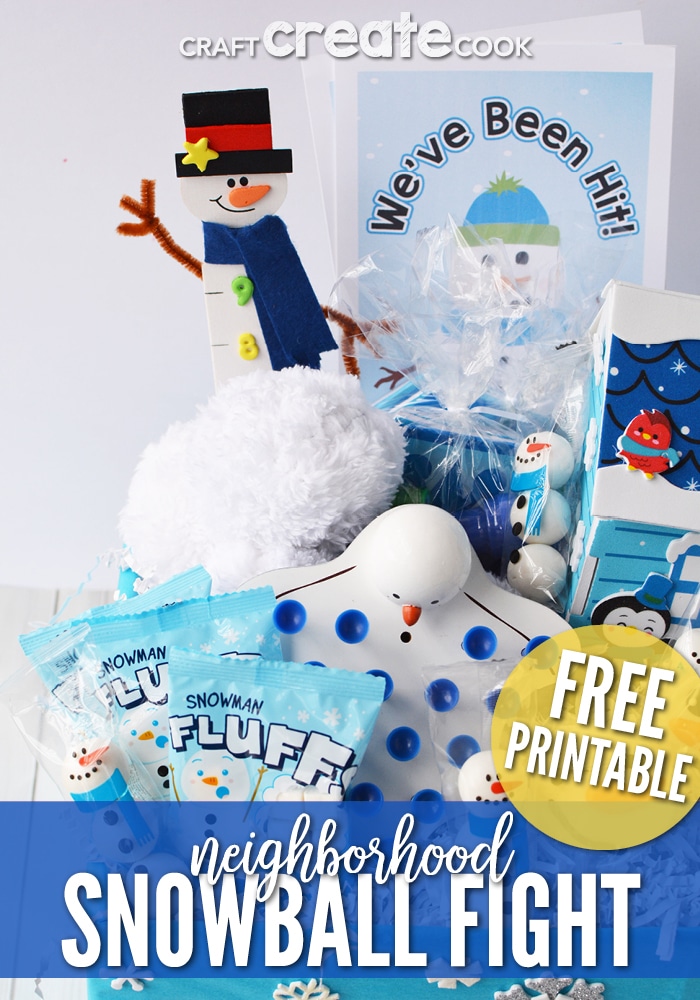 Indoor Snowball Fight
This idea is perfect for either inviting others over for a party, or to "hit" a neighbor with a snowball party. I made this little basket to share with my neighbors who were feeling a bit too cooped up. It was fun to add to their porch and get the note later saying they had a blast playing in the "snow" indoors.
I used Oriental Trading for grabbing the supplies for my party. You can pick up most of these items at any local store, on Amazon, or even your local craft stores. Make sure when shopping for supplies that you grab what you need to decorate your porch with these great snowman porch decorations. If you are throwing a snow party, you need a full snow theme! For even more fun, invite your kid's friends moms over and have a crocheting party while the kids play. You can make this cute crochet snowball motif in no time.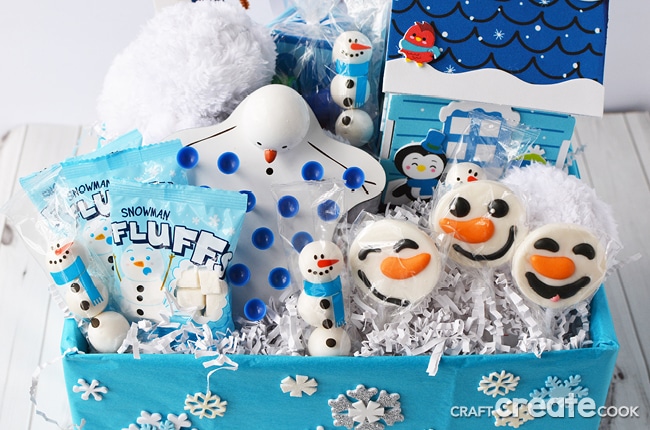 How to Make an Indoor Neighborhood Snowball Fight Kit
I tried to include a little bit of everything, tasty treats, gum, crafts, and activities to get the family together for some fun. You may not be able to find exact matches for what I used, but you are likely to find similar items that are perfect for your party. I add this cotton thread snowman to my tables as a fun decoration, and you can make some of these snowman candles to add around the room.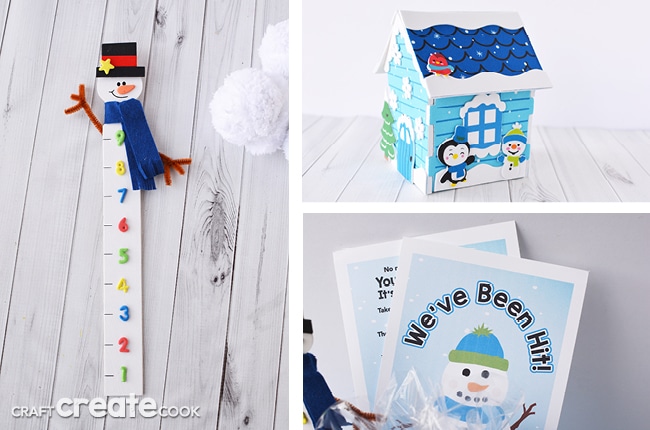 Supplies Needed
Basket, Box or Gift Bag for your Goodies
Fake snowballs (these can be large pom poms or plastic ones you find in the store)
Snowman shaped candy, chocolate, suckers, or other snacks
Notepads, pens, markers, and stamps in white and blue or with snowman themes
Winter themed activity book
Snowman themed game (I found the simple peg game at Oriental Trading)
Snowflake stickers
Plastic Shopping Bags
White Bag Stuffing
Tissue Paper
Foam Snowflake Stickers
Snowball Fight Instruction Printable (printed and cut in half)
Craft idea like these stuffed sock snowmen
Supplies to make this 3-ingredient fake snow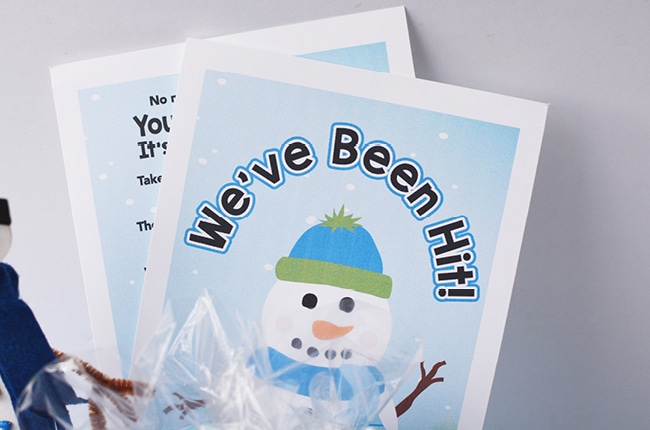 Make sure to serve up yummy treats at your snowball party or fight. My yummy snowman Twinkie treats and snowman sugar cookies are wonderful and kids love them. Of course, alongside these white chocolate peanut butter snowmen, you need to have some of this slow cooker white hot chocolate on hand to warm everyone up.
How to Make an Indoor Snowball Fight Kit
I used an old shoebox and wrapped it with tissue paper. Then the kids added some fun snowflake foam stickers to the front.
Use balled up plastic bags to fill your box or basket if it's too deep.
Sprinkle some paper bag stuffing onto the top of the plastic bags.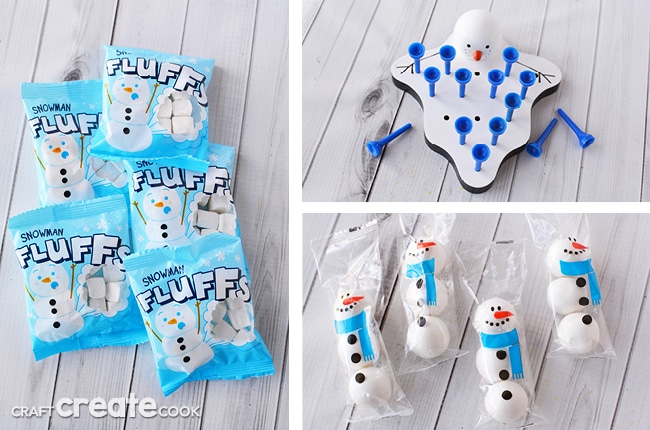 Place the taller items in the back of the box and the smaller ones near the front.
Sneak it onto your neighbor's front porch and leave this fun activity at their front door.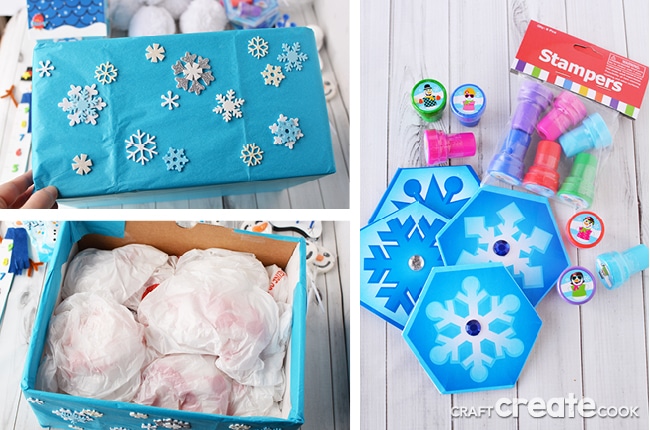 More Winter Snowmen Activities
Now, what do you do if YOU get one of these awesome indoor snowball fight kits at your door? You find fun candy, food, and activities to stuff into a bag or box. You download and print a copy of the instructions and you leave it at another friend, neighbor or co-worker's door! Oh and don't forget to hang your "We've Been Hit" sign so you don't get hit twice!
If this isn't enough winter fun for you, check out how to make a snowman sensory jar, mason jar lid snowman ornaments, a cute snowman out of a bottle, or these pasta snowflake ornaments.
Yield: 1
Fun Winter Party Idea for an Indoor Snowball Fight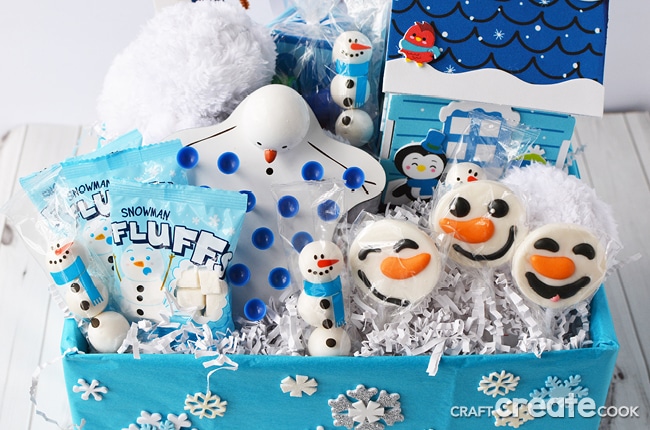 Make this great indoor snowball fight kit to throw your own fun winter party. Use this for yourself or gift it to a neighbor to encourage fun this winter!
Materials
Basket, Box or Gift Bag for your Goodies
Fake snowballs (these can be large pom poms or plastic ones you find in the store)
Snowman shaped candy, chocolate, suckers, or other snacks
Notepads, pens, markers, and stamps in white and blue or with snowman themes
Winter themed activity book
Snowman themed game (I found the simple peg game at Oriental Trading)
Snowflake stickers
Plastic Shopping Bags
White Bag Stuffing
Tissue Paper
Foam Snowflake Stickers
Snowball Fight Instruction Printable (printed and cut in half)
Craft idea like these stuffed sock snowmen
Supplies to make this 3-ingredient fake snow
Instructions
Choose a box and wrap it with blue or white tissue paper;
Add snowflake or snowman stickers to the box;
Next, you will ball up plastic bags to fill the box if it is deep, so you can set your toys and activities on top;
Sprinkle some paper bag stuffing on the top of the plastic bags, or top them with tissue paper;
Place the taller items in the back with shorter items upfront, be careful not to squish any candy or snacks;
Deliver to your neighbors