This easy salt dough air freshener with essential oils works very well in your own home and makes a great gift for teachers, friends and neighbors.

My husband would call my sense of smell "super nose" and although there's no scientific research on my ability to smell, I might agree with him. So when things smell funky, I notice them and he does not. Well, my car smells funky too often. It's probably because I take our dog with us in the morning for drop off at school and day care and when I pick up at the end of the day. Then you add two kids, who eat, drink, spill things, drop food, are sweaty from their day, and me to the mix, and funk happens.
My method is to clean out the funk in my car is to roll down the windows. Usually a physical clean out of my vehicle reveals a half drank milk smoothie that's pungent and melted chocolate fused in the seat fibers. But the air cleaning method isn't always possible when the weather is cold. So, I recently tried an experiment.
I love making cinnamon ornaments during Christmas time because I love the way they smell, but but they can be pretty strong. Instead, I made salt dough "ornaments" and added some color and essential oils to them to turn them into amazing air fresheners.
The best part of these air fresheners is that I can revive them by adding more oils to them, or even different oils when the smell begins to dissipate. This recipe makes a lot of air fresheners, so it lead me to do several things: hang them in various places around the house including the mudroom closet (stinky shoes), the closet that houses the vacuum, the kids bathroom, the bottom of each of my trash cans and each vehicle we own. You can also hang them from your floor vents, so when the heating and cooling system blows air through your house, it also blows the scent into your rooms!
Since I still had some of these amazing air fresheners left over, I made a few gift packages for friends! Grab some candy bags, twine, raffia and a bottle of essential oil! Thread the twine through three of the leaves, and leave the end untied. Place into the gift bag and secure with raffia. Add your favorite oil and also secure with raffia! Tie on one of our gift tags (link to download below) and you've got a gift ready to go!
What scents will you use on your air fresheners? And where will you hang them?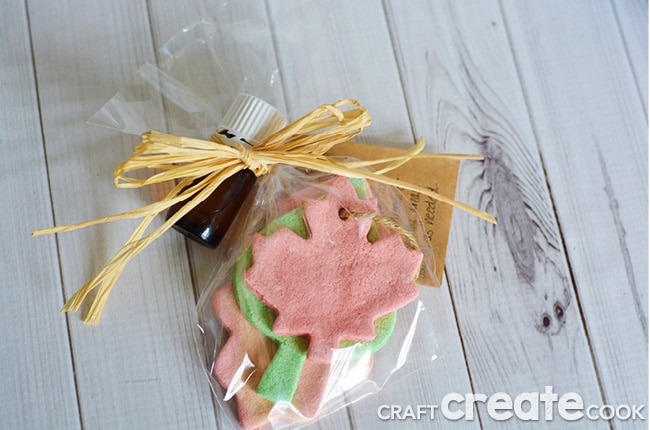 Natural Essential Oil Air Freshener Recipe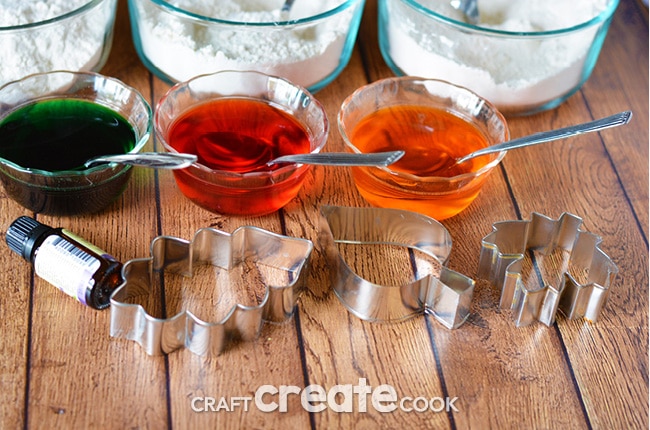 This easy salt dough air freshener with essential oils works very well in your own home and makes a great gift for teachers, friends and neighbors.
Ingredients
3 cups flour, divided
1-½ cups salt, divided
1-½ cups water, divided
Food Coloring
Minwax Polycrylic Sealer
Plastic Straw
Foam Brush
Twine
Essential Oils
Instructions
In a small bowl, mix 1 cup flour and ½ cup salt.
In a separate bowl, add ½ cup water and color with food coloring. Mix well.
Add water to flour mixture and stir well until dough forms.
Repeat until you have three colors of dough.
To Make Solid Color Dough
Roll dough onto a floured surface if sticky about ¼" thickness and use cookie cutters to cut leaf shapes.
Place onto a baking sheet and cut a hole into each leaf using a plastic straw.
To Create Multi-Colored Dough
Separate small pieces of dough and place randomly onto your work space.
Press together with your hands and roll dough with a rolling pin about ¼" thick.
Use cookie cutters to cut out shapes and place onto a cookie sheet.
Use a plastic straw to cut a hole into each leaf.
To Dry
Place leaves into a 200 degree oven for 1-3 hours until dry. You can rotate baking sheets every 30 minutes.
Or you can let set on baking sheets to dry. Flip every day to ensure even drying. This process can take 7-14 days.
Seal and Scent
Once completely dry, Add a coat of Minwax Polycrylic Sealer to the front with a foam brush. Allow to dry completely.
Add 1-3 drops of essential oil to the back of each leaf to add scent.

You will also want to try our Rustic Pumpkin Twig Craft and our Homemade Wall Organizer!
Save
Save
Save