If you are looking for something fast, easy, and beautiful, I have to say that dollar store supplies are my go-to choice. This easy dollar store DIY fall centerpiece is a perfect example of a beautiful decoration that is super affordable. Needing something easy to make that is also pretty – I love reaching for items like this to add to my table.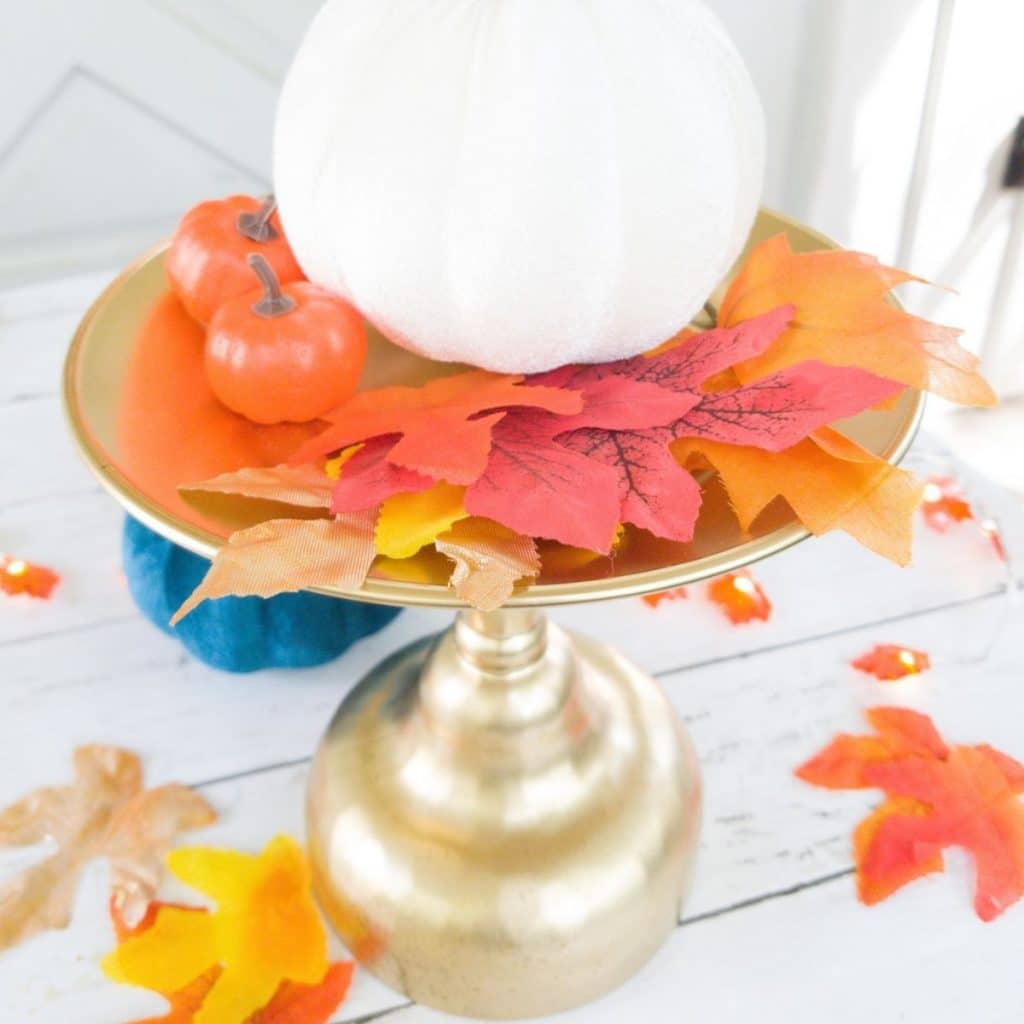 DIY Fall Centerpiece Using Dollar Store Supplies
If you are like me, then as the holiday season approaches you have grand plans of decorating and doing all sorts of things, but then your budget and time are suddenly gone. When that is the case, I turn to things like this fun little easy centerpiece. Not only is it easy to make, but it's beautiful! Plus, using dollar store supplies means it fits into my already limited budget.
I love sharing unique ideas with you that fit into that busy lifestyle, and this is one I am super proud of making. One thing to remember when making this is that the glue you use and the spray paint will need to sit for some time to dry. In that case, you'll want to make it ahead of when it is needed by at least one day.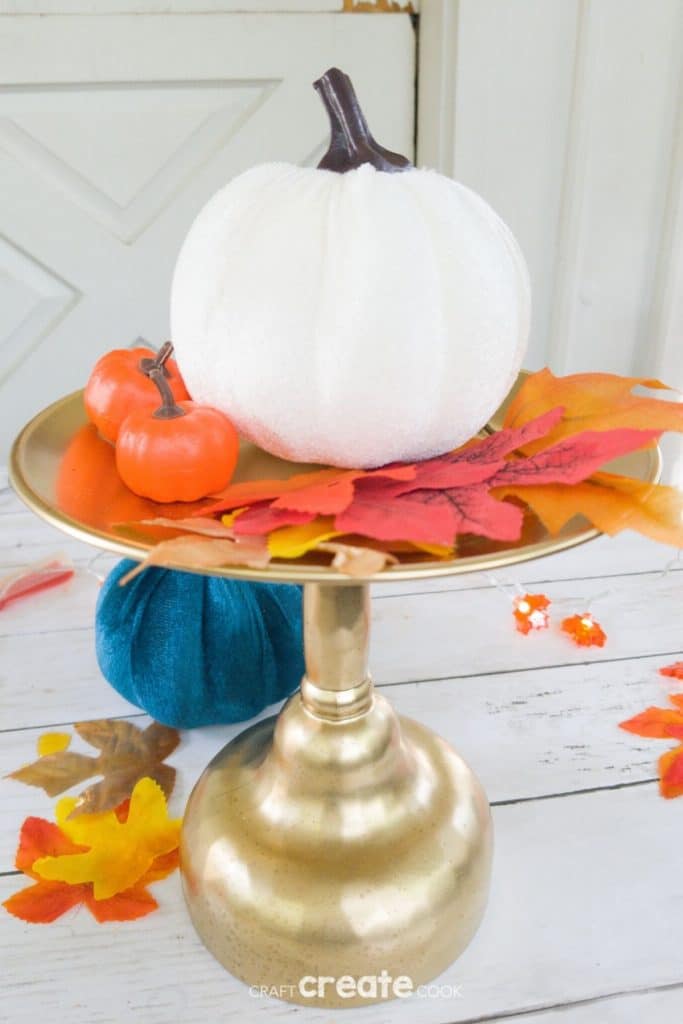 What Ways Can I Customize This Centerpiece?
I love that the stand itself is pretty but also somewhat plain. That makes it easy to use for different things any time of year. However, you may want to jazz it up a bit and make it a little different. If that's more your style, below are some ideas that I think would look great with this fall centerpiece.
Spray with different colors for different styles or seasons.
Use tissue paper or a sponge on the damp paint to add texture to the base.
Glue on ribbon or lace for a different look.
Glue beads or rhinestones around the plate edge.
Spray the entire stand with glitter spray.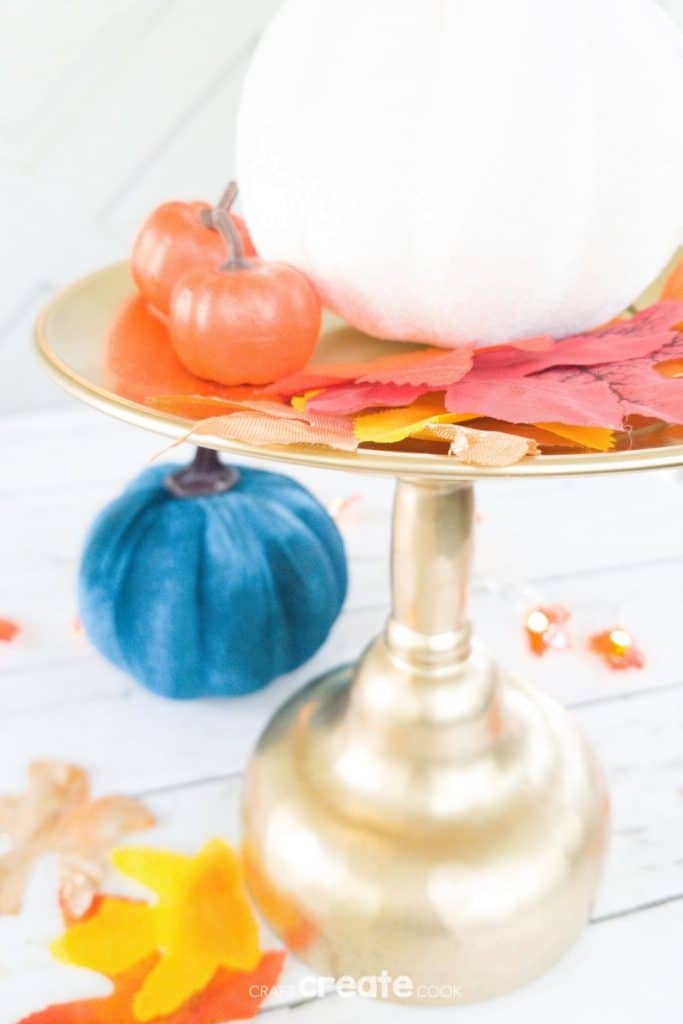 Can I Use This For Other Seasons & Holidays?
I made this very simple so it was versatile for different holidays. Gold works well at Halloween, Thanksgiving, Christmas, New Year's, Valentine's Day, and even Easter. So, if you want to leave this gold and just add different items for the holiday you are celebrating, it's a perfect solution to your decor!
Supplies Needed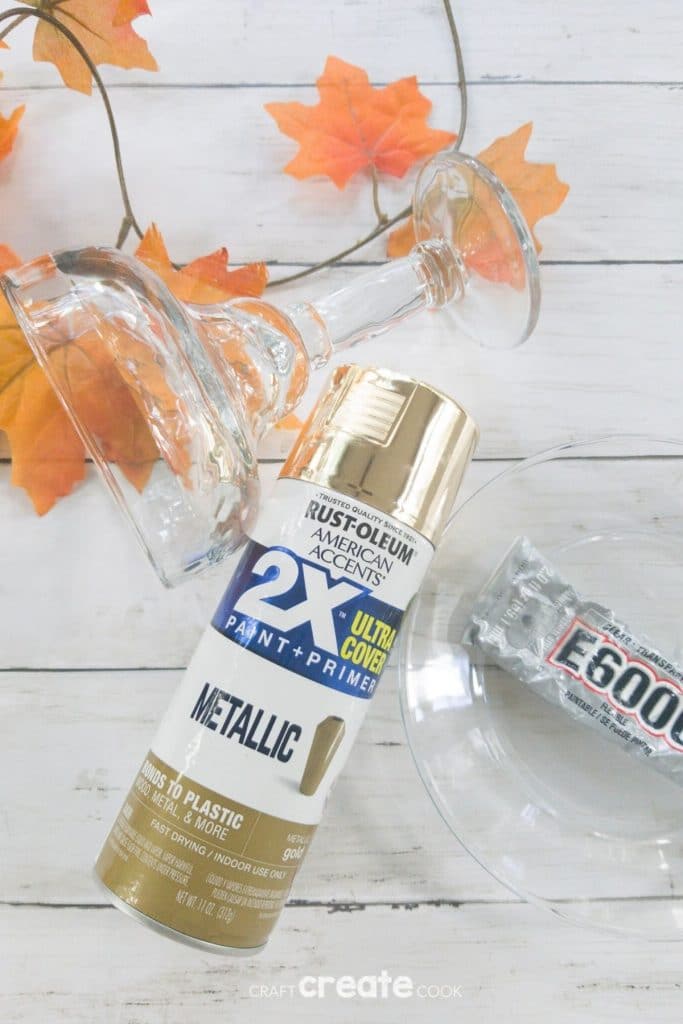 How to Make a DIY Fall Centerpiece
Turn the margarita glass face down. Then place a generous amount of the E6000 glue to the bottom of the glass around the edges especially. Spread it evenly in a thick layer.
Press the plate to the glue and hold it in place until it is secure and set making sure it is centered.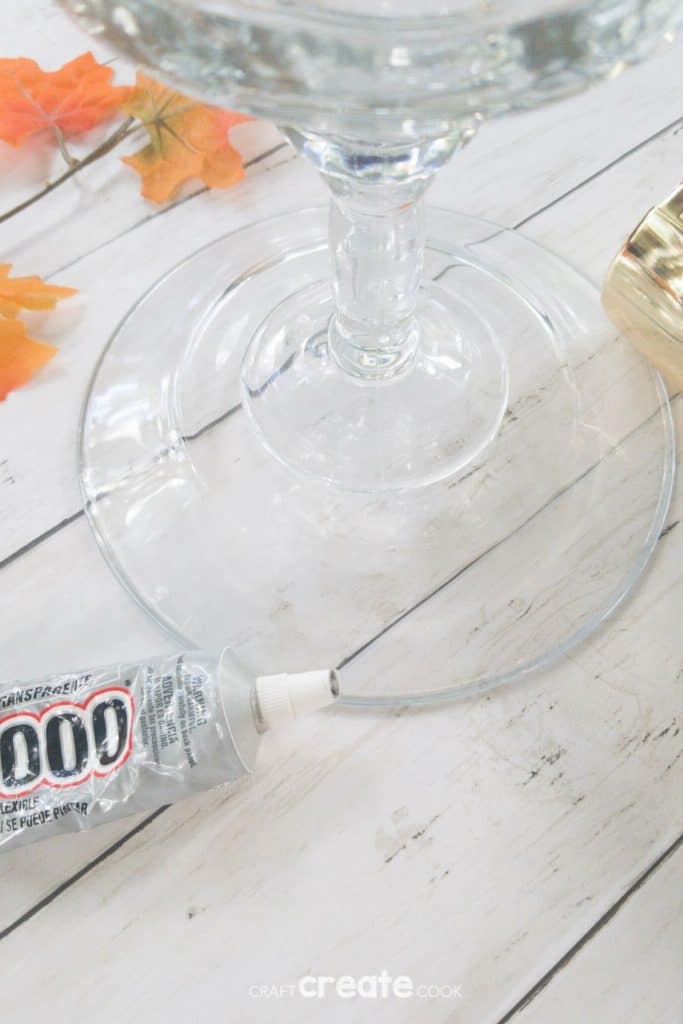 Set this aside and let it dry for at least 3 hours.
Once dry and set, apply gold spray paint all over the centerpiece.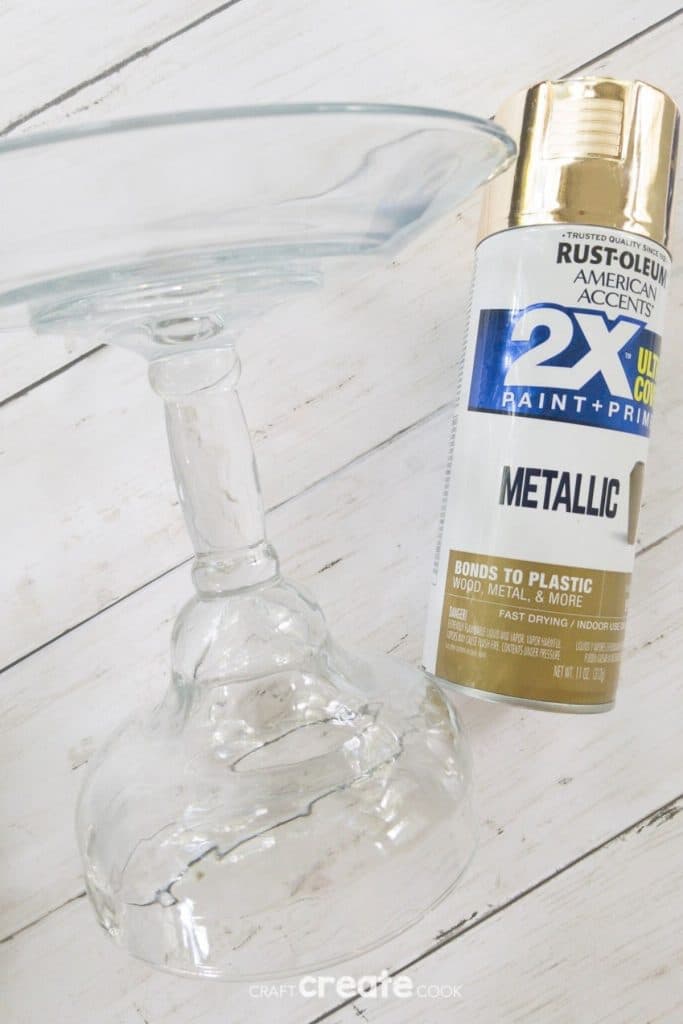 This usually will require 2 coats of paint. Let the paint dry well between applications to prevent drips or smudges.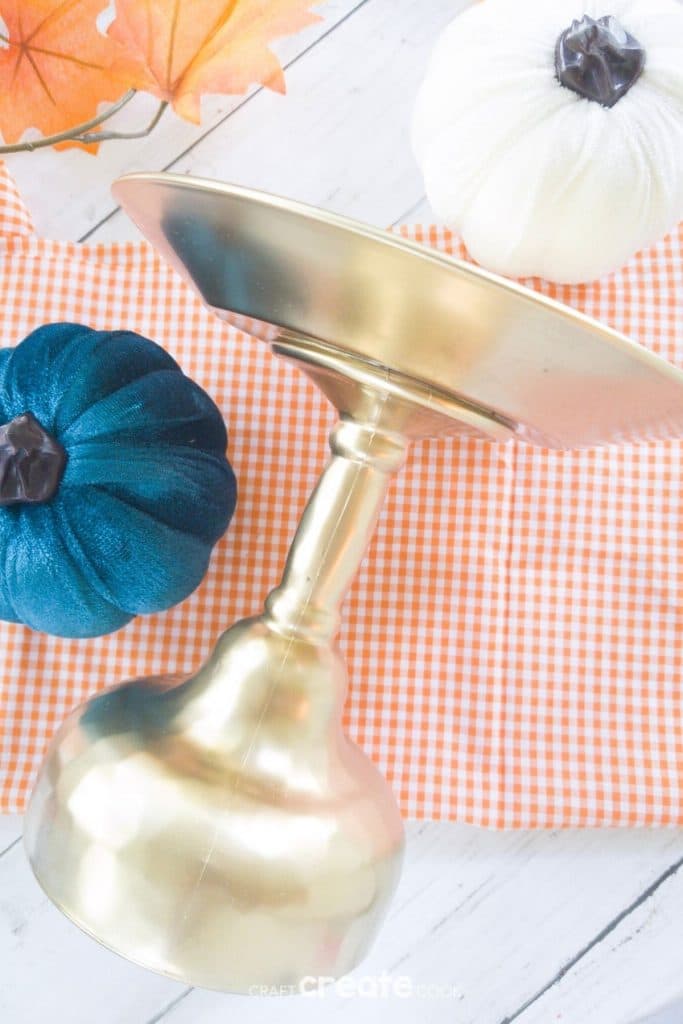 Let the centerpiece dry completely then add fall leaves, pumpkins, and fall picks to decorate.
Place on the center of your dining table or on an end table for Thanksgiving!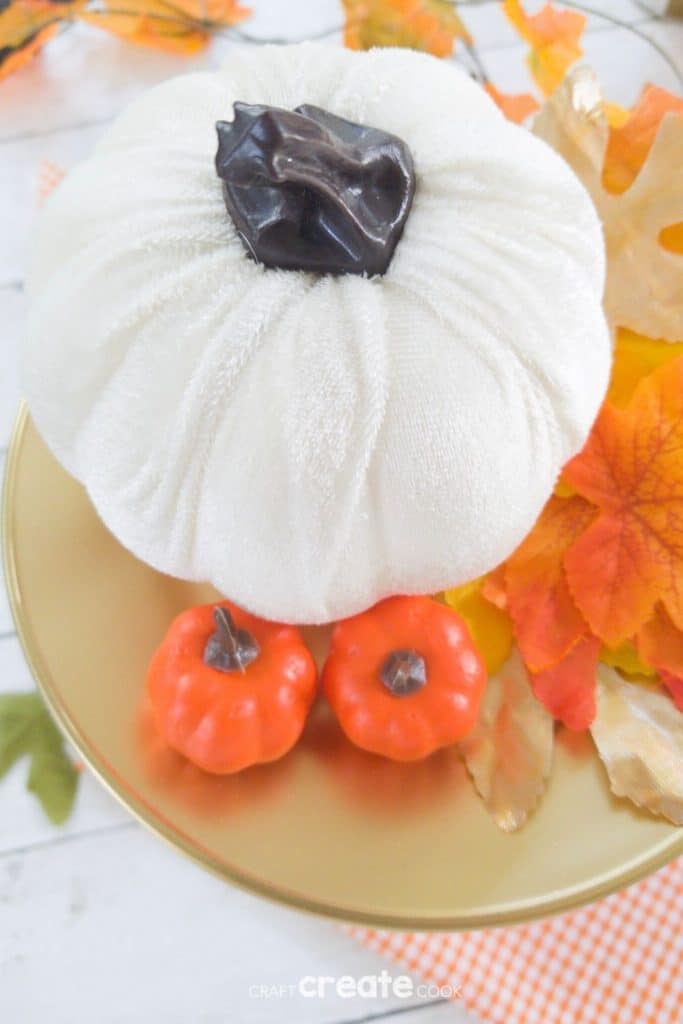 More Fall Decorating Ideas
If you want more beautiful ideas to add to your table, we have some great ideas that would work for your home. Whether you are looking for fall or simply basic rustic looks, below are some of my favorite crafts we've shared.
Yield: 1
Easy Dollar Store DIY Fall Centerpiece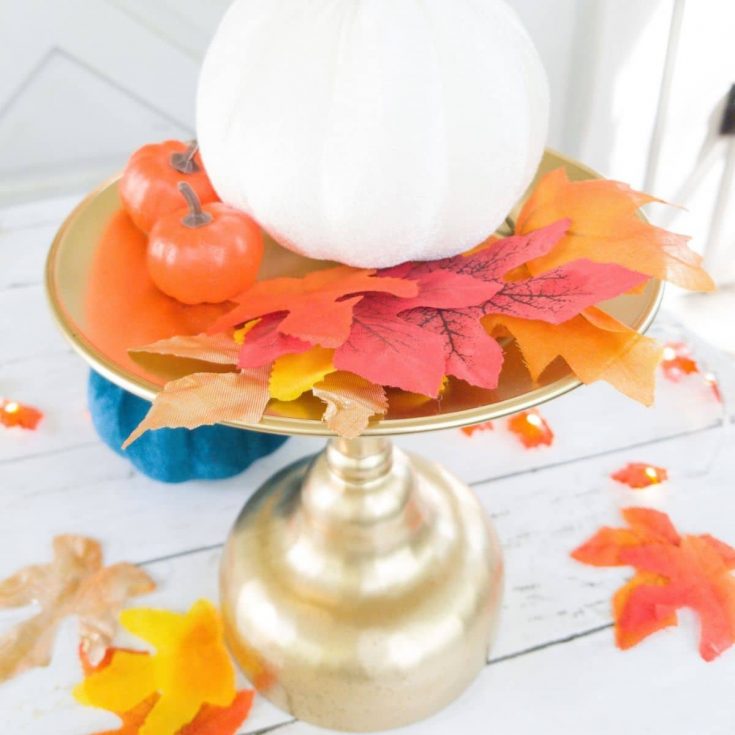 Head to your local dollar store for simple supplies to make this beautiful DIY fall centerpiece that is ideal for Thanksgiving!
Total Time
3 hours
20 minutes
Instructions
Turn the margarita glass face down. Begin by placing a generous amount of super adhesive to the bottom of the margarita glass. Make sure the glue is spread evenly, but thick.
Press the plate to the glue and hold it in place until it is secure. Make sure it is as centered as possible.
Allow adhesive to dry for several hours.
Apply two coats of gold spray paint to the centerpiece. Allow coats to dry well in between applications.
Once your centerpiece is dry, you can use the plate to display your fall findings such as pumpkins and leaves
Notes
You can paint your glass and plate any color you prefer to add to your decor.
Purchase your glass, plate, and pumpkins at the Dollar Tree to keep this budget-friendly.
Recommended Products
As an Amazon Associate and member of other affiliate programs, I earn from qualifying purchases.