Make a cozy home for the fairies that come to your garden when you make this upcycled cardboard roll fairy house. The best part about this craft is you can make it using common items found around the house. When done, this fairy house can be displayed in your indoor fairy gardens where it will fit right in with your other fairy garden decor.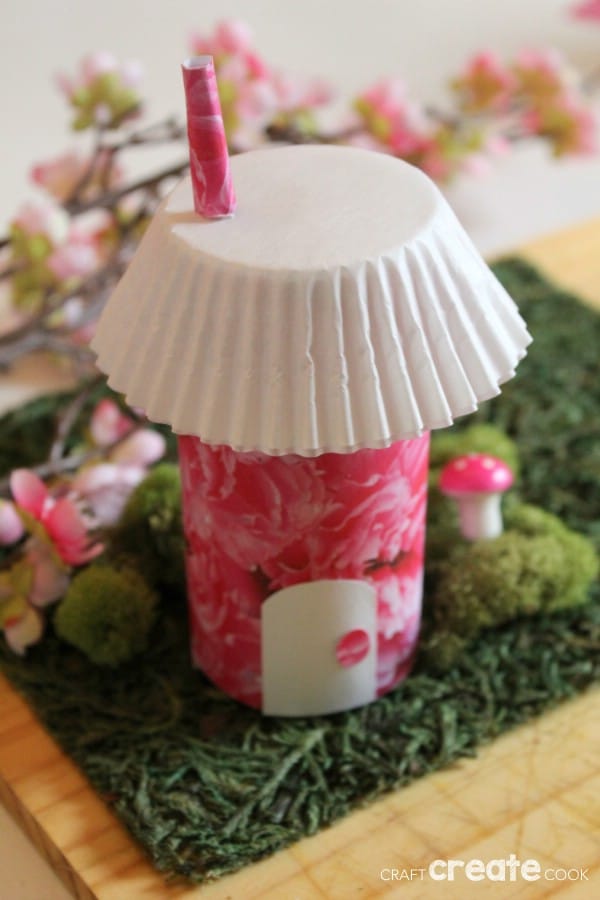 Upcycled Cardboard Roll Fairy House
Not only is this a simple and fun craft, but it's a great way to reuse leftover cardboard rolls that otherwise end up in the trash or recycling. It's super easy to find all of these supplies already in your craft closet. That means you can get your kids started making this in just a few minutes!
Can I Use Paper Towel Rolls Instead of a Toilet Paper Roll?
You can definitely use any cardboard roll. Toilet paper rolls are just the right size, but you can make a taller one with paper towel rolls. You can also easily cut a longer roll into small pieces to create different sized fairy homes.
If you don't have a paper towel or toilet paper cardboard roll on hand, you can make your own! Just roll cardstock into a cylinder and secure with glue or staples! Super easy and something anyone can make no matter what supplies they have!
Give the fairies a space to call their own when you make this simple cardboard roll fairy house. It is a great way to get into the spirit of spring and use up household scraps to create something fun!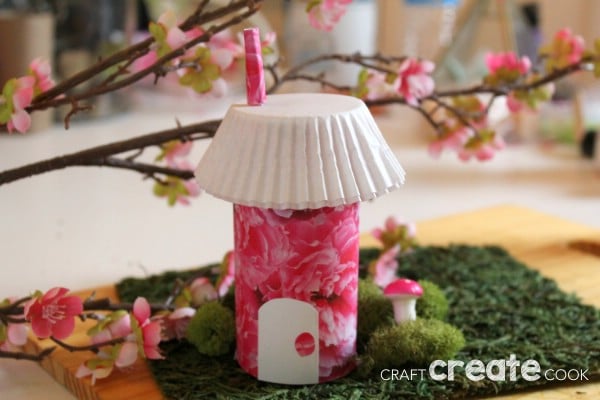 Variations to Customize a Fairy House
This is such a sweet and simple little style, but that doesn't mean you can't turn it into any fun look you prefer! There are tons of ways to add sparkle and style to a fairy house.
Use different patterns of paper and liners
Add glitter to the edges of the "roof"
Glue sequins around the door or along the roof
Use pipe cleaners for the chimney
Add windows with paper or by cutting holes out of the cardboard and leaving paper flaps like shutters
Glue beads around the base of your fairy home
Add a walkway to the fairy garden using beads, small pebbles or seashells
You can add moss, stones, mushrooms, and other embellishments outside of the house. If you have different colors and patterns of paper, you could easily make your own little fairy village!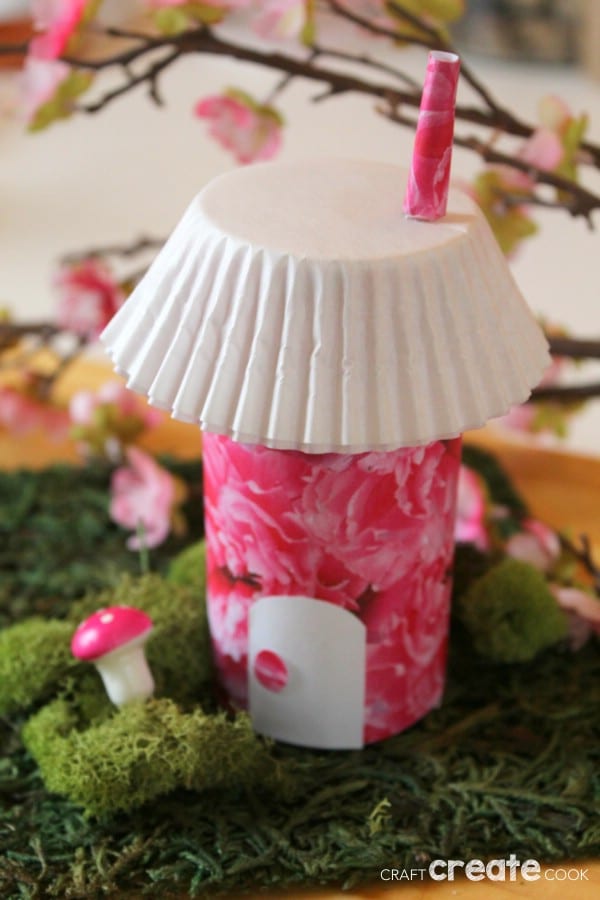 Supplies Needed
– cardboard roll
– scrapbook paper of any kind including construction paper, scrapbook paper, or wrapping paper
– craft glue
– scissors
– paper cupcake liners
A note about supplies: Feel free to get creative with your paper choices. We had scrapbook paper on hand so that is what we chose to cover our fairy house with. Don't worry if you don't have scrapbook paper as you can use any kind of paper you have on hand. Kids might even enjoy coloring their own designs on white paper and using that.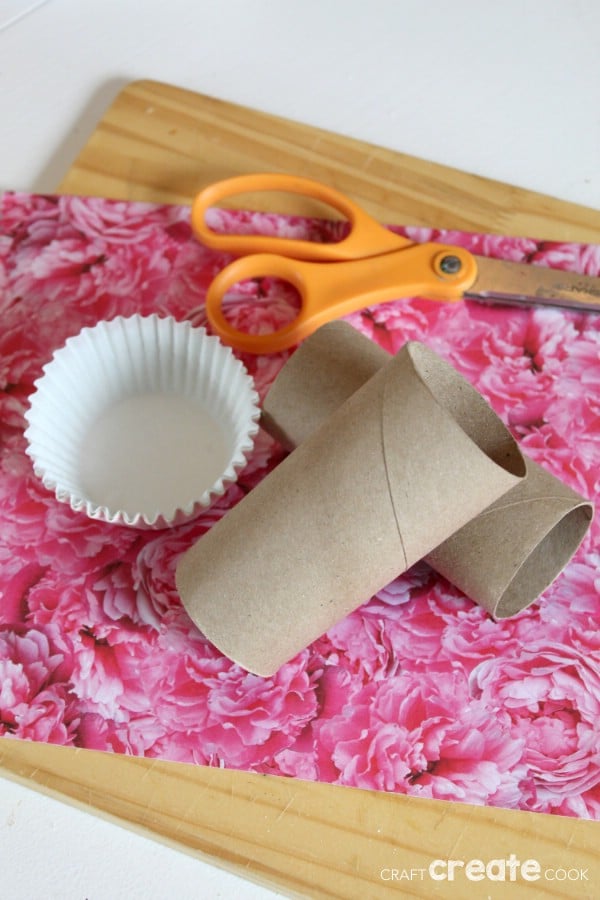 How to Make an Upcycled Cardboard Roll Fairy House
1. Take your cardboard tube and roll it in your paper of choice so that the entire tube is covered. There should not be any brown cardboard showing.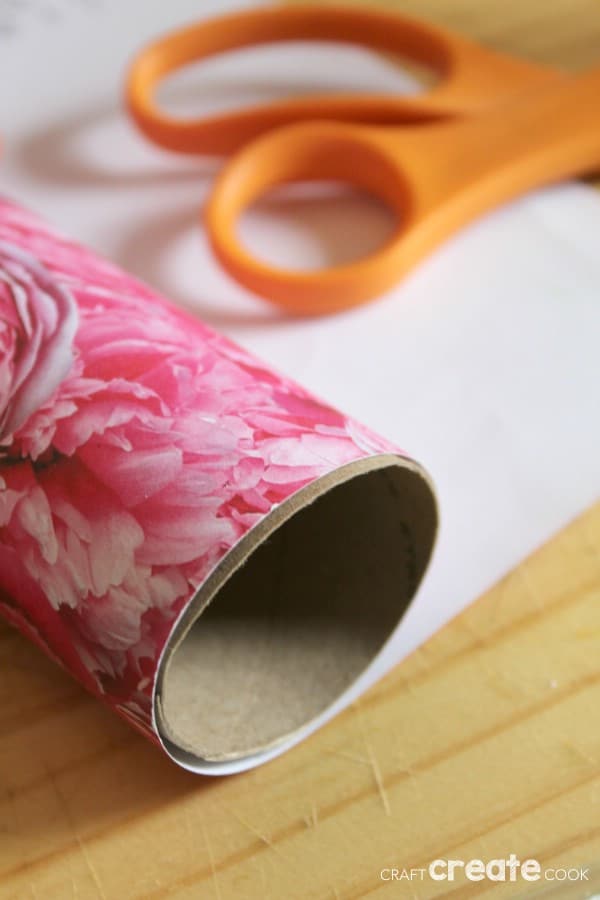 2. Chances are your paper will be much bigger than the tube, so once you know how much paper you need you can trim away any extra. Save leftover paper scraps for later.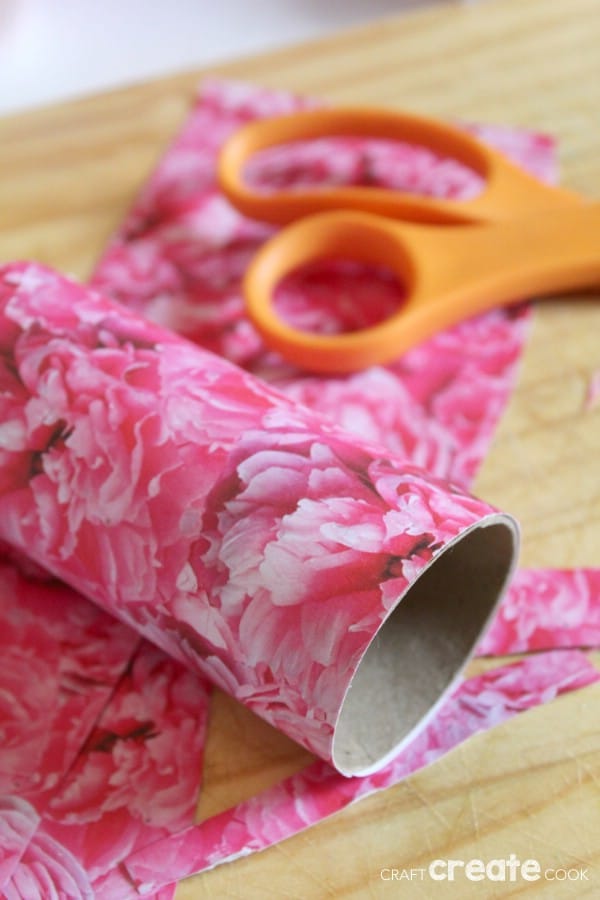 3. Now that your paper has been cut to fit nicely, you can take your craft glue and secure the paper to the tube. Make sure you use a generous amount of glue so the paper is secure. Don't toss the leftover paper just yet, you are going to need it again.
4. Using your paper scraps, cut out simple details for your fairy house. For ours, we cut out a simple door and added a handle to it. You can do the same and add doors, windows, or other details you wish for the fairy house to have. Glue the embellishments in place.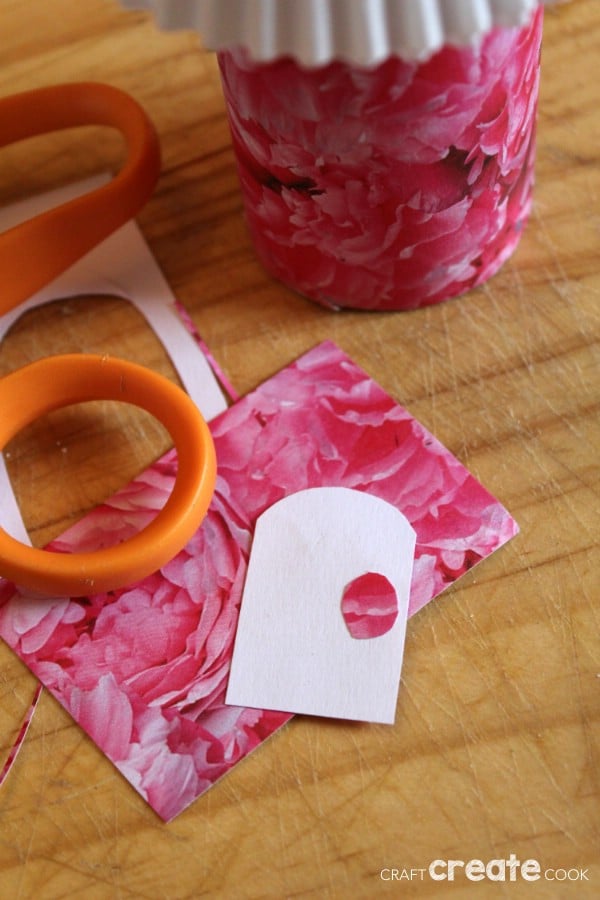 5. Your fairy house needs a roof. Use a paper cupcake liner to create one. We actually stacked two cups together so they would look ruffled. Then, we added a line of glue around the top of the cardboard tube and pressed the cupcake cup to it.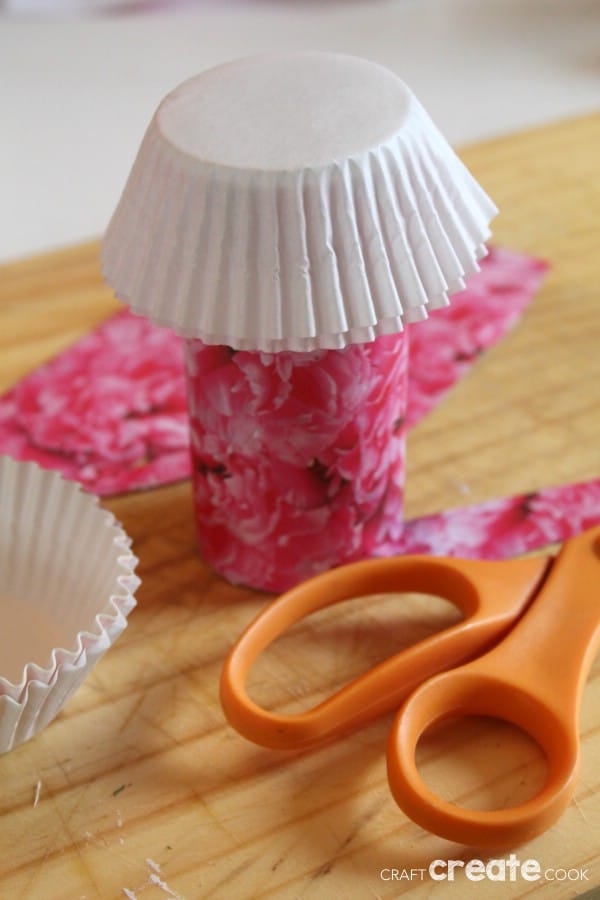 6. The last addition your fairy house needs is a chimney. We made one using some scrap paper that we rolled up into a tiny straw. Roll the paper and secure it with glue. You can then attach it to the top of the roof.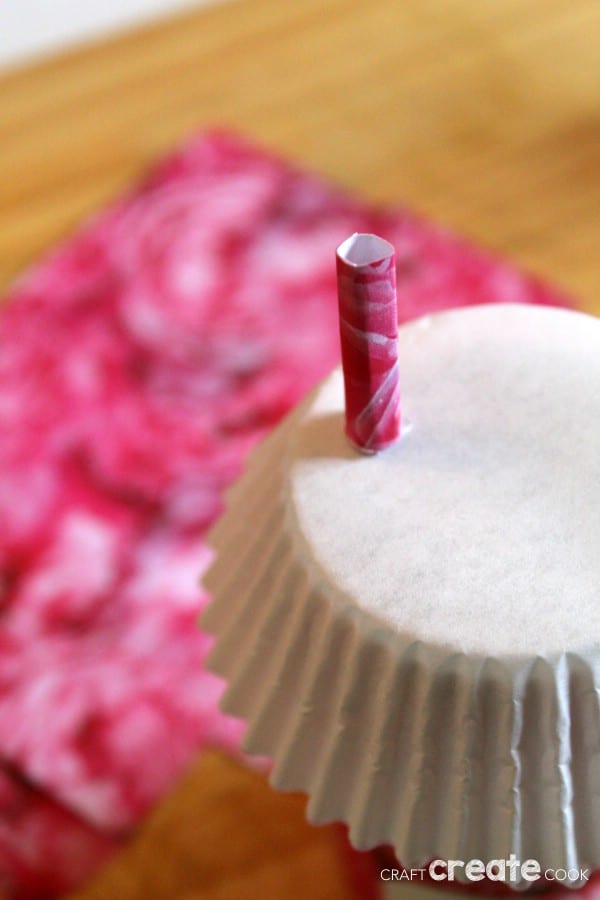 Once all of your pieces are in place and dry, your fairy house can be displayed!
NOTE: Since it is made from cardboard and paper it should only be displayed in indoor gardens.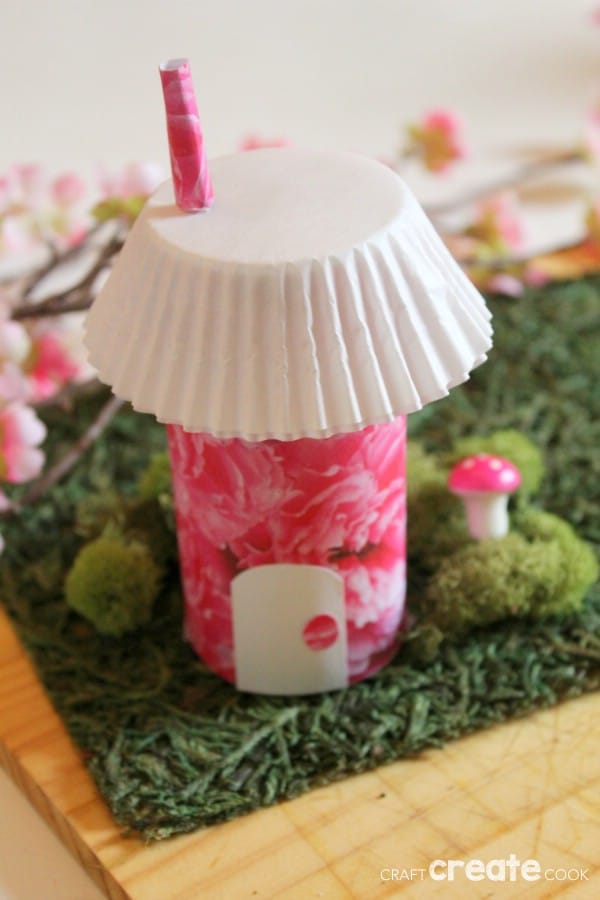 Where Can I Get Fairy Garden Accessories?
This is something asked on a regular basis. Fairy gardens are so much more popular in recent years! I love that you can now find things like mini fairy figurines, houses, mushrooms, and similar everywhere.
My favorite place to find them on a budget is the Dollar Tree! They have a huge variety of fairy houses in-store and online.
I also like to shop on Etsy for fairy house pieces. A lot of people make their own homemade custom ceramic fairy homes, polymer clay fairies, or even blown glass mushrooms and gnomes. These add so much fun to a fairy garden!
My favorites though are the thimble fairy houses. These are stunning! If you can invest, this is the place to find the most beautiful pieces.
More Fairy Garden Ideas
Yield: 1
Upcycled Paper Roll Fairy House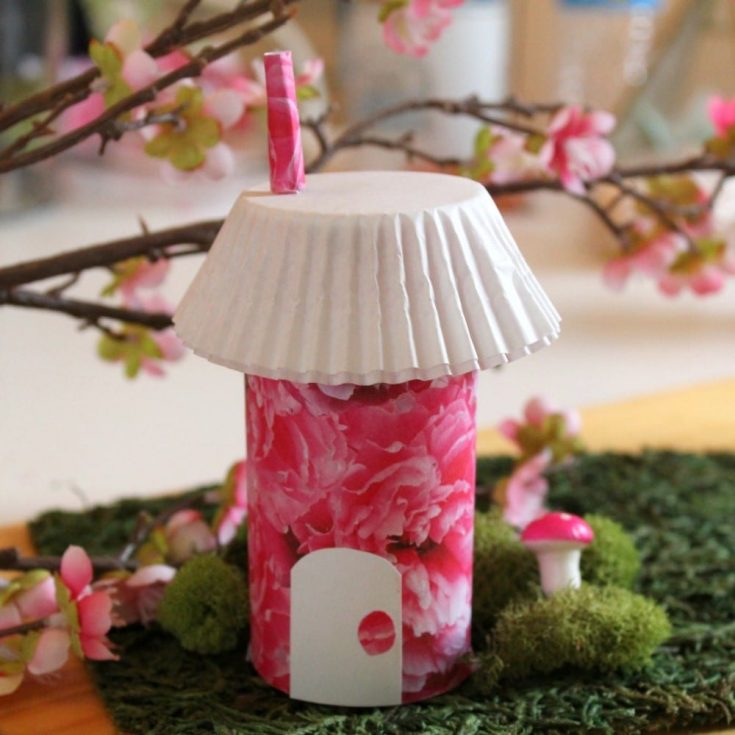 Turn an empty roll into this absolutely precious upcycled paper roll fairy house! Bits of scrapbook paper, a cupcake liner, and your imagination make a cute and fun project for an indoor fairy garden!
Materials
Tools
Instructions
Roll scrapbook paper of your choice around the paper roll so that the entire tube is covered then cut this piece to size;
Glue the strip of scrapbook paper in place with glue every inch or so and sealed well at the seam;
Cut out a small door shape on an opposite color of paper and secure with glue to the front (without seam) side of the fairy house;
Glue a cupcake liner upside down onto the top of the paper roll creating a roof;
Cut a small piece of paper and roll into a chimney and glue in place on top of the cupcake liner;
Add embellishments like glitter, sequins, or beads as desired;
Now you can add your fairy house to an indoor fairy garden.
Notes
Since this is made entirely of paper, this fairy garden house is made just for use inside and should not be left outdoors.