This 3 Ingredient Indoor Snow is all the fun of snow without the cold of going outside.
We got our first snow a couple weeks ago, it didn't stick but there was enough and it was sticky and wet so it made for great snowman building snow. I love driving by houses and seeing all the snowmen that kids have made.
I personally love the snow and building snowmen and snow forts BUT I dislike the cold so much that it makes it hard to enjoy it. My son on the other hand will get on his snow gear and could be out until his little cheeks are rosy.
Last year we tried to build a snow fort together by packing the snow and adding water to make it freeze but it never got as big as we hoped. I've seen people using wooden pallets now to make a base for a igloo and then building the snow over top. Something we might have to consider.
Until we get some snow that sticks, we've been making this 3 ingredient Indoor Snow which is pretty fun and the kids love it.
How to make our 3 Ingredient Indoor Snow:
Materials: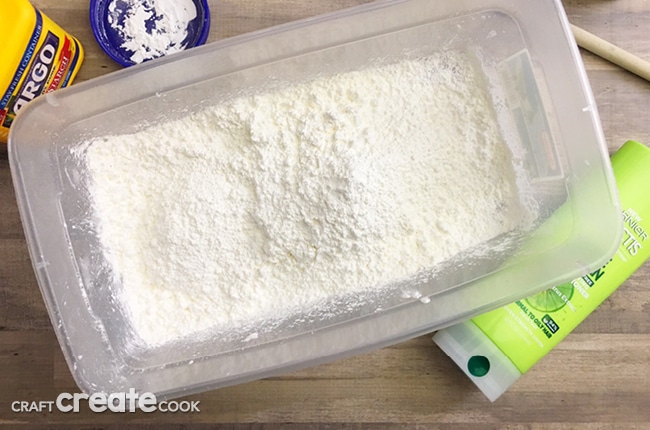 1. Pour your corn starch into a clear shoe box sized plastic container (it can make a mess if you're not careful while pouring.
2. Mix in a couple tablespoons of glitter.
3. Start squeezing in your conditioner while mixing with your hands at the same time until you have a moldable consistency.
4. Now it's time to play! Mold, make a little fort or add some small toys to make it all the more fun.
If you love snow as much as much, you might enjoy these: