Five ingredient homemade grain free dog treats will be a big hit with your furbaby!
Just like people, some dogs benefit with a grain free diet. Although my dog, Oscar, isn't on a grain free diet, I decided to try making him some 5 ingredient homemade grain free dog treats! I was surprised how easy these were to make, and I can assure you, Oscar approved!
Now most people would say a dog will eat anything. But my rescue pup is quite picky. Oscar, a boxer, lab, pit, great dane mix, absolutely loves raw carrots and apple slices. But he won't touch a piece of popcorn that falls onto the floor. And sometimes he's very picky about the types of pretzels he will eat. The worst part is that if my dog won't eat the food on the floor, I have to bend down and pick it up! It's these quirky habits that make me love Oscar even more!
I know some dog treats are affordable, but who knows what ingredients are in them! Therefore, these homemade grain free dog treats are an excellent alternative to store bought dog treats. Plus, you can select the high quality ingredients yourself, ensuring your dog will get the best possible reward!
How to make Homemade Grain Free Dog Treats
Of course it's fun to have a dog bone shaped cookie cutter for this treat, it's not necessary. You can simply use a table knife, or try one of these pastry/ravioli cutters if you have one. It does the same as a knife, just quicker. What I like about using a knife, is that you can make smaller treats for smaller pups!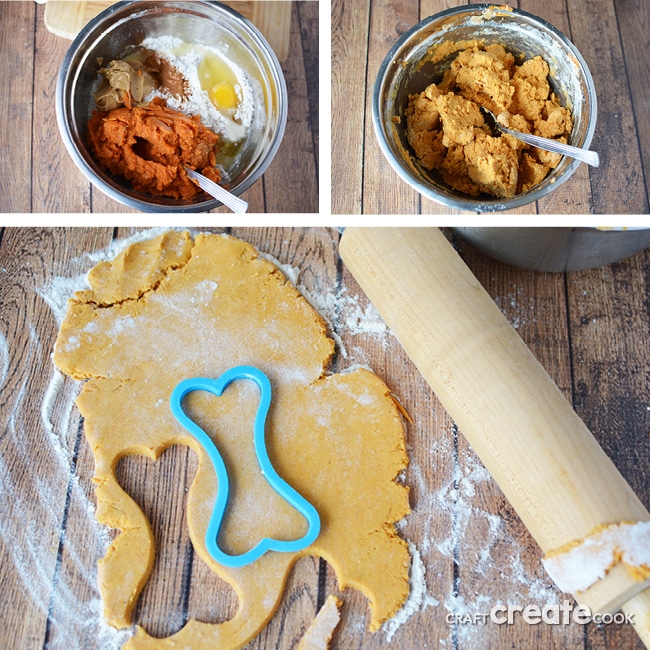 You can also bag and give these small goodies as gifts for your friend's companions. I like to tuck them into my neighbors mailboxes as a fun surprise for their dog!
Need some more dog inspiration? Check out some of these ideas!
Homemade Grain Free Dog Treats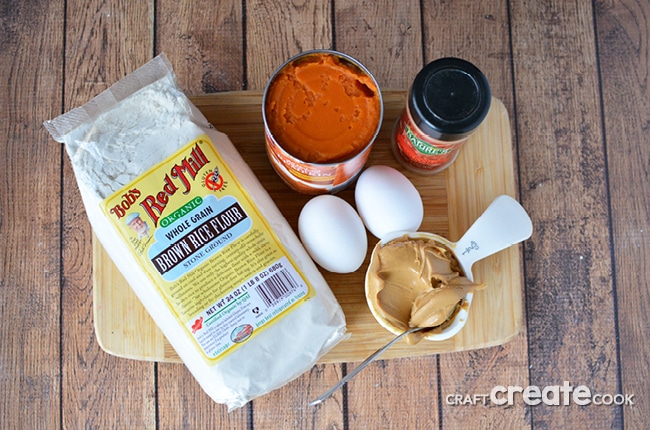 5 ingredient homemade grain free dog treats will be a big hit with your spoiled K9!

Prep Time 15 minutes

Cook Time 35 minutes

Total Time 50 minutes
Ingredients
3 cups brown rice flour
1 teaspoon ground cinnamon
1 can (15 oz) pureed pumpkin
1/4 cup peanut butter
2 eggs
Instructions
Preheat oven to 350.
In a mixing bowl, combine all ingredients and mix well. Dough will be a bit stiff and near the end you may want to mix with your hands.
Roll the dough onto a lightly floured surface until about 1/4" thick.
Use cookie cutters or a knife to cut out the dog treats. Place onto a baking sheet about 1" apart.
Bake for 30-35 minutes or until they begin to get crispy.
Cool completely before giving to your pooch.
Store in an airtight container.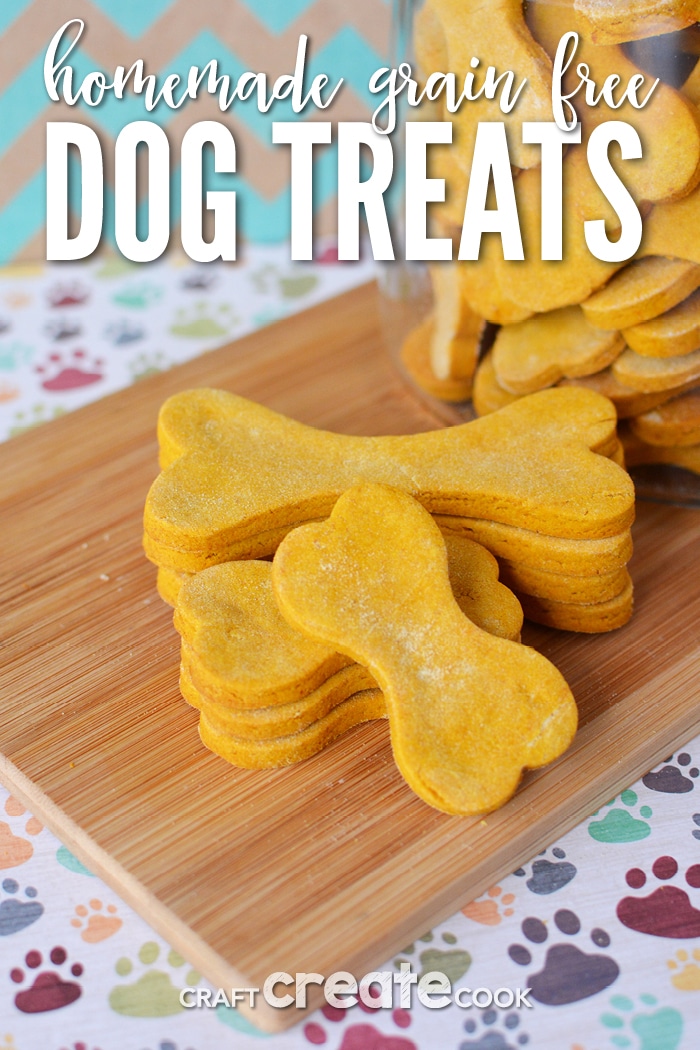 Save
Save