Our classic comfort food recipe is easily adapted to make an Instant Pot Beef Stew.
There is nothing like a comforting, hot bowl of beef stew on a crisp fall day or a winter afternoon. But instead of having to spend all day simmering on the stove, you can use your Instant pot to make beef stew in 4 minutes! Yes! F-O-U-R Minutes!
One of my favorite things about this recipe, is you can use frozen produce! Hopefully you are following my tips on how to freeze summer produce for the fall and winter months! Doing all of the prep work beforehand, means you can dump everything into the instant pot, press the button and within minutes you'll have a tasty beef stew meal.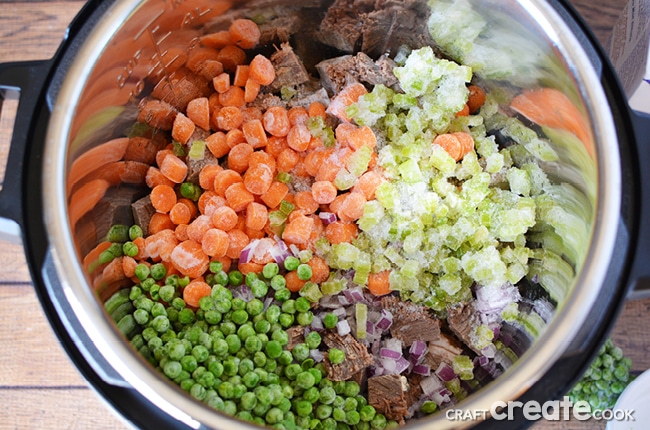 Instant Pot Beef Stew is very versatile. If you don't like peas, swap them for corn. Add a can of diced tomatoes, use russet, gold or red potatoes. This stew is very forgiving and won't disappoint!
The instant pot I have also doubles as a slow cooker, so you could eliminate one appliance if you grab this model for your kitchen.
How to make Instant Pot Beef Stew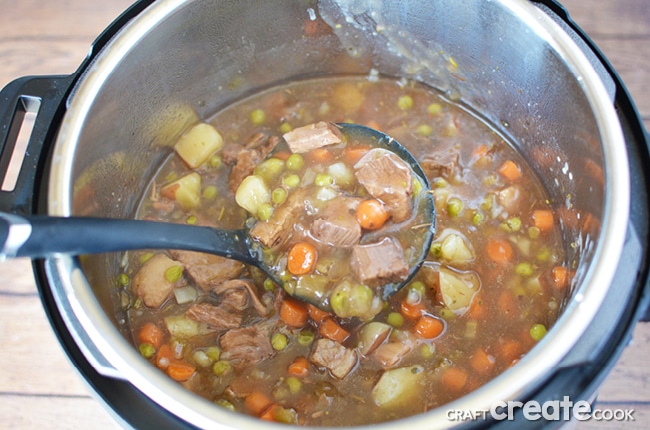 The instructions are very simple, just toss everything into the instant pot, mix it up and press GO! I'm serious, it's that simple! I use left over steak or roast meat to make my beef stew, but you can sautee your raw beef using the saute function of the instant pot. Once the meat is brown, add the remaining ingredients according to the recipe.
I love using my frozen produce to make this, it means I can get a quick weeknight dinner ready in a matter of minutes.
Try some of our other instant pot recipes: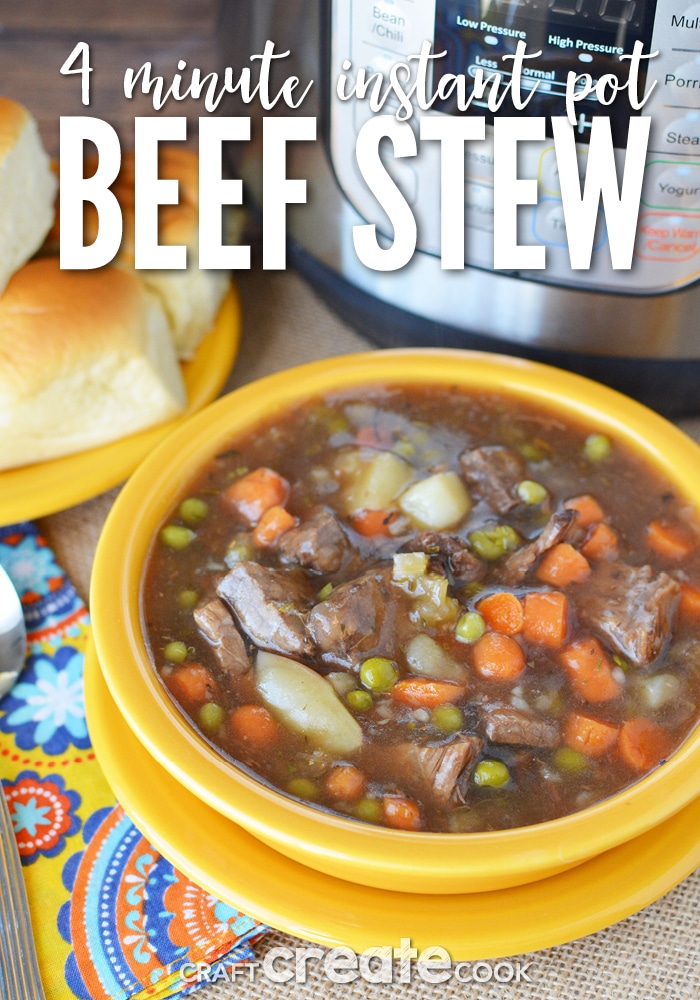 Yield: 6
Instant Pot Beef Stew Recipe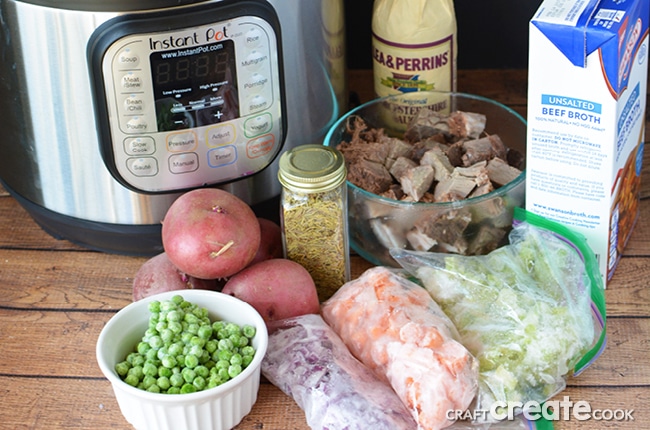 Our classic comfort food recipe is easily adapted to make an Instant Pot Beef Stew.

Prep Time 5 minutes

Cook Time 4 minutes

Total Time 9 minutes
Ingredients
2 cups cooked beef, cubed
1 small onion, diced (or about ½ cup)
½ cup celery, chopped
1 cup sliced baby carrots
4 small potatoes, cubed
½ cup frozen peas
32 ounces, 4 cups, beef broth
1 cup water
1 teaspoon oregano
½ teaspoon rosemary
½ teaspoon salt
¼ teaspoon pepper
1 Tablespoon Worcestershire sauce
2 tablespoons cold water
2 tablespoons corn starch
biscuits or dinner rolls for serving
Instructions
Add beef, onion, celery, carrots, potatoes, peas, broth, water and spices to the instant pot. (Everything except the water and corn starch)
Put the lid on the instant pot and close the pressure release valve.
Set the instant pot to manual, high pressure for 4 minutes. The instant pot will come to pressure and cook for 4 minutes.
Meanwhile, add corn starch and water together in a small bowl.
Once the instant pot is done, quickly release the pressure. Carefully open the lid and stir in the corn starch mixture. The stew should be boiling and this will help to thicken the mix.
Serve with biscuits or dinner rolls



Save