If you are looking for a delicious sausage breakfast casserole, this one is my family favorite. A great combination of sausage, tater tots, eggs, and of course a sprinkle of cheese make this a hit with all ages.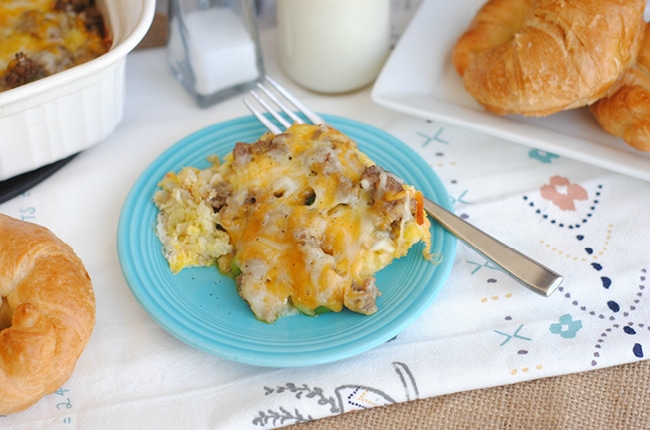 Sausage & Tator Tot Breakfast Casserole Recipe
This recipe is one of those comfort food classics that you are going to fall in love with making. It's just a great combination of flavors that fits everything you think of with traditional breakfast into one single bite.
This recipe is always a hit with the kids and is ideal for meal prepping breakfasts. It's an all in one meal that is great for creating a delicious start to your day.
Can I Use Different Types of Sausage?
You can definitely use different sausage if you prefer. I love a good breakfast sausage. They come in many different flavors, and this is just one that is often available in my local grocery store. Below are a few other ideas.
Spicy breakfast sausage
Chicken sausage
Turkey sausage
Homemade breakfast sausage
Vegan sausage crumbles
Diced mushrooms in place of sausage
Can This Casserole be Made Ahead of Time?
Yes! That's the best part of this recipe. It's a perfect make ahead breakfast that takes no time at all to whip up. You can make it and refrigerate overnight in the oven to cook.
Other options include making it and freezing in disposable aluminum pans that have been dated and labeled. Those can go straight from the freezer to oven easily.
Or, you can simply bake it, portion, and store in containers for on the go heat and eat meals each morning for breakfast.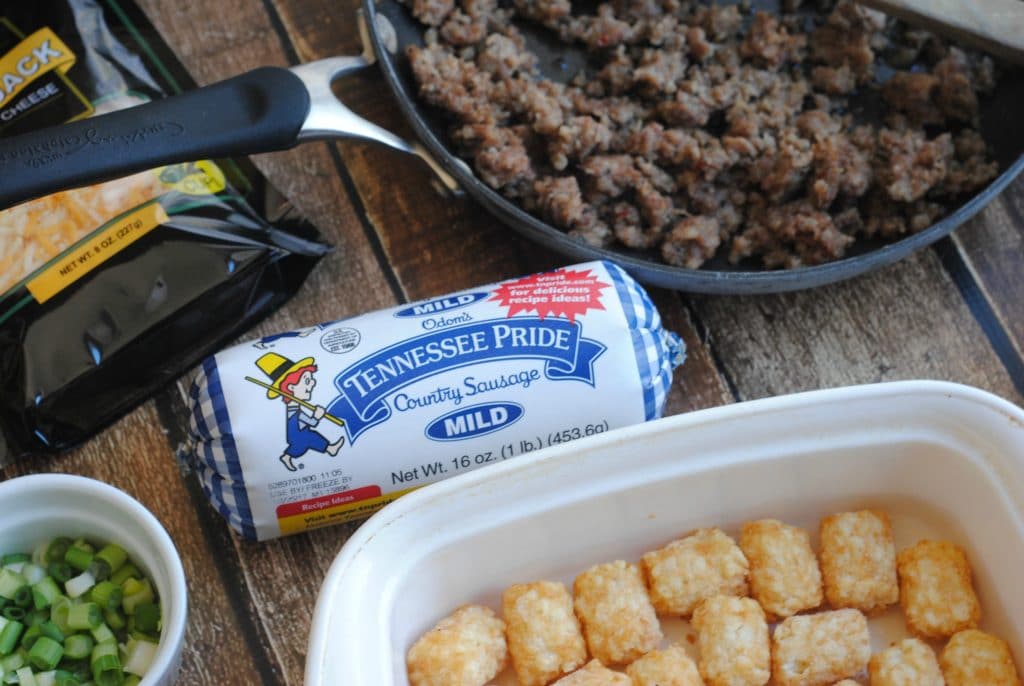 Can You Add More Vegetables?
You can totally add more vegetable to this recipe. My kids don't like a lot of veggies, so I usually leave them out of this, but it's ideal for mixing more into the casserole.
Dice and add any of the following:
Mushrooms
Bell pepper
Red or yellow onion
Zucchini
Squash
Tomatoes
Jalapenos
Banana peppers
Feel free to add any and all vegetables that your family enjoys to really add to the fiber and nutrition of this breakfast casserole. You can even add your favorite fresh herbs to the mixture.
Ingredients
Tater tots
Sausage
Green onion
Eggs
Cheese
Salt
Black pepper
Nonstick cooking spray
How to Make Sausage Tater Tot Breakfast Casserole
Preheat the oven to 350ºF and spray a baking dish with non-stick spray then set aside.
Brown and crumble the sausage then drain and set aside.
In a large bowl, whisk the eggs, salt, and pepper together.
Line the bottom of your baking dish with tater tots then pour the egg mixture over the top.
Sprinkle the green onions over the top of your tater tots, and add any additional vegetables at this stage.
Top with cooked and crumbled sausage.
Sprinkle shredded cheese over the top of the sausage.
Bake for 45-60 minutes or until heated through, eggs cooked, and the top is brown and bubbly.
Serve with salsa or hot sauce as desired.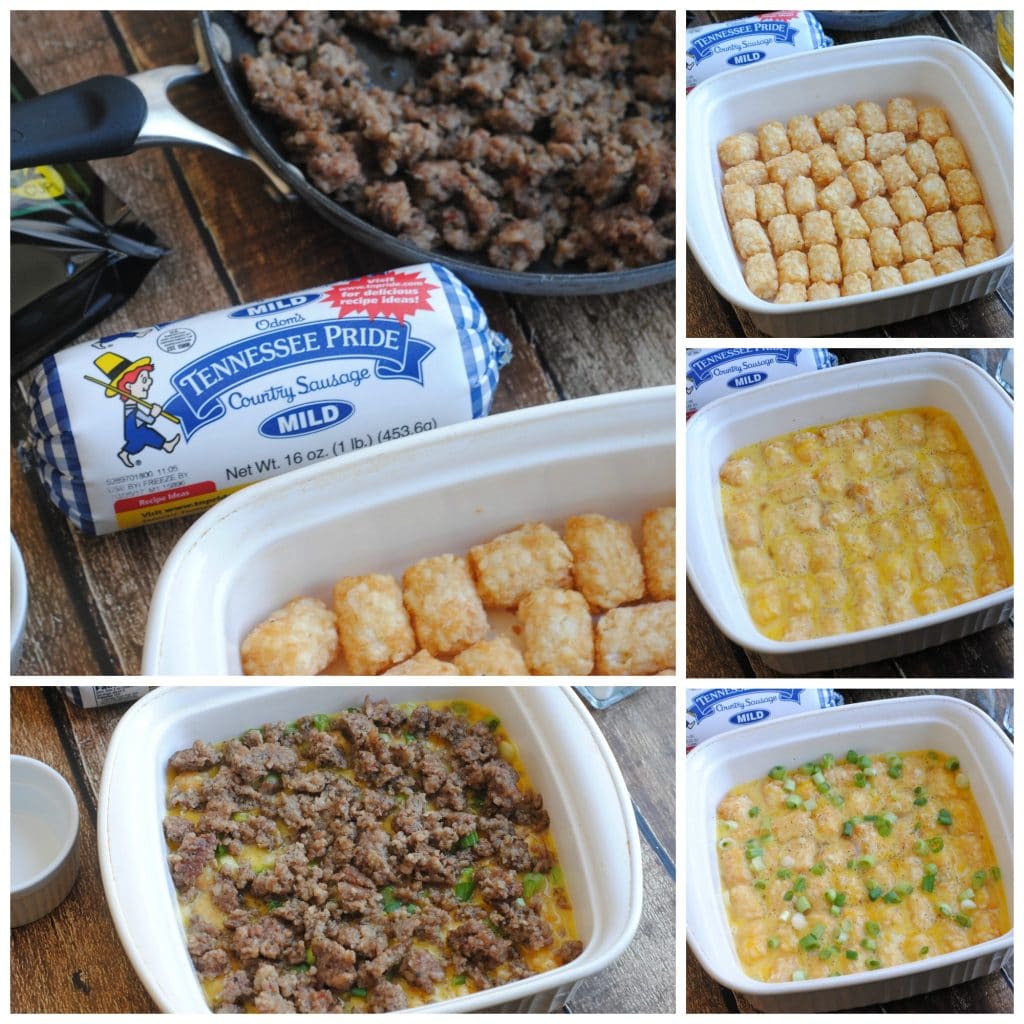 More Breakfast Recipes
Yield: 6
Sausage & Tator Tot Breakfast Casserole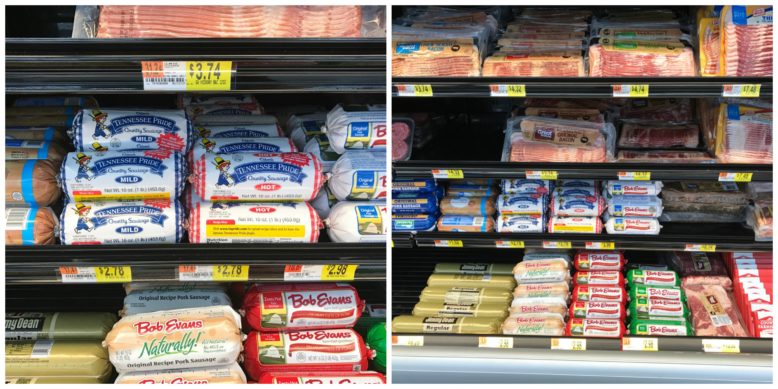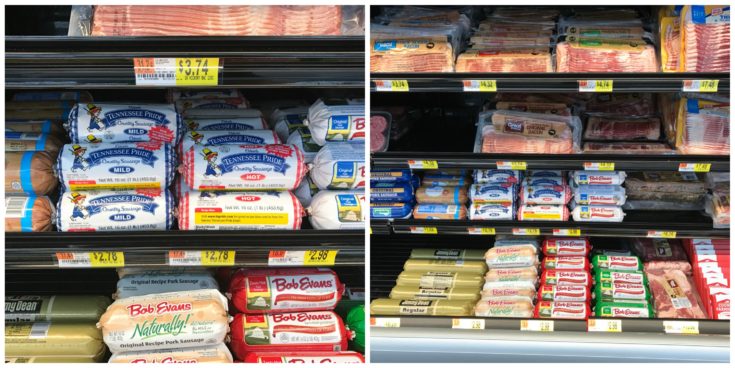 This sausage & tator tot breakfast casserole is perfect for weekend mornings!

Prep Time 20 minutes

Cook Time 45 minutes

Total Time 1 hour 5 minutes
Ingredients
1 lb Odom's Tennessee Pride® Country Sausage, browned
16 oz frozen tator tots
6 eggs whisked
1 ½ C. colby jack cheese, shredded
¼ C. green onions, sliced (optional)
salt & pepper to taste
non-stick cooking spray
Instructions
Preheat the oven to 350 degrees and spray a 9x9 baking dish with the non-stick cooking spray.
Line the bottom of the baking dish with the tator tots.
Pour the whisked eggs over the tator tots.
Add salt & pepper.
Evenly sprinkle the cooked Odom's Tennessee Pride® Country Sausage over the top of the tator tots and eggs.
Top with cheese.
Cover the baking dish with foil and bake for 45-60 minutes. Eggs should be cooked through and cheese melted.