Instant Pot Sweet Potatoes are the perfect healthy side dish for any meal!
Spring is here and Easter is less than a week away. The temperatures are heating up to a glorious 50 degrees (yes that is is warm where we live, don't judge) and I am in full spring cleaning mode. I've been going through the basement, our upstairs and even the kitchen grabbing crap that I haven't used in forever and throwing it into boxes for the local thrift shop. The kids even got in on the action over spring break and we hauled out at least 8 boxes of stuff. It feels great to get this stuff out of the house and I have plans to purge more over the next few weeks. You don't realize how much stuff you accumulate over the years!
While purging I went through all my kitchen cupboards making note of what I use and what needed to go. I got an Instant Pot several months ago and used it several times and then it got tucked away in the cupboard. I decided to pull it out again and try some new recipes. First up was sweet potatoes. I love sweet potatoes. They are SO good for you and so easy to make and the Instant Pot just brings cooking to another level of easy.
With Easter in a few days, these would be a great side dish. They are full of flavor and healthy. I love to make 5-6 at a time and then store them in the fridge. I pull them out for lunch or dinner sides and simply reheat. Even my kids enjoy them!
Easy Instant Pot Sweet Potato Recipe
You will also want to try our:
30 Minute Instant Pot Porkchops
BBQ Pork Sandwich Recipe
Sloppy Joe Pockets Recipe

Easy Instant Pot Sweet Potatoes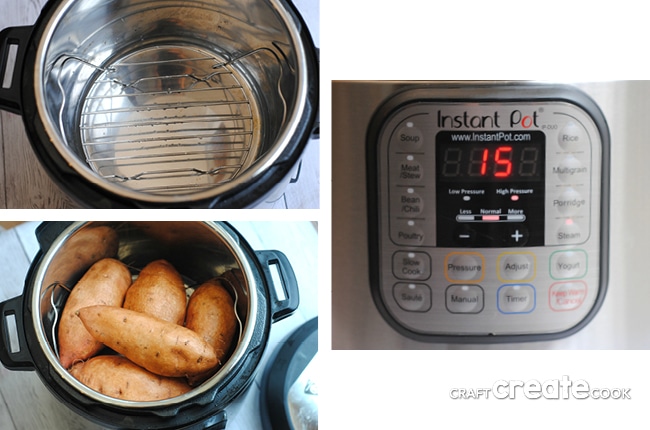 Instant Pot Sweet Potatoes are the perfect healthy side dish for any meal!

Prep Time 5 minutes

Cook Time 15 minutes

Total Time 20 minutes
Ingredients
5-6 medium sweet potatoes, scrubbed (no need to poke holes in them)
1 C. water
Instructions
Pour 1 cup of water into the bottom of the Instant Pot.
Place the steamer basket in the bottom of pot.
Place the sweet potatoes on the basket.
Place the lid on the Instant Pot and seal shut.
Press the manual button on the Instant Pot and then the steam button.
Set the timer to 15 minutes and that's it! Let the pressure release naturally before removing from the pot.
Notes
Keep in mind that even though the Instant Pot sweet potatoes only take 15 minutes to steam you will need to wait about 15-20 minutes for the pressure to release from the pot allowing you to open it.
Save
Save
Save