This classic chewy chocolate chip cookie recipe is better than your grandma's!
Spring is in the air and that doesn't mean we can't indulge a little, right? I know I've been trying to watch what I eat lately but when it comes to cookies, I cannot resist a classic chewy chocolate chip cookie. If you are a cookie lover and adore chocolate chip cookies as much as I do then this recipe is a must try! My husband considers himself a chocolate chip cookie connoisseur and gave these cookies two thumbs up. In fact, when I went to enjoy one a few days after I made them, they were gone! He played dumb and blamed the kids, but I knew better.
I grew up on my grandma's chocolate chip cookies. Thick in the middle and crispy on the edges. They were good, don't get me wrong, but I wanted more. I love cookies that are chewy all the way through. Cookies that are as pretty to look at, as they are to eat. I love nothing more than enjoying a steaming hot cup of coffee in the morning along with a fresh baked good. Yes, I consider cookies breakfast. Don't you?
But I digress, my grandmother taught me many recipes and over the years I've been on the hunt for the best chocolate chip cookie recipes out there. I've tried the pudding version. I've tried the room temperature butter version. I've even tried using my Kitchen Aid mixer in the hopes that I'd get it right but none ever seemed to satisfy my craving. Either that, or they would bake flat as a crispy pancake and I'd pass them off to the kids who don't care as long as they are getting a cookie.
This recipe is it. I swear by it. I believe it's a combination of just the right ingredients and how I baked them (more to come on that later in the recipe). These chocolate chip cookies bake tall which means they melt down into a chewy lump of deliciousness perfect to share with a friend or enjoy with a fresh hot cup of coffee. Perfection.
These cookies are also fabulous bake sale sellers as well as gifts. Tie some bakers twine around them, box them up and you are all set!
Do you have an absolute favorite cookie recipe? Have you tried these cookies, what did you think? Leave a comment below!
You will want to try:
Yield: 2 dozen
Classic Chewy Chocolate Chip Cookies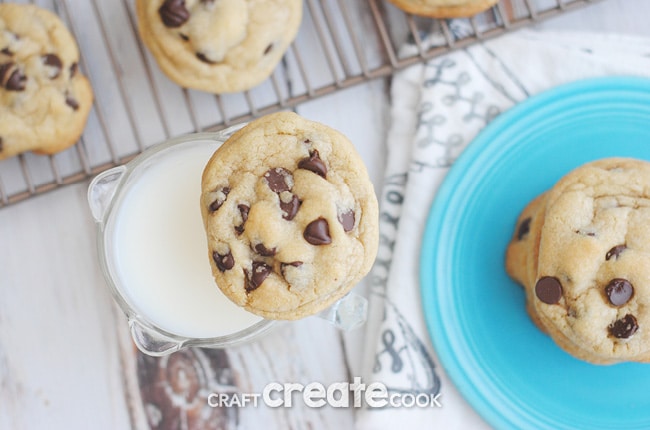 This classic chewy chocolate chip cookie recipe is better than your grandma's!

Prep Time 10 minutes

Cook Time 8 minutes

Total Time 18 minutes
Ingredients
3/4 C. salted butter, melted
1 egg
1 egg yolk
1 tbs. vanilla extract
1/2 C. sugar
1 C. packed brown sugar
1/2 tsp. baking soda
2 C. flour
12 oz chocolate chips
Instructions
Preheat the oven to 350 degrees.
Combine the melted butter, egg, egg yolk, sugar, brown sugar and vanilla extract.
Add in the 1/2 teaspoon of baking soda and then slowly add in the flour, mixing until combined.
Lastly, add in the chocolate chips.
Scoop about a 2" chunk of cookie dough into your hands and gently roll it so that it is about 2" tall and sem-flat on the ends, similar to a saucer shape. Trust, me. It sounds weird but the cookies will bake down into chewy goodness.
Place the cookies about 2" a part on the cookie sheets.
Bake 8-10 minutes.
Nutrition Information:
Yield:
24
Serving Size:
1
Amount Per Serving: Calories: 208Total Fat: 11gSaturated Fat: 6gTrans Fat: 0gUnsaturated Fat: 4gCholesterol: 31mgSodium: 79mgCarbohydrates: 29gFiber: 1gSugar: 19gProtein: 2g