Make your own firewood storage using pallets to keep wood dry for your next family bonfire!
This shop has been compensated by Collective Bias, Inc. and its advertiser. All opinions are mine alone. #RoofedItMyself #CollectiveBias
My family and I love to have bonfires in the summer. It's a sure sign of changing seasons when you slather yourself in bug spray and sit around a nice warm fire in the evening. As the cool air sets in, you roast marshmallows and enjoy the crackle of the burning logs and the chirping crickets in the nearby fields. Unfortunately wet wood can ruin a good bonfire. That's why I found a solution using pallets and GAF Shingles. Plus, it looks great near my fire pit!
First, collect pallets. I was able to find what I call "half pallets" which are smaller than a traditional pallet. These pallets also have boards that are touching, or very close together, to help keep my wood dry. You will need 5 pallets for this project, but I recommend grabbing 8-10 so you have options when putting them together. I tried several different pallets in different places before selecting the ones for this project.
Once you have a variety of pallets that are all similar in size, start "building" by placing the pallets together outside. My husband and I arranged and re-arranged the pallets until we found the perfect structure. I recommend making this a 2 man project. And yes, we had to resort to using an empty propane tank and the recycle bin to hold the structure upright! But that was just temporary.
After your structure is in place, you'll need to hold it together with screws. We used various lengths of construction screws depending on the width and size of the pallets we were screwing into. You'll want to place screws where the pallets touch or intersect.
Measure your roof area to determine how many shingles you need to purchase. You'll need the square footage of your roof before heading to the store. We only needed to purchase 1 package of shingles for this project.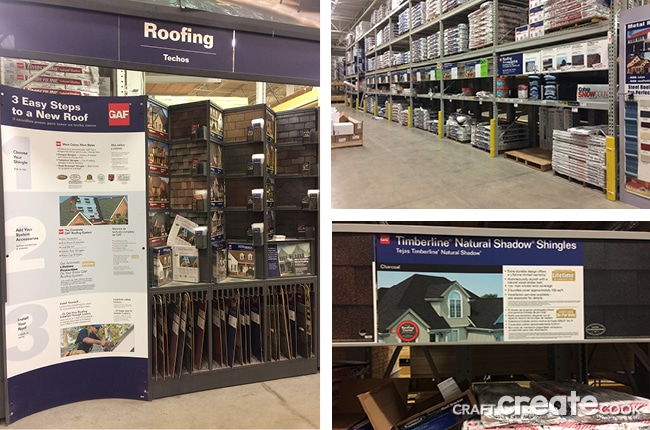 Once you have your structure planned, head to your local Lowe's store where you'll find almost everything else you need for this project! In the back corner of the store is the roofing section. Typically there's a GAF display that shows you all sorts of products and options to choose from. You can even purchase sample shingles if necessary. Grab these materials:
Please note: My firewood storage roof is on a slant, therefore there are no hip and ridge caps. If you make a peaked roof for your firewood storage, you'll need to purchase hip and ridge caps. Seal-A-Ridge® Shingles from GAF would be perfect.

How to make Easy DIY Firewood Storage Using Pallets
Measure your roof and cut a piece of FeltBuster® to fit. I used a utility knife to cut the material.
Attach the material to the roof using round plastic cap roofing nails. I placed about 9 nails in my material, 3 on the top, 3 in the middle and 3 on the bottom.
Place a shingle on your roof, starting at the bottom. You want your shingle to overlap about 1/2″ on 3 sides. Measure the shingle so you know where to cut it. Remove the shingle from the roof.
Place the shingle on a flat surface, face down, and measure and mark (with a pencil) where to cut the shingle. Using a straight edge and utility knife, cut the shingle.
Place the shingle back onto the roof, making sure it overhangs about 1/2″. Hammer the shingle onto the roof using the galvanized steel roofing nails. Place 4 nails into each shingle. This was my first shingling project and I loved how easy it was to hammer the nails into the shingles and onto the roof!
Continue adding your shingles and nailing them on. When you get to the end, trim the shingle, as necessary and nail onto the board.
Move your firewood storage to your fire pit and fill with fire wood!
I'm so happy with my firewood storage! The shingles help to keep the wood dry and they look great, too!
GAF also has an amazing warranty. If you'd like more information click here. GAF also has helpful how-to videos and tutorials on how to install all of their products correctly. I strongly suggest viewing them!
Have you ever done your own roofing project? If so, tell us in the comments below! If you need additional inspiration on how to us GAF products for your DIY projects, check out these ideas.
Visit GAF on Facebook | GAF Website
Check out more of our DIY Projects:
Save
Save