I was given product to review in exchange for this post. All opinions are my own.
This No Sew Kids Cow Costume is easy to make and comes together in only a few hours!
I love Halloween and I love making my kids Halloween costumes. Last year, I made my daughter this Easy No Sew Kids Pizza Costume so I wanted to make another homemade costume this year and keep the tradition going. When it comes to making costumes I love anything that is easy and no sew. I can sew and even purchased a new sewing machine a few months ago but something about being able to create a simple and fun costume without dragging out my sewing machine makes me proud of myself.
My daughter loves cows. Her friends at school have even nicknamed her 'Moo Moo'. I honestly have NO idea where her obsession with cows comes from but she just love them. I found a hand me down cow costume several years ago at a local thrift store and she wore it for Halloween. Last year she was a slice of pizza. This year she wanted to be a cow again but the old cow costume no longer fit. I knew I could make a cute cow costume, no sewing skills needed.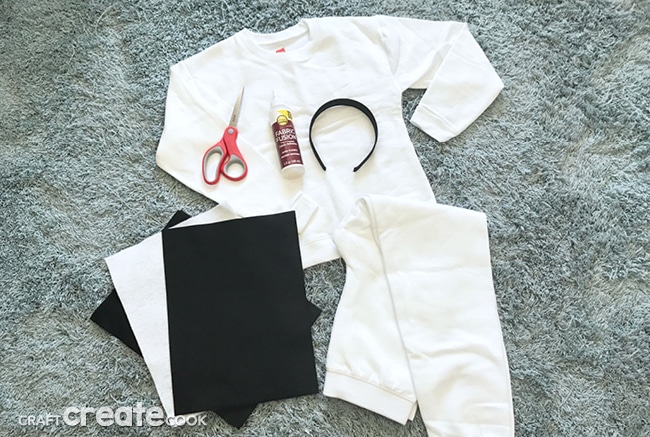 First I needed a white top and bottoms. We love in Northern Michigan and our Halloweens can be harsh, sometimes even snowy. I wanted an outfit that she could easily layer warmer clothes underneath. I started looking online and found that a plain white sweatshirt and white sweatpants would be perfect for keeping her layered and warm.
Next I needed multiple sheets of black felt for the large spots on the cow costume. I also wanted to craft cow ears from a basic black headband using some of the black felt along with white felt. I headed over to Oriental Trading and added everything I needed into my shopping cart. I had everything within a few days and was ready to get to work.
No Sew Kids Cow Costume
Materials: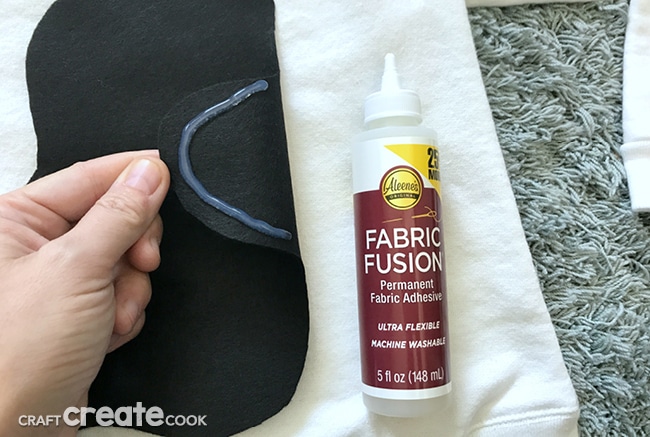 Directions:
1. Wash and dry the sweatshirt top and bottoms.
2. Use the scissors to cut the black felt into large 'cow' spots.
3. Apply the fabric adhesive to the edges of the felt pieces and place on the sweatpants and sweat shirt. Have fun with it - cow spot are fun!
4. Allow the felt pieces to dry 3-4 hours.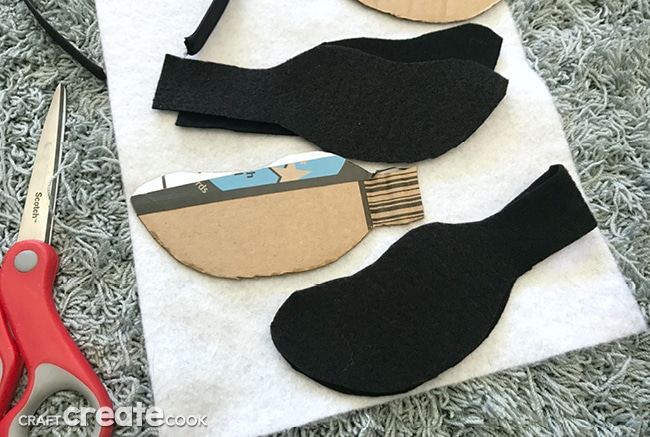 5. Plug in the low temp hot glue gun and allow it to heat up.
6. Use the pencil to freehand draw 2 cows ears and cut them out on cardboard. I am by far not the best drawer but I did my best. After cutting the cow ears out from the cardboard, I used the pattern to cut out 4 ears from black felt; 2 front and 2 back.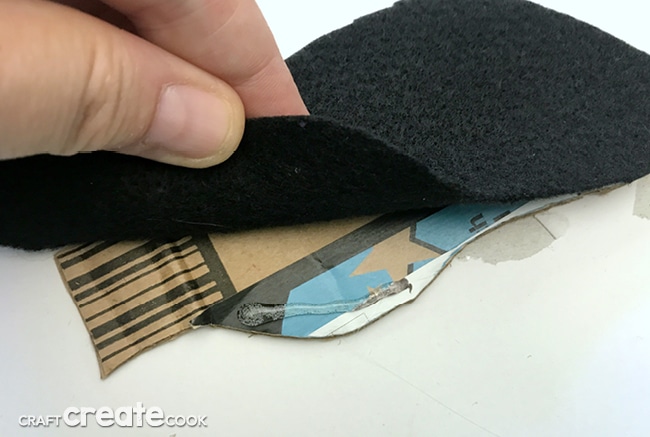 7. Glue the black felt ear pieces to the cardboard cow ears and let set. Cut a few smaller spots of the white felt and glue to the black felt pieces.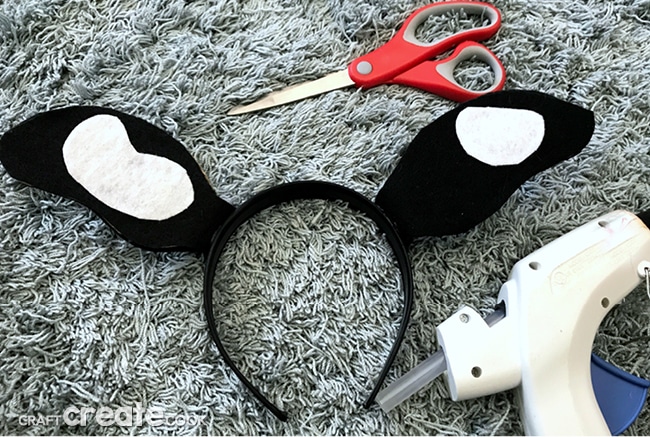 8. Hot glue the cow ears to sides of the headband and hold for about 1 minute to let them set.
9. Once the costume is ready, and your kiddo is dressed, grab the face paint kit to give your kiddo some black cow spots on his or her face.
How cute does our kids cow costume look? Tell us in the comments! You will also want to make our: