No bake white chocolate Easter bunny treats will look adorable on your Easter table!
I was strolling around at Party City one Wednesday afternoon after my daughter's doctor's appointment. I rarely go to Party City and every time I do, My eyes go crazy. I get really excited about all of the items they have in their store. It truly is sensory overload but turning down the aisle of rainbow party products and rainbow colored costumes just makes my day!
While I was in the store, I stumbled upon this Wilton Silicone Bunny Pan for $4! I grabbed the last one on the shelf and my mind started thinking of all the things I could make in this pan – cookies, brownies, fudge, candy, soap, crayons, bath bombs. I was so excited I scored such a great deal! As soon as I got home, I started digging through my kitchen cupboards trying to figure out what to make. I was so excited when I grabbed my Wilton stash of candy melts and sparkle gel and my new pan to make these white chocolate Easter bunny treats!
If you're looking for this pan, head to your local Party City and see if you can find one on sale! Or, you can check ebay for the exact pan. It appears this pan may have been discontinued by Wilton. This explains why I scored it so cheap before Easter! Maybe ask your friends and neighbors, you'll be surprised what they have hanging around in their kitchen cupboards! Otherwise, try this one and divide your candy in half and melt half at a time.
If you've never used a silicone pan before, you need to place it onto a baking sheet so you can move it from your work space to the refrigerator or if baking, to the oven. The great thing about silicone pans is that you can turn them inside out to remove the items inside, and they retain their shape.
My kids absolutely love when I make "cutesie" food. They go crazy over eating it and seeing how cute it is sitting on the counter. They are truly so patient when I tell them I have to take a picture of it before they can eat it! And once they eat it, they always ask me to put one in their lunch for them. I, on the other hand, absolutely love to make these types of things!
Try some of our other Easter Treats: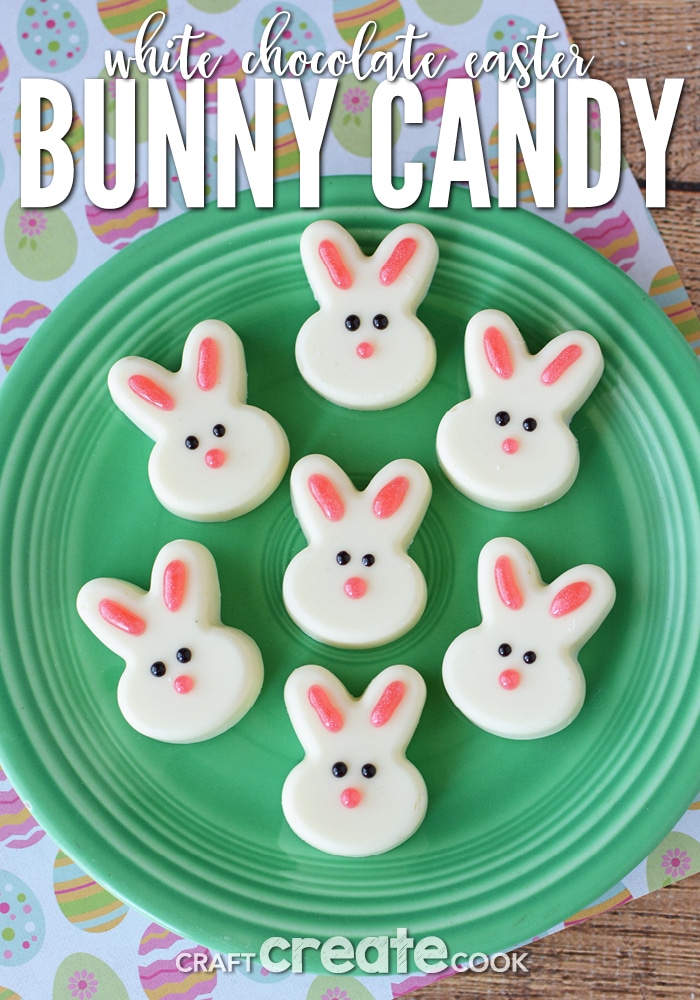 Yield: 24
White Chocolate Easter Bunny Treats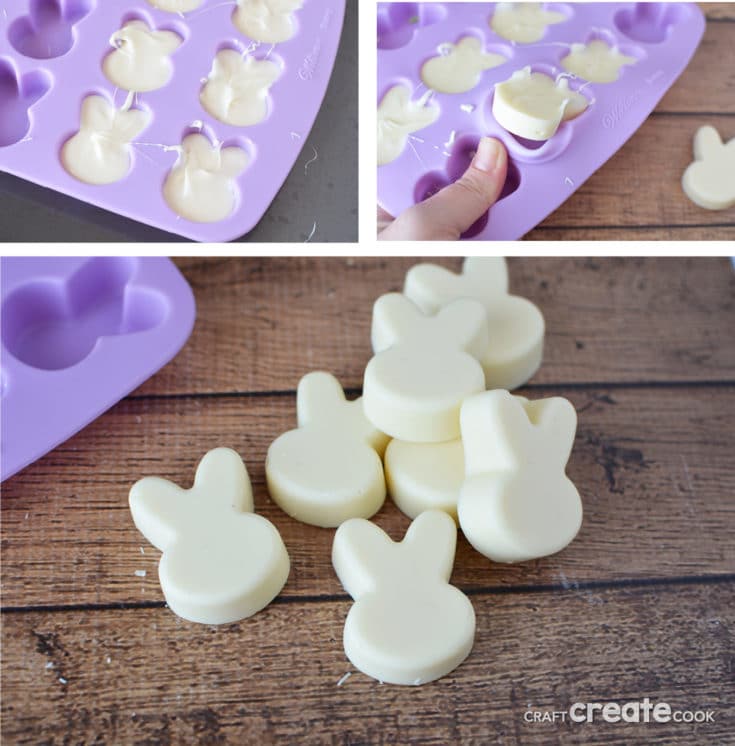 No bake white chocolate Easter bunny treats will look adorable on your Easter table!
Ingredients
1 package, white or bright white Wilton Candy Melts
Wilton Sparkle Gel in Black and Pink
Bunny Shaped Pan
Instructions
Place your bunny mold on a baking sheet and find a space in the refrigerator for your pan.
Melt the candy melts according to the package directions. Pour the melted candy into the bunny mold and tap the baking sheet a few times on the table top to remove any air bubbles.
Place into the refrigerator for at least 15 minutes.
When candy is hard, remove from pan.
Place on a flat surface and decorate with sparkle gel. Use pink gel to draw ears on the bunny. Add 2 black eyes and follow with a pink nose.
Repeat until all of your bunnies have faces.