If you like a little Tex-Mex flavor in your menu and an easy and tasty meal, then this cheesy beef fajita dirty rice bake is going to become a menu standard. It is a little bit Mexican, a little bit Cajun inspired, and a whole lot delicious! Since I was gifted a new casserole dish from Uno Casa to review, I knew this was the recipe I wanted to use it for to share with you.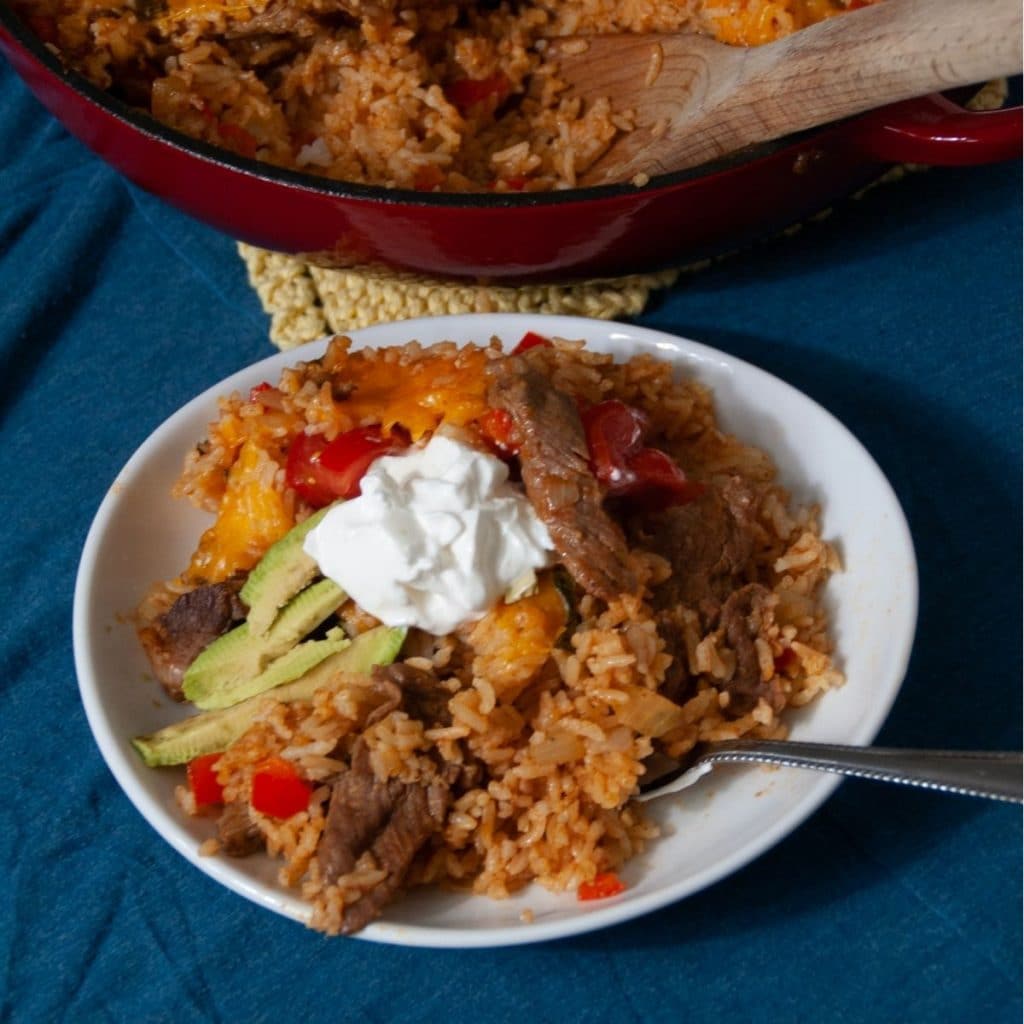 Cheesy Beef Fajita Dirty Rice Casserole
We may have rice in our menu at least 2-3 times a week. It's just a great base for meals and well, super versatile. That means it's pretty common to find a container of leftover rice in our refrigerator. Last week, I had just that and was considering how to add it to the menu. The vegetable drawer and a recent sale on beef round steak started inspiring me.
Dirty rice is typically a Cajun meal, but I am one of those people who struggles to enjoy that level of spice. I like hot foods, but Cajun spices just aren't my thing. So, in my head, i was thinking about a flavorful rice dish, but with a different spin on rice. Suddenly, this idea was born, and I can say, it's one I will be repeating regularly.
What Meat Should I Use?
I happened to have a pound of beef round steak that was thinly sliced and ideal for a dish like this. While I typically wouldn't use round steak for fajitas, I knew with the slower baking time added to this recipe, it would work just fine. Below are some other ideas that would easily work in this recipe. Just swap in equal amounts!
Ribeye or sirloin, sliced thinly.
Ground beef, ground turkey, ground chicken, or ground pork.
Chorizo or any spicy sausage.
Chicken breasts or thighs, sliced thinly.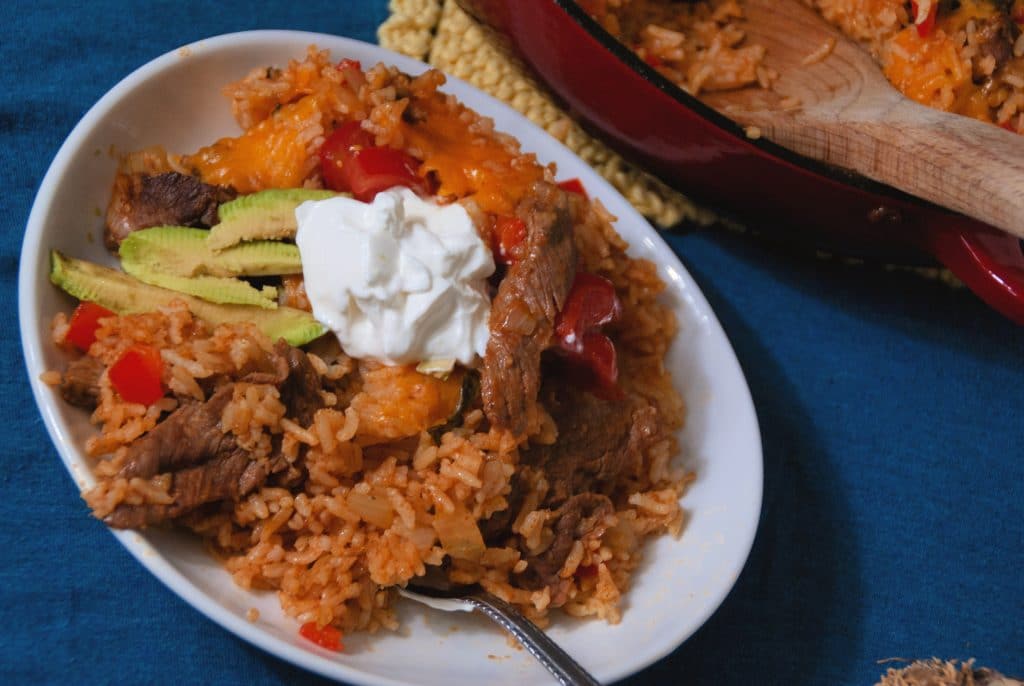 Can I Use Brown Rice Instead?
If you prefer brown rice, you can definitely use that in place of the white rice. Since you are using already cooked rice for this dish, it won't require any different cooking times or techniques.
You may also use a fast rice like Minute Rice in place of the cooked rice. It would easily cook while baking, but may require additional liquid. Check the directions on the package for proper ratios of liquid to rice for best results.
What Vegetables Go In Dirty Rice?
Traditional dirty rice would include the classic mirepoix of Cajun cooking. Celery, onion, carrots, and bell peppers combine for a delicious savory addition to the mixture. You could add those to this recipe, but I prefer sticking with a more Tex-Mex or Southwest flavor profile. Below are a few options you can add that might fit this recipe better than traditional veggies.
Bell peppers (all colors)
Onions (red, yellow, white, or green)
Black beans, pinto beans, or refried beans
Tomatoes
Mushrooms (all varieties)
Corn or hominy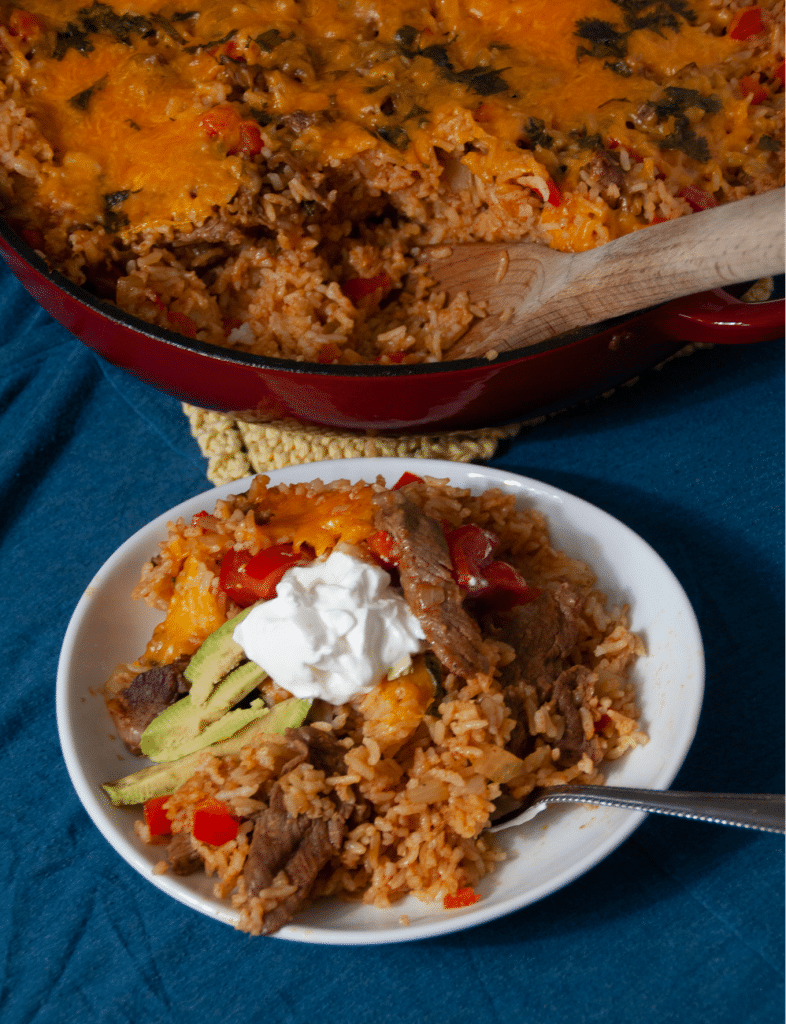 Toppings to Serve with This Casserole
Just like tacos, I like to top almost any Tex-Mex dish with a few garnishes. This one is easy to serve just as it is since there is a bit of everything already included in the casserole. If you want something extra, you'll want to add a few options like those below when serving.
Salsa, verde sauce, hot sauce, or pico de gallo
Guacamole or sliced avocado
Diced tomatoes, diced green onion, fresh cilantro
Sour cream or plain Greek yogurt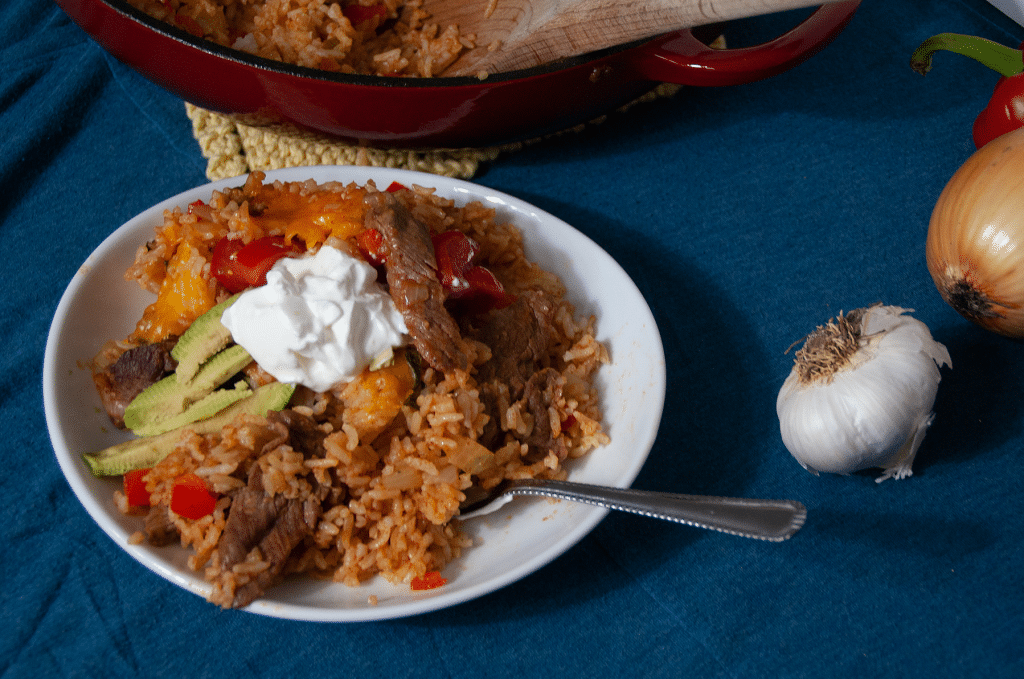 What Pan Should I Cook This Casserole In?
When making a meal that goes from stovetop to oven, I try to use something that is versatile and doesn't require me dirtying extra dishes. Cast iron has been a good choice in the past, but I prefer to not use cast iron on my current glass cooktop.
The solution? This Uno Casa enameled cast iron casserole dish with lid. I was given this casserole dish to review and let me say, I am in love!
I think of this as a miniature Dutch oven. The cast iron base has the classic enameled coating with a non-stick interior surface that is ideal for use both on the stove when cooking up a variety of meals as well as in the oven for baking casseroles. For this recipe, there couldn't be a better choice.
The exterior is also chip-resistant and since it is coated, it will not rust or discolor like a traditional cast iron pan would. That makes this a great investment to add to your kitchen. Plus, it doesn't have to be seasoned like a traditional cast iron dish. It works for broiling, braising, baking, roasting, sauteing, simmering, and frying. It's literally ideal for your morning eggs at breakfast all the way to a roasted chicken or turkey at the holidays!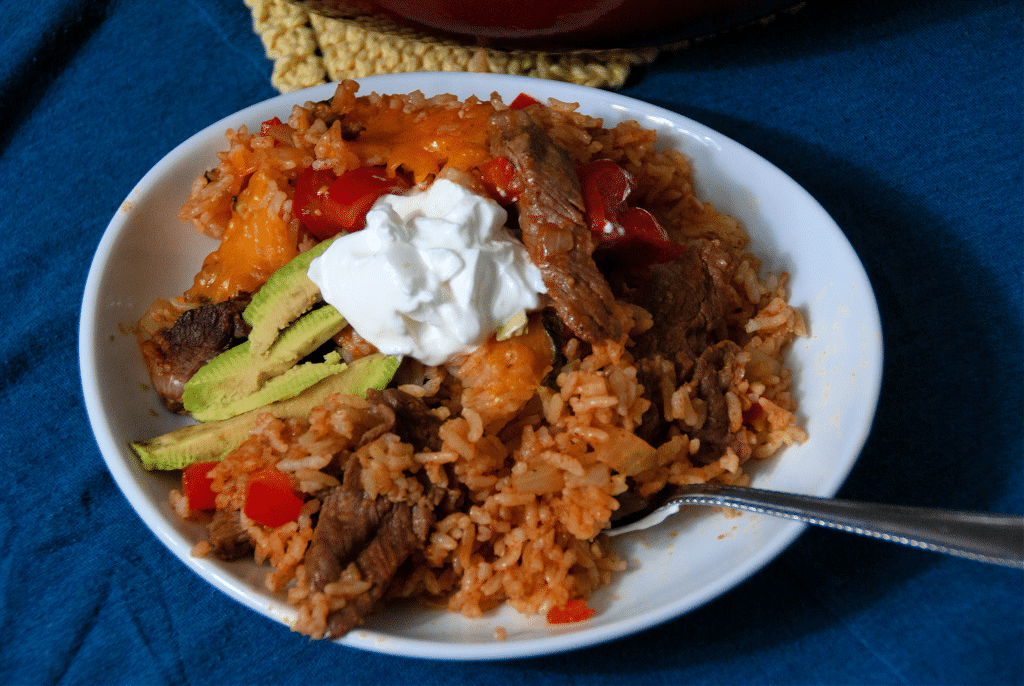 Ingredients List
Beef round steak or sirloin
Garlic
Salt
Black pepper
Olive oil
Red bell pepper
Yellow onion
Green chiles
Taco seasoning
Tomato sauce
Beef bouillon
Cooked white rice
Cheddar cheese
Cilantro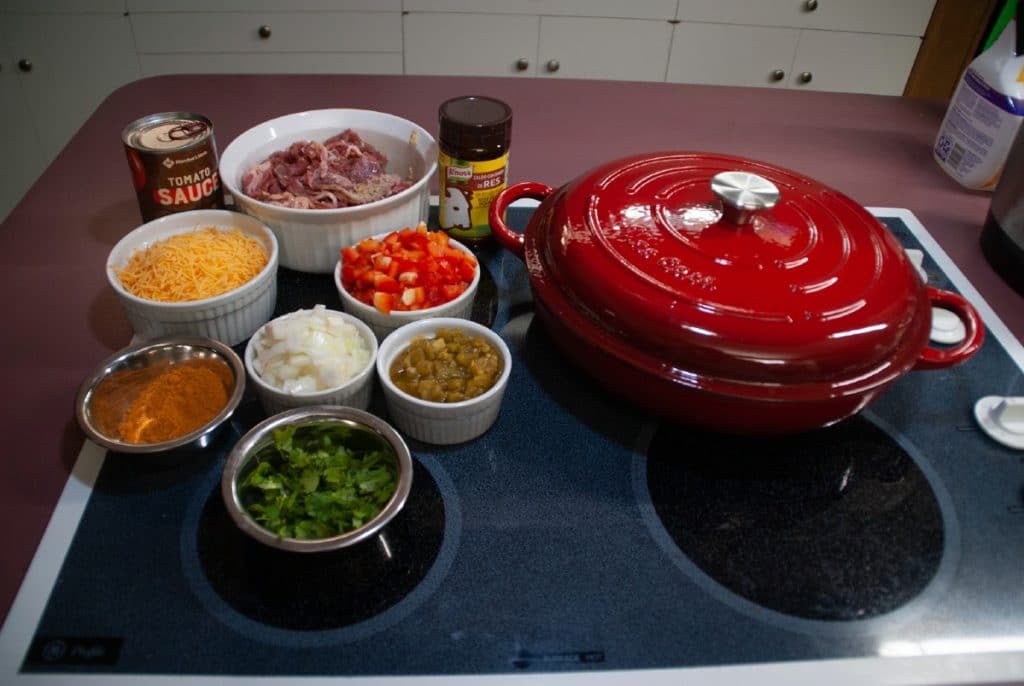 How to Make Beef Fajita Dirty Rice Casserole
Slice the beef thinly and add to a large bowl with olive oil, salt, black pepper, and minced garlic. Set this aside for 15 minutes or up to 24 hours covered in the refrigerator. Then heat the oven to 400°F.
In the Uno Casa casserole dish, heat olive oil over medium heat then mix in the bell pepper and onions. Cook these for around 5 minutes to soften.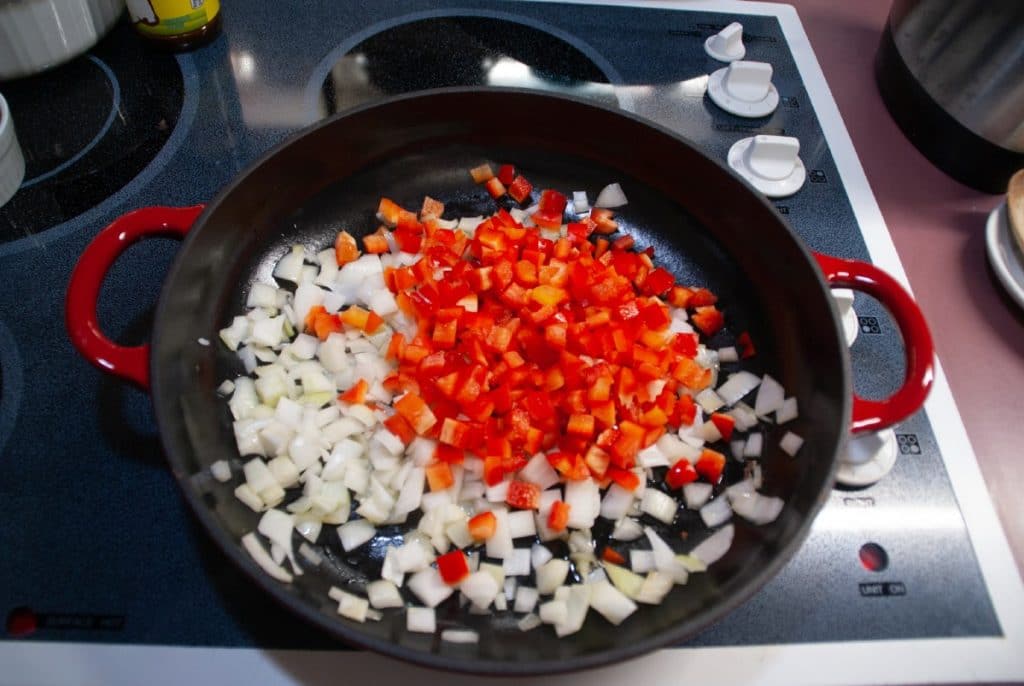 Add the beef and taco seasoning into the skillet and cook for an additional 5 minutes until mostly cooked through.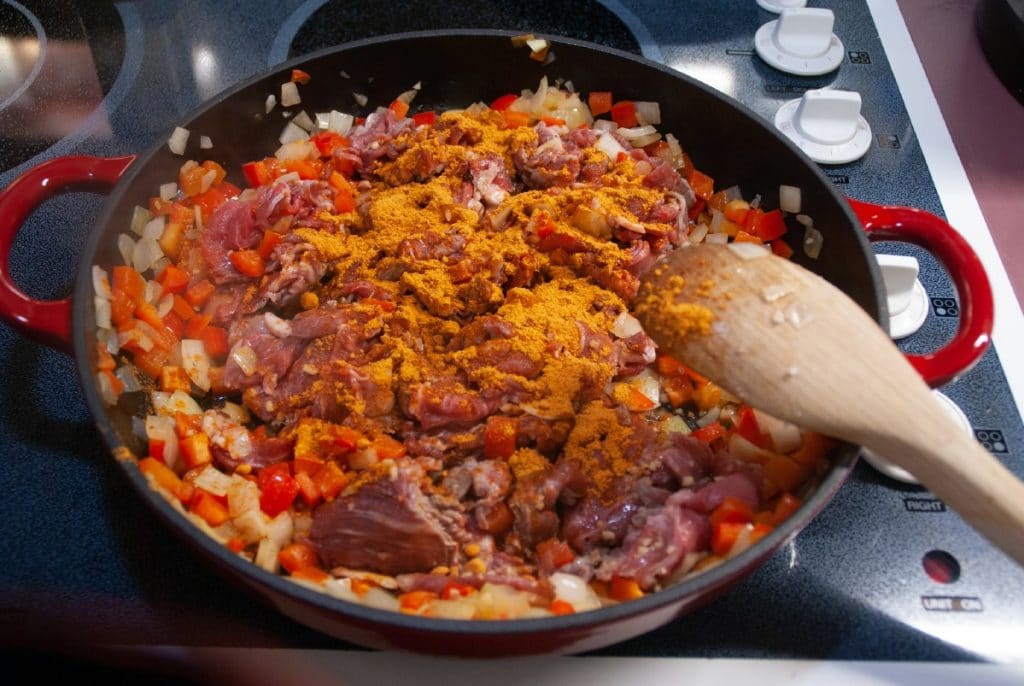 Stir regularly while cooking. The mixture won't brown a lot, but depending upon the pan you are using, could stick, so stirring is good to make sure all sides cook evenly.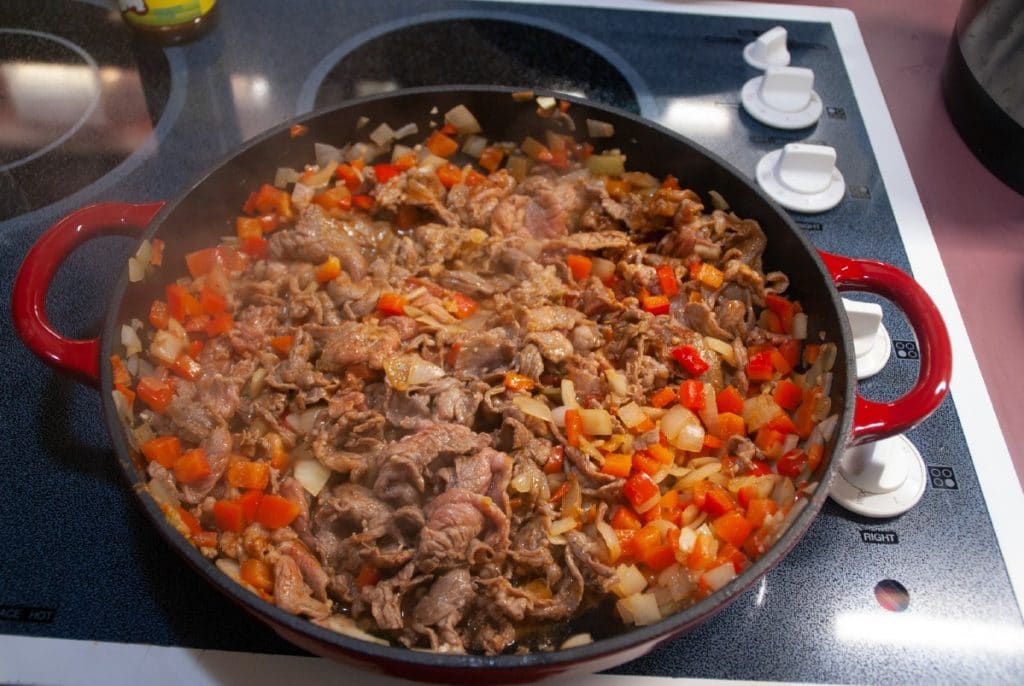 Add in the can of diced green chiles with liquid and the beef bouillon.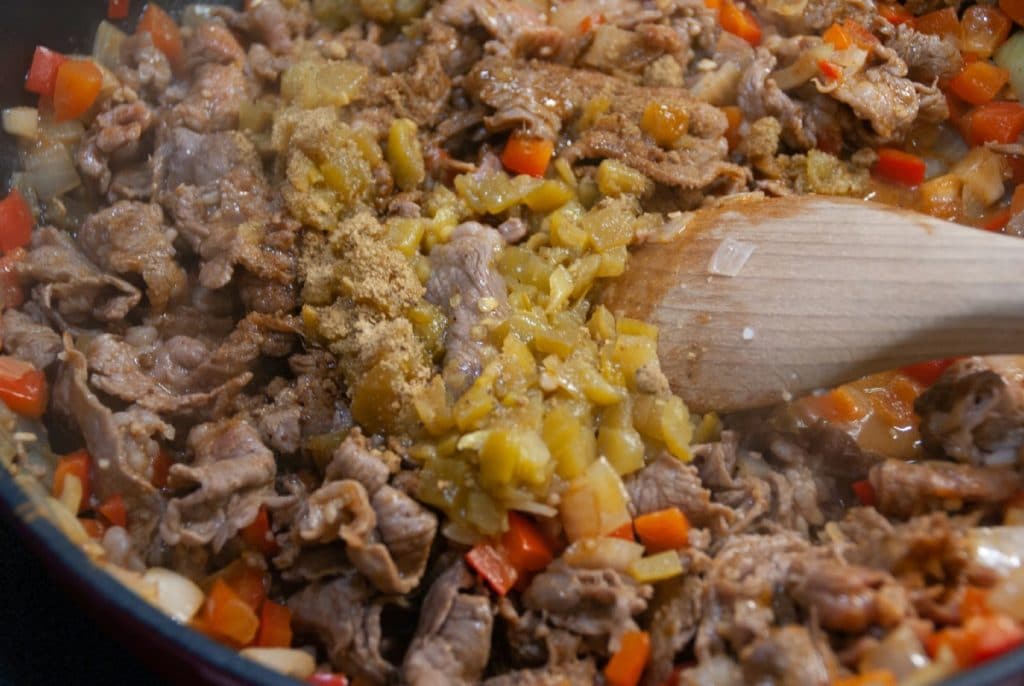 To the mixture, stir in the tomato sauce and water until combined.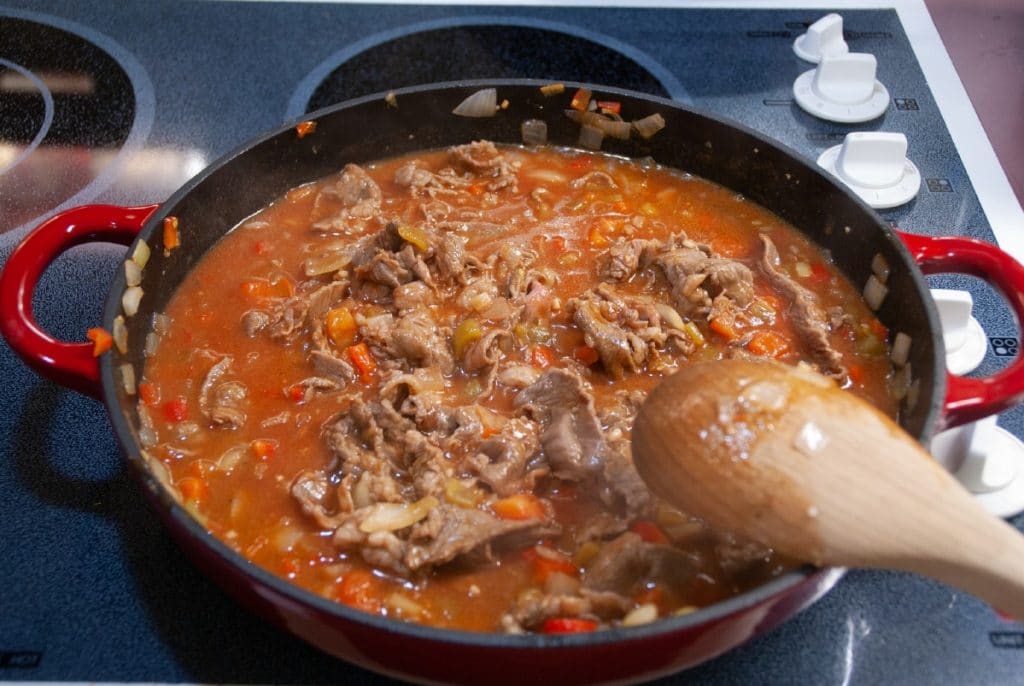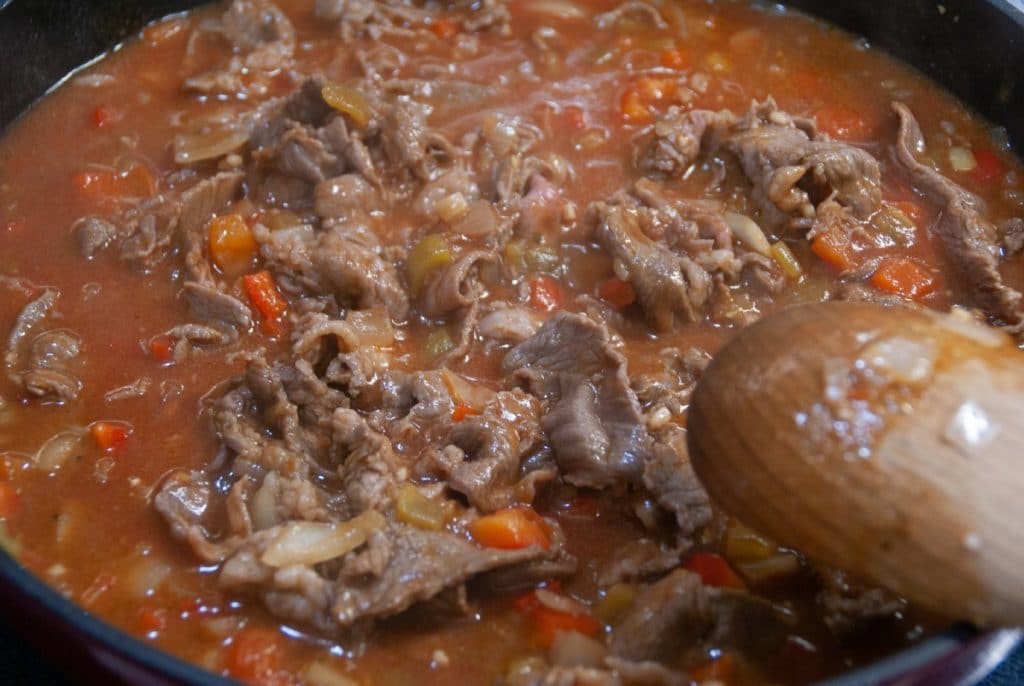 Simmer for 2-3 minutes before mixing in the cooked rice and 1/2 the chopped cilantro to combine.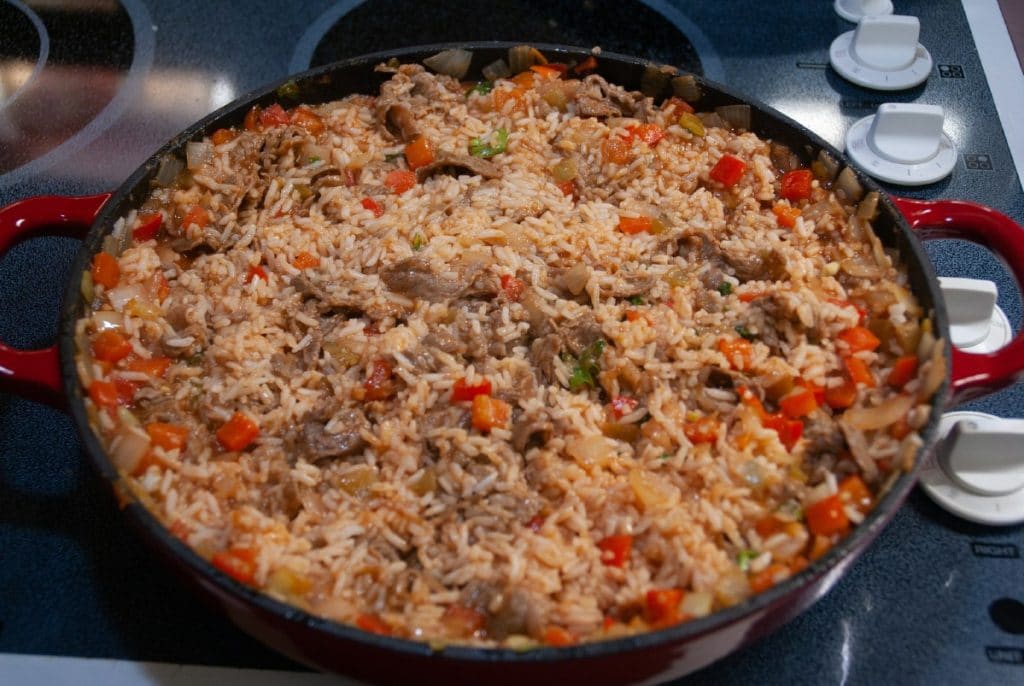 Once combined and spread into a single layer in the dish, sprinkle the top with cheese then the remaining cilantro.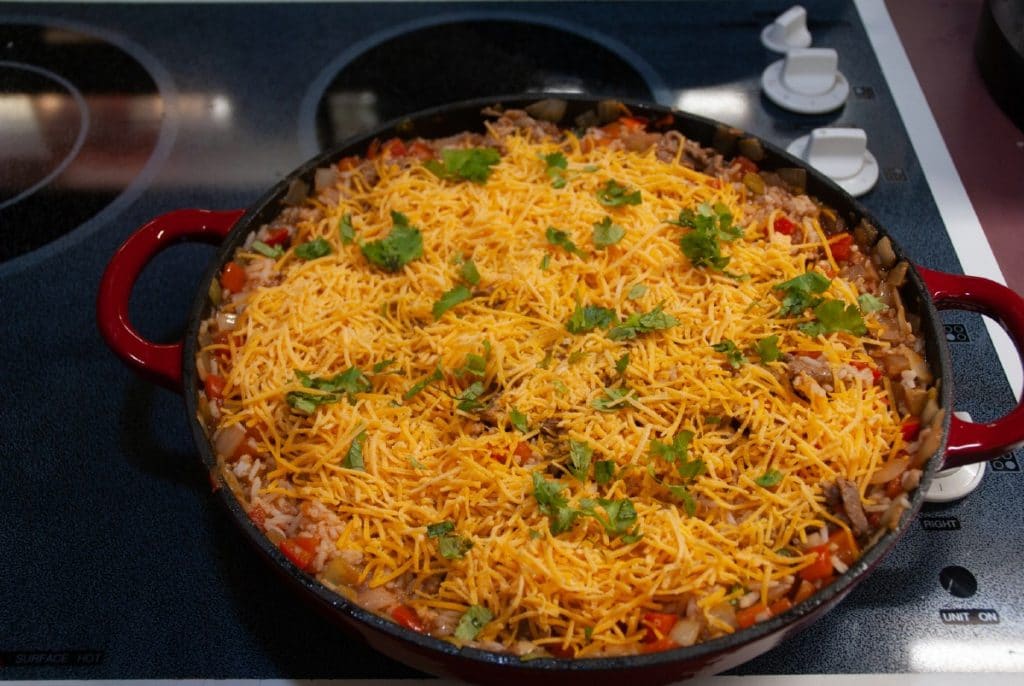 Cover the dish with the lid (or aluminum foil), and place into the preheated oven to bake for 20 minutes.
Remove the lid and broil for 5 minutes on high.
Serve with sour cream, tomatoes, avocado, lettuce, or guacamole.
Yield: 8
Cheesy Beef Fajita Dirty Rice Casserole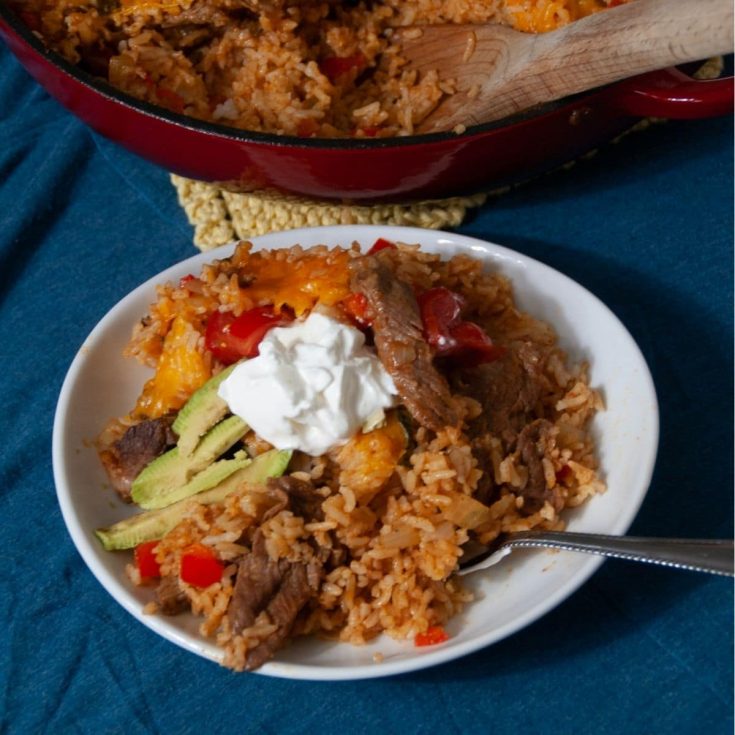 Make a delicious all-in-one dish with this yummy cheesy beef fajita dirty rice casserole that is ideal for serving any weeknight!
Additional Time
30 minutes
Total Time
1 hour
30 minutes
Ingredients
1 lb beef round, sliced thinly
2 tbsp olive oil
3 cloves garlic, minced
1 tsp salt
1 tsp black pepper
1 red bell pepper, diced
1 yellow onion, diced
4 oz green chiles
2 tbsp taco seasoning
15 oz tomato sauce
1 1/2 cups water
1 tsp beef bouillon
4 cups cooked white rice
1 cup shredded cheddar cheese
1 bunch cilantro, chopped
Instructions
In a large bowl, combine the sliced beef, 1 tablespoon olive oil, salt, pepper, and garlic and toss to combine. Cover and set aside for 15 minutes.
Preheat the oven to 400°F.
In a large oven save skillet, heat the remaining olive oil over medium heat. Add the bell pepper and onion to the skillet and cook stirring regularly until they begin to soften. Around 5 minutes.
To the vegetables, add the beef mixture and taco seasoning. Cook for an additional 5 minutes stirring regularly until the beef is mostly cooked through.
Stir in the green chiles and beef bouillon.
Add the tomato sauce and water and stir to combine. Simmer for 2-3 minutes.
Remove from heat and add in the cooked rice and 1/2 the cilantro then stir to combine.
Spread the cheese over the top in an even layer and then sprinkle the remaining cilantro over the top.
Cover the dish with the lid (or aluminum foil if no lid available), and bake for 20 minutes.
Remove the lid, and broil on high for 5 minutes.
Serve hot with your favorite garnishes and toppings.
Notes
This recipe can be made in the Uno Casa casserole dish, a Dutch oven, cast iron skillet, or any oven safe skillet with lid.
Recommended Products
As an Amazon Associate and member of other affiliate programs, I earn from qualifying purchases.
Nutrition Information:
Yield:
8
Serving Size:
1
Amount Per Serving:
Calories:

394
Total Fat:

20g
Saturated Fat:

8g
Trans Fat:

0g
Unsaturated Fat:

10g
Cholesterol:

63mg
Sodium:

916mg
Carbohydrates:

31g
Fiber:

2g
Sugar:

4g
Protein:

22g