These adorable springtime flower cupcakes are the perfect way to welcome spring!
Spring has official begun! Living in rural Northern Michigan often means long, cold winters and spring time cannot get here soon enough! This year our winter wasn't too bad so I shouldn't complain. I'm still ready for some warmer weather!
I often spend my weekend winters with my family trucking around Michigan's upper and lower peninsula for our son's hockey team. My daughters also figure skate so that was a new addition to our weekend schedule. I love it, I really do. But now that spring is on the horizon and the weather is finally starting to warm up a bit, it's time for a break and time to soak in some much needed sunshine. The weather is so beautiful outside today that we even grilled steaks for dinner! These adorable springtime flower cupcakes were the perfect dessert to share at the end of your meal.
Mini springtime flower cupcakes are small in size but big on taste and the kids can even help decorate them. I used a basic white cupcake recipe to make these tasty little treats but you could also use any flavor box cake mix and no one would be the wiser. Add some green frosting to look like grass and a few Wilton flowers and you are all set.
Springtime Flower Cupcakes Recipe
You will need for this recipe:
Yield: 36
Springtime Flower Cupcakes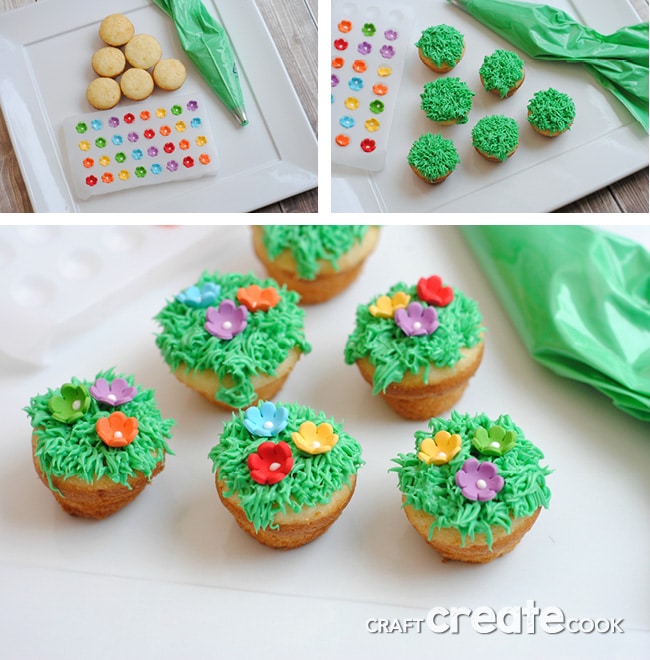 These adorable springtime flower cupcakes are the perfect way to welcome spring!

Prep Time 10 minutes

Cook Time 12 minutes

Total Time 22 minutes
Ingredients
1 C. granulated sugar
½ C. butter, softened to room temperature
2 eggs
2 tsp. vanilla extract
1 ½ C. flour
2 tsp. baking powder
½ C. milk
white frosting
green gel food coloring
Wilton mini flowers
Wilton icing tip
disposable piping bag
Instructions
Preheat the oven to 350 degrees and spray a 12 count mini muffin tin with non-stick cooking spray.
Combine all the cupcake ingredients and fill each muffin well about ¾ full.
Bake for 10-12 minutes.
Let the cupcakes cool completely prior to decorating.
Add a few drops of the green gel food coloring and stir to combine.
Attach the grass icing tip to the disposable piping bag and fill with green frosting.
Gently squeeze the frosting out of the bag in small spurts, gently pulling up and releasing so the frosting appears as grass. Repeat over the entire top of the cupcake.
Give each cupcake a few flowers.
Repeat with all the cupcakes.


You will also want to try our: