Bunny Basket Easter Brownies are cute and tasty!
Easter is only a few weeks away and I love everything Easter related. The food, Easter egg hunts, the decorations, you name it, I love it all. This week is spring break in our area. Unlike a lot of local families, we won't be traveling anywhere this year. I have a few local staycation ideas in mind including utilizing our local passes for Avalanche Bay Indoor Waterpark at Boyne Mountain, the local library and taking a few spring break classes at Crooked Tree, an art center.
Aside from hanging around town, I also plan on working around the house (I'm in major purge mode) and trying out some new recipes including these Bunny Basket Easter Brownies. What better way to spend spring break at home than trying some new recipes and inviting the kids to try them out. My kids LOVE taste testing my fun treats and snacks. I am always trying to think of fun desserts and treats and today I felt like chocolate brownies.

These bunny basket Easter brownies use a box mix and store bought frosting. If you prefer homemade, you can easily swap your favorite homemade brownie recipe for the box mix.
You will also want to try our:
Homemade Easter Pancakes
Oreo Cookie Springtime Flower Cupcakes
Double Chocolate Carrot Cupcakes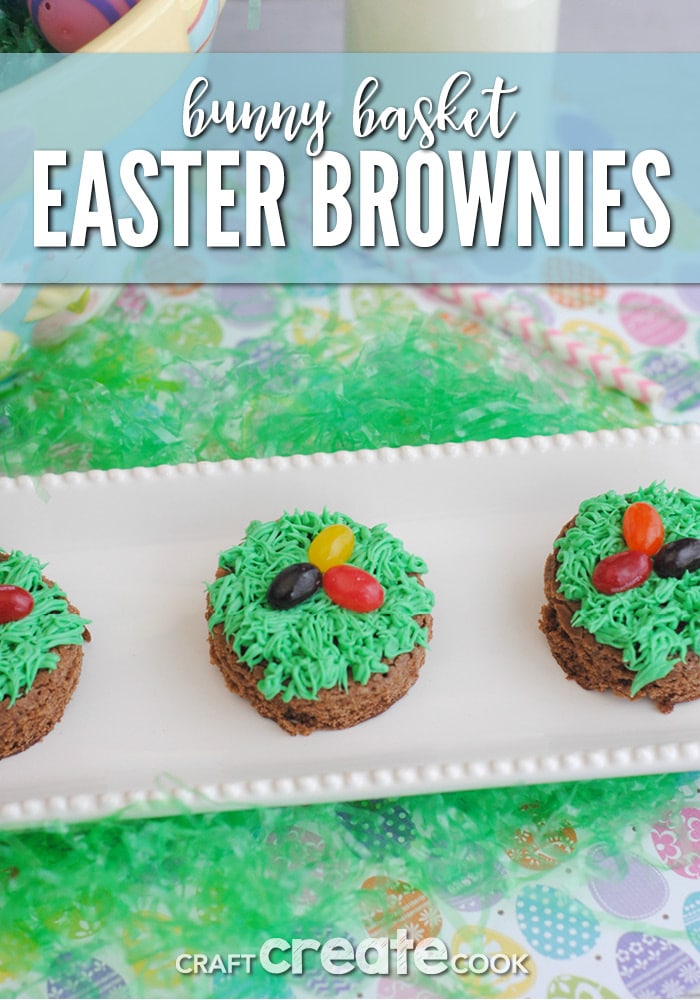 Bunny Basket Easter Brownies Recipe
Bunny Basket Easter Brownies

Bunny Basket Easter Brownies are cute and tasty!
Ingredients
1 box of brownie mix, any brand + the ingredients stated on the box
1 tub white frosting
green gel food coloring
multicolored jelly beans
grass frosting tip
disposable piping bag
2-3" round biscuit cutter
kitchen scissors
Instructions
Preheat the oven to 350 degrees.
Line a 9x13 baking dish with aluminum foil and spray with non-stick cooking spray.
Prepare the brownie mix according the package directions.
Pour the batter into the baking dish and bake for 25-30 minutes.
Remove the brownies from the oven and let cool completely.
Once the brownies are cool, gently lift the foil from the baking dish and discard the foil.
Use the round biscuit cutter to cut the brownies into circular shapes.
Add a few drops of green gel food coloring to the white frosting and stir to combine. Add a few more drops if you want a darker green color.
Attach the grass frosting tip to the disposable piping bag and fill with green frosting.
Gently squeeze the frosting out pulling up to make 'grass' on the top of each brownie covering the entire surface. Repeat with all brownies.
Add a few jelly beans to each grass covered brownie.


Save