Mashed Potato Bites are a tasty way to use up leftover mashed potatoes!
I love potatoes. Heck, I love any kind of carbs but potatoes are right up there along with delicious, fresh, homemade bread! I could eat potatoes every day of the week if I had too, even sweet potatoes which don't have as many carbs but are still super duper delish! When I make mashed potatoes I literally use a 5 pound bag of russet potatoes. I know a potato doesn't really qualify as a vegetable but my kids love potatoes as much as I do and would eat them with every meal so when I make them, I make a lot of them!
Mashed potatoes are awesome for leftovers. I love to reheat and eat them as-is, but sometimes I like to mix it up a bit and try new recipes. For this easy recipe I threw together leftover mashed potatoes, shredded cheese and green onions, three of my favorites things. I could eat these bites as a meal or they would also make a great appetizer or side dish. Serve with a side of sour cream and you can't eat just one! Make sure you have a mini muffin tin because the smaller the mashed potato bite, the more crunchy on the outside and creamy on the inside it will be!
Mashed Potato Bites Recipe
Mashed Potato Bites Recipe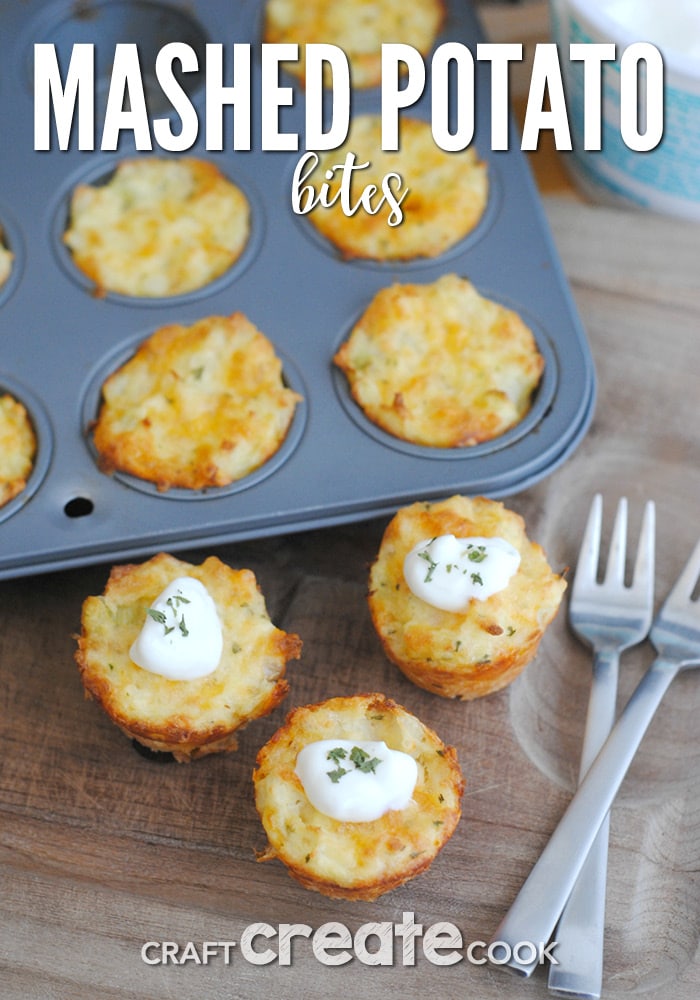 Mashed Potato Bites are a tasty way to use up leftover mashed potatoes!

Prep Time 5 minutes

Cook Time 30 minutes

Total Time 35 minutes
Ingredients
2 C. leftover mashed potatoes
1 egg
1 C. shredded cheddar cheese
½ C. green onions, chopped
sour cream (optional)
Instructions
Preheat the oven to 375 degrees and spray a 12 count mini muffin tin with non-stick cooking spray.
Combine the leftover mashed potatoes with the egg, shredded cheese and green onions.
Fill each mini muffin tin with the mashed potato mixture.
Bake for 25-30 minutes.
Remove from oven and let cool a few minutes.
Serve with sour cream.


You will also want to try our:
Save