Easy Christmas Fudge is one of my favorite rich and creamy no bake treats to make!
One of the most amazing things about Christmas is the sweet treats. You can tell we love making amazing holiday cookies and treats to share with our friends and family and fudge is no exception!
I love making fudge because it's a rich and creamy no bake dessert that not only melts in your mouth but also looks gorgeous. You can easily swap the colors of the candy wafers to fit your holiday needs, too.
You need to work a little quickly to heat and stir all of the colors at once. It's easiest if you have a family member help stir - or better yet, two! Just be careful as it may be pretty hot!
The secret to lining a pan with parchment paper or aluminum foil is to place your pan, face down onto the table. Place a piece of paper or foil on the bottom of the pan. Fold the corners flat. Remove the paper or foil and flip over the pan. Place your paper/foil into the pan and press firmly into the pan and wrap around the sides. Viola! A perfectly lined parchment paper or foil pan without any rips or tears!
If you like making this Christmas fudge, you have to try a few of our other holiday treats: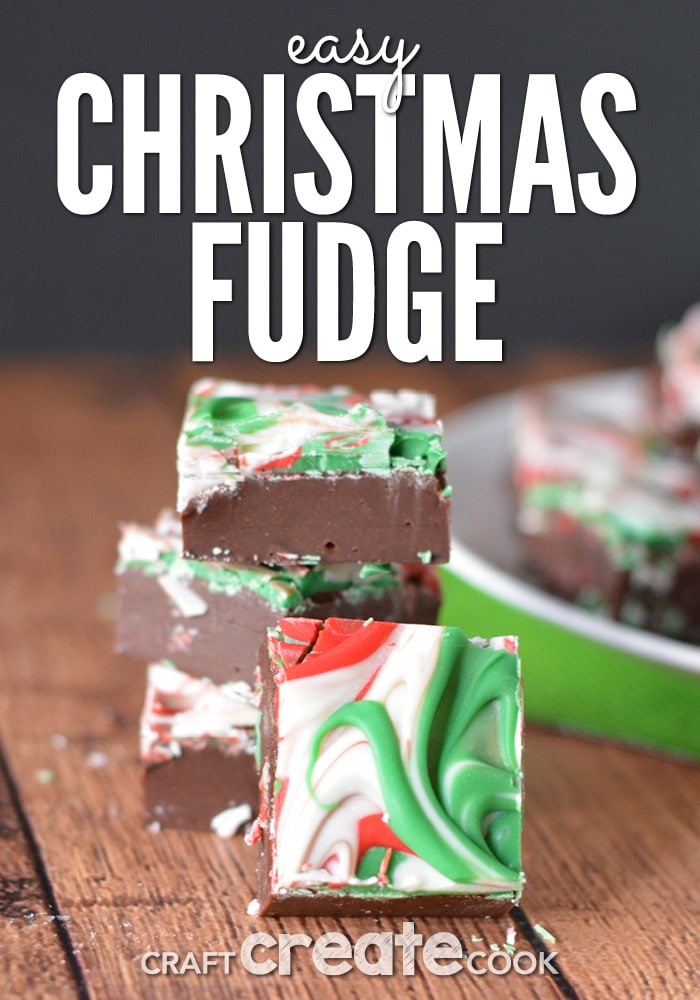 Yield: 64
Easy Christmas Fudge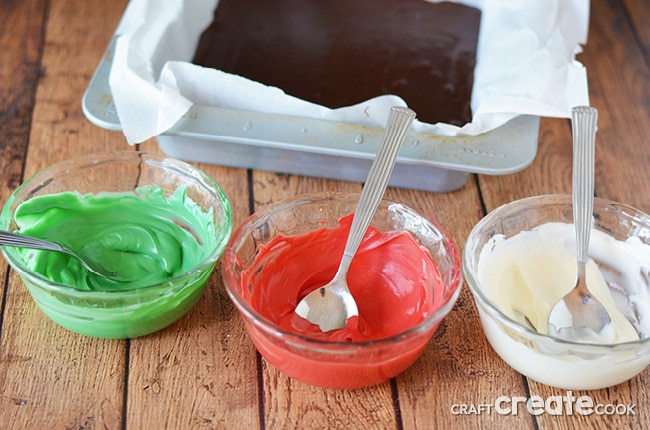 Easy Christmas Fudge is one of my favorite rich and creamy no bake treats to make!

Prep Time 15 minutes

Total Time 15 minutes
Ingredients
1 can (14 oz) sweetened condensed milk
1 package (12 oz) semi-sweet chocolate chips
1 teaspoon vanilla
25 red candy wafers
25 green candy wafers
25 white candy wafers
Instructions
Line a square baking pan with parchment paper (see my tip) and set aside.
In a medium saucepan, add sweetened condensed milk and chocolate chips. Heat on medium heat and stir constantly until completely melted. Remove from heat and stir in vanilla.
Pour into prepared pan and place into the refrigerator for 5-10 minutes or until the chocolate is set.
Place each color candy wafer in a small microwave safe bowl. Microwave on 70% power for 30-60 seconds and stir until completely melted.
Remove the fudge from the refrigerator and pour each color onto the fudge.
Use a knife to swirl the colors together in the fudge.
Let set at room temperature before removing the parchment paper and cutting into 1" squares.



Save