This taco dip recipe is best made the day before and will easily please a crowd!
When I was in college I worked for an insurance company that LOVED potlucks! And I loved making dishes for them! While I was there, I obtained this recipe from one of my co-workers. I have since made a few tweaks but have taken it to lots of parties and events and I always return with an empty dish.
Everyone seems to recognize and LOVE taco dip and I think it's an easy recipe to make for a crowd. You'll probably need 2 bags of chips, or maybe a giant family size bag to accompany this appetizer.
You can use homemade taco seasoning for this recipe and I find it actually tastes better than the store bought packets!
One of my other favorite things about this dish is you can personalize it to your tastes! If you don't like black olives, omit them. If you prefer some chopped onions, add them on top! You can use a hot or spicy salsa to add some kick or even top with fresh diced jalapenos.

Taco Dip Recipe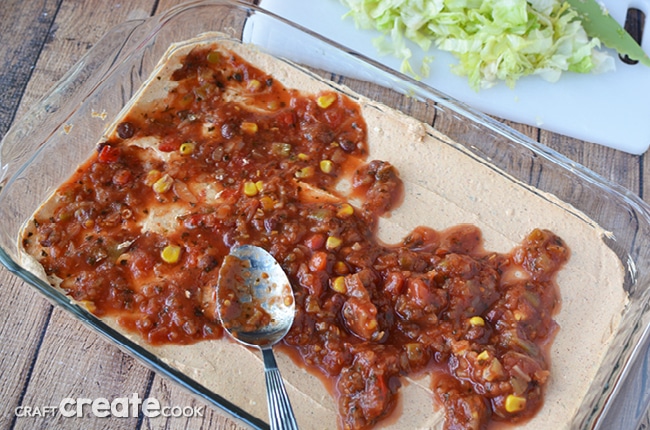 This taco dip recipe is best made the day before and will easily please a crowd!
Ingredients
1 package, 8 oz, cream cheese, softened
1 cup, 8 oz, sour cream
3 tablespoons homemade taco seasoning (or one store bought packet)
1 jar salsa
1 cup, 8 oz shredded cheddar cheese
shredded lettuce
sliced black olives
chopped tomatoes
diced onions
tortilla chips for serving
Instructions
Beat cream cheese and sour cream in a mixing bowl until smooth. Add taco seasoning and beat well until mixed thoroughly.
Spread into a 9x13 pan.
Add salsa and spread evenly on top of the cream cheese mixture.
Top with shredded cheese and toppings.
Refrigerate until ready to serve with tortilla chips.


Are you a taco fan? You won't be disappointed with these taco recipes!