These shrimp tacos are perfect for a healthy dinner or for using leftover shrimp for a light and healthy lunch!
This post may contain affiliate links. As an Amazon and Awin Associate I earn from qualifying purchases. More info
here.
I despise New Year's resolutions. I swear I always make one and then fall off the wagon a few weeks later. Over the course of the year, I put on at least 10 pounds. I blame overeating and just being unhealthy. Back in September a friend invited me to try spinning. I hadn't worked out in months and was nervous. The class was right after dropping my kids off at school though so I couldn't say no and I signed up. Needless to say, I was hurting for the next week. Literally. I could barely walk. I forced myself to go again a few days later, started taking a few extra classes other days like Zumba and step and never looked back. I was hooked.
Eating healthy came hand in hand with working out. Yes, I totally indulge in chips and dip (dips are my favorite thing ever) but when I started working out and didn't 'diet' I just tried eating better and everything in moderation, it fell together. Yes, I still eat Wendy's. I could never stop eating junk altogether but I have started eating much better overall and even my husband who works out jumped on the less red meat and more seafood train.
I love that these shrimp tacos are healthy, taste great and also uses our Fresh Homemade Salsa.
Shrimp Taco Recipe
Yield: 4
Shrimp Tacos Recipe
These shrimp tacos are perfect for a healthy dinner or great for using leftover shrimp for a light and healthy lunch!

Prep Time 5 minutes

Cook Time 20 minutes

Total Time 25 minutes
Ingredients
16 oz raw jumbo shrimp, deveined
2 tbsp. olive oil
1-2 tbsp. fajita seasoning
homemade salsa for topping
corn tortillas
shredded lettuce
salt & pepper to taste
Fajita seasoning
1 tbsp. cornstarch
2 tsp. chili powder
1 tsp. salt
1 tsp. paprika
1 tsp. sugar
1/2 tsp. onion powder
1/2 tsp. garlic powder
1/4 tsp. cayenne
1/2 tsp. cumin
*Combine ingredients and store in an airtight container such as a mason jar.
Avocado Ranch Dressing
1 Avocado, mashed
1/4 C. of mayonnaise
1/4 C. sour cream
1 tbsp. milk
1 tsp. white vinegar
pinch of salt
1/2 tsp. dried parsley
pinch of dill weed
1/4 tsp. onion powder
1/4 tsp. garlic powder
*Combine all ingredients in a 16 oz mason jar and shake to combine.
Instructions
Heat the 2 tablespoons of olive oil in a large skillet.
Add in the fresh shrimp and sprinkle liberally with fajita seasoning. We love spice so we like to add a lot. Salt & pepper the shrimp to taste.
Cook the shrimp until pink on one side (5-6 minutes) and then saute the other side until pink.
While the shrimp are cooking, I like to warm up the corn tortillas in a separate pan on both sides until soft.
Remove the tortilla's and cooked shrimp from heat.
Add lettuce, cooked shrimp, homemade salsa and homemade avocado ranch to each taco.
Serve warm.


You will also want to make our:
Oven Baked Chicken
Strawberry Spinach Salad
Zucchini Pizza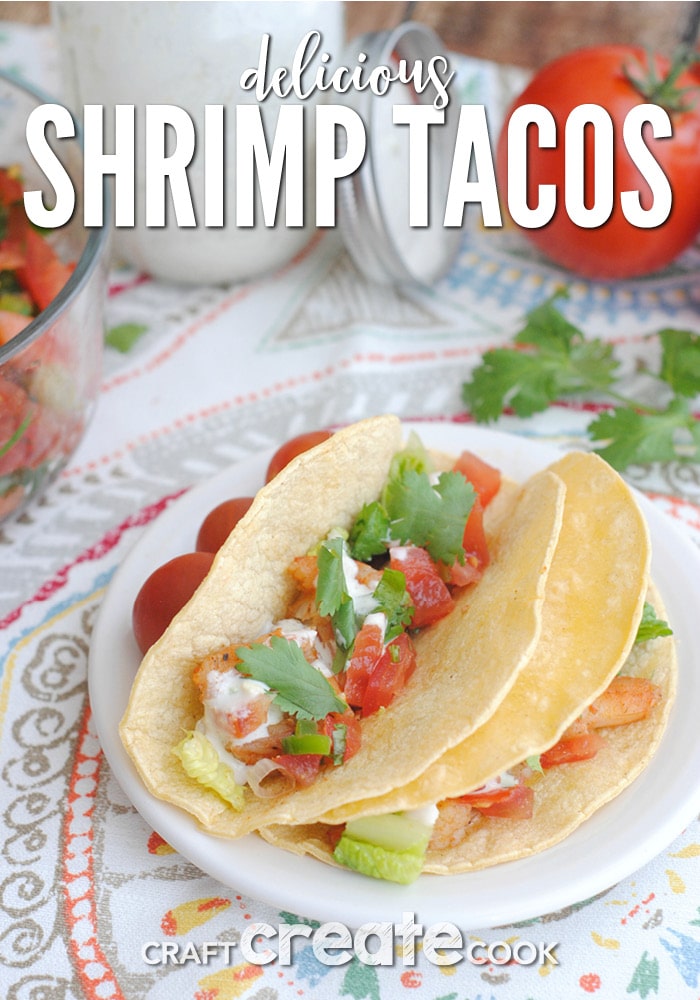 Save