Make 2 batches of this Strawberries & Cream Pancake recipe because your family will be asking for seconds.
This post may contain affiliate links. As an Amazon and Awin Associate I earn from qualifying purchases. More info
here.
Strawberry picking season in my area is over, but that didn't stop the family and I from hitting the patch and grabbing 24 lbs of fresh berries this year! And I don't know what I was thinking! I believe last year I forgot to bring the reusable box back to the strawberry patch. So I purchased a new one so now I have two boxes! I grabbed both of the boxes and we filled them to the brim on one mild Sunday afternoon.
Since I had about double the amount of berries I'm used to having, I have a frezeer full of jam and made a handful of strawberry recipes! One of them was this Strawberries & Cream Pancake Recipe. I love adding fruit to pancakes and this is one of my favorite types of pancakes to make! It's tasty and quick. I usually end up making 2 because we never have any left over.
This is the same pancake recipe as my peach pancake but with a cream cheese twist on the topping. I've served this to my overnight guests and they gobbled it up with approval! Which always makes me feel good!
Need more Fresh Strawberry Recipes?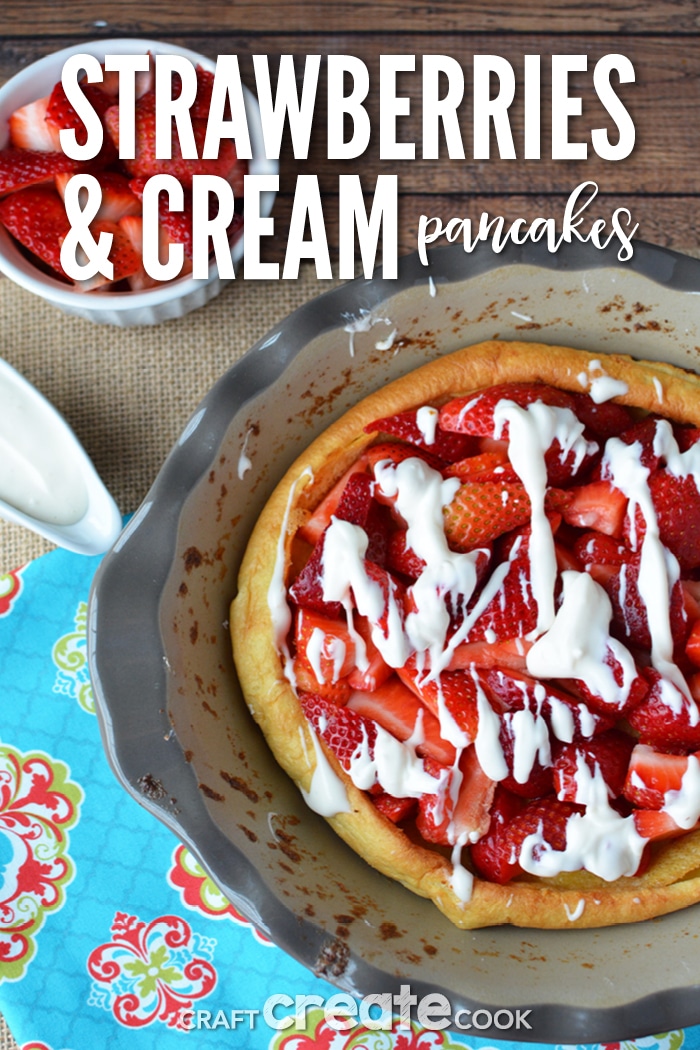 Yield: 6
Strawberries & Cream Pancake Recipe
Make 2 batches of this Strawberries & Cream Pancake recipe because your family will be asking for seconds.

Prep Time 15 minutes

Cook Time 20 minutes

Total Time 35 minutes
Ingredients
Cream Cheese Topping
4 oz cream cheese, softened
1/2 cup powdered sugar
3 tablespoons milk
1 teaspoon vanilla
Pancake Mix
3 eggs
½ cup flour
½ cup milk
½ teaspoon salt
2 tablespoons butter
2 cups fresh strawberries, washed, hulled and sliced
Instructions
Preheat oven to 400 degrees.
For Cream Cheese Topping
Beat cream cheese, sugar, milk and vanilla together in a bowl until smooth and thin. If necessary, add a little more milk, 1 tablespoon at a time.
For Pancake
In a mixing bowl, beat eggs until fluffy. Add flour, milk, and salt and beat until smooth.
Place butter into a pie pan and place into the oven until melted, about 2-4 minutes. Remove from oven and immediately pour the batter into the pie plate.
Bake for 20-25 minutes until puffy.
Remove from oven and fill with strawberries and drizzle with cream.