With only three ingredients, these strawberry kiwi ice pops will be a big hit this summer.
Strawberries are a favorite at our house. We go through several quarts a week, so we always have them on hand and try to stock up when the price is right! Although chocolate covered are my favorite, the kids love my strawberry kiwi ice pops! Nothing is better on a hot summer day than a homemade, ice cold, and (every parent's favorite) healthy treat! Plus, they are super easy to make! All you need are fresh strawberries, kiwis, and coconut water. We all know how healthy fruits are but the reason I use coconut water is that's it's packed with electrolytes and minerals, which the kids will need to beat the summer heat.
I like to make these in the evening, after dinner and baths, when we are calming down and getting ready for bed. And although I might also be exhausted, this is a quick and easy ice pop recipe. Plus, by making it in the evening, it can remain in the freezer overnight. That means I won't get asked every three minutes if the ice pops are ready yet!
First you blend the strawberries and coconut water together for about 30 seconds in a blender, and pour it directly into your paper cups, filling them up about three quarters.
next, put your craft sticks in the center of the cups and place them in the freezer for about 30 minutes
while freezing the first layer, blend your kiwis and coconut water together for another 30 seconds and pour over your strawberry layer (this is a perfect time to make sure your craft sticks are sticking straight up)
freeze for 3-4 hours or overnight and pop one out whenever you're craving a little something sweet or something to cool you down on a hot summer day!
While you can use disposable paper cups and sticks, also try these amazing ice pop molds! Made of BPA Plastic and environmentally friendly! And we like using this coconut water, but you can also try juice or a carbonated lemon lime beverage such as Sprite!
Yield: 5
Strawberry Kiwi Ice Pops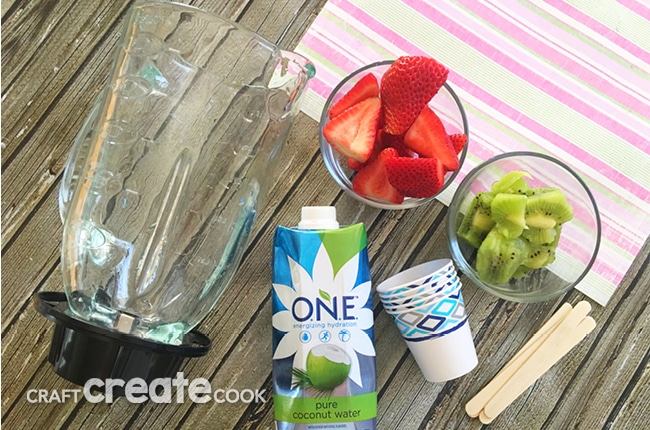 A cool strawberry treat, perfect for summertime

Prep Time 15 minutes

Cook Time 5 hours

Total Time 5 hours 15 minutes
Ingredients
2 Cups of fresh washed strawberries
1 Cup of peeled kiwis
3 Tablespoons coconut water
Instructions
Using a blender, blend your strawberries with two tablespoons of coconut water for about 30 seconds
Pour your strawberries into your paper cups, filling about three quarters full
Place a craft stick in the center and freeze for 60 minutes
Now blend your kiwis with one tablespoon of coconut water for 30 seconds
Pour your blended kiwis over your strawberries
Freeze for about 4 hours
Carefully peel off your paper cup and enjoy!


You'll also love:
These easy and tasty fruit pizzas! Since you already have strawberries in your kitchen and dd some of your kiwi on top!
On a rainy day, make these chewy chocolate chip cookies and toss them in the freezer for your summer barbecue!