This instant pot broccoli cheese soup is creamy and so good you'll want to double the recipe!
If you ask me, I would say this is THE BEST broccoli cheese recipe on the PLANET! The combination of broccoli, cheese and cream is absolutely perfect! I gobble up all of this soup, by myself in 2 days. It tastes just as good the next day as it did hot and piping from the instant pot.
Are you using your instant pot as much as I am? I'm finding my favorite thing to make is any sort of soup and stew recipe. This black bean soup was a family favorite, and this instant pot beef stew recipe is excellent with fresh or frozen veggies. If I'm really struggling to figure out what to make, I go with this homemade macaroni & cheese recipe!
Besides the flavor, my I love that this recipe is almost like a set-it-and-forget-it dish! You place everything into the instant pot, turn it on and when the cooking cycle's done you're almost ready to eat a nice hot piping bowl of instant pot broccoli cheese soup!
I do use an immersion blender to make it smooth, but you can always mash your broccoli with a potato masher or simply leave the broccoli as-is for a chunkier soup. Just be VERY CAREFUL when placing your blender or masher into the instant pot as the soup is VERY hot! You may want to wait a few minutes for the liquid to cool.
Are you looking for some additional things to make in your instant pot? Try some of these dishes for quick and easy meals!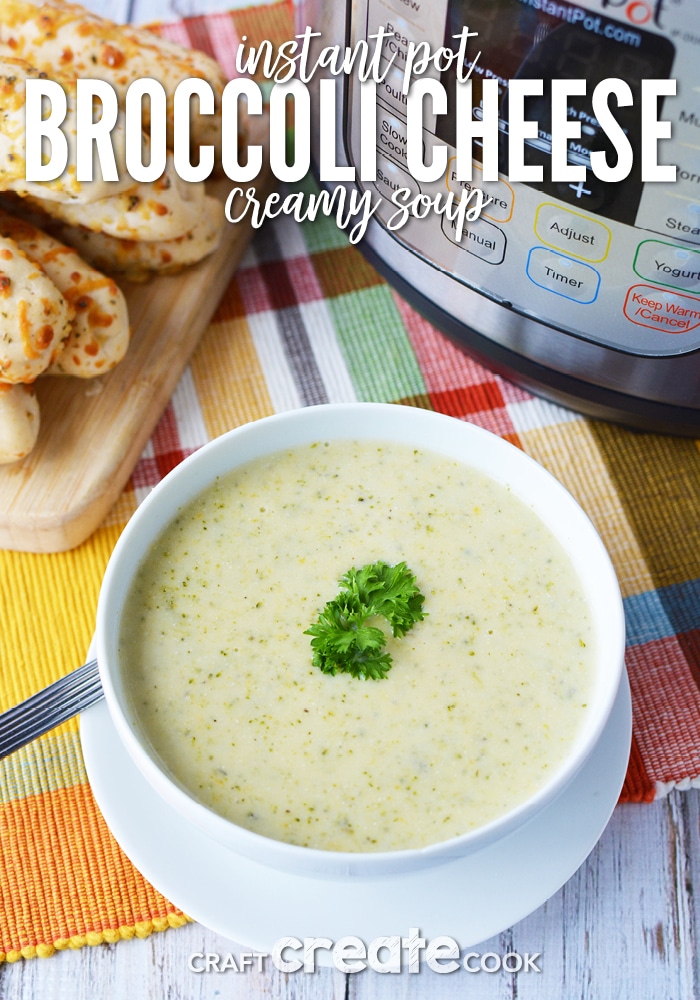 Yield: 4
Instant Pot Broccoli Cheese Soup Recipe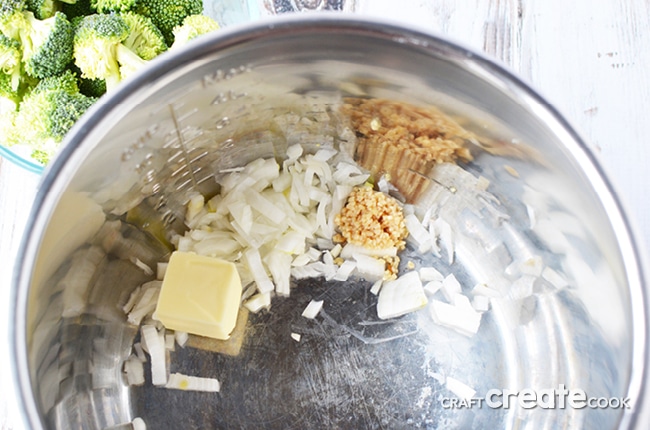 This instant pot broccoli cheese soup is creamy and so good you'll want to double the recipe!

Prep Time 5 minutes

Cook Time 4 minutes

Total Time 9 minutes
Ingredients
2 tablespoons butter
1 small onion, diced
1 teaspoon minced garlic
4 cups broccoli, washed and cut into pieces
4 cups chicken broth
1 teaspoon salt
½ teaspoon dried thyme
¼ teaspoon pepper
1 cup half & half
1 cup shredded cheddar cheese
Instructions
Place butter, onion and garlic into the instant pot. Sautee the items until butter is melted and onions are tender.
Add broccoli, chicken broth and spices. Mix well.
Place the lid on the instant pot and close the pressure release seal. Set the instant pot to manual, high pressure for 4 minutes. When cooking cycle is complete, quick release steam and open the instant pot.
Carefully place an immersion blender into the pot and process until smooth. Stir in cheese and half & half until completely melted.