You'll love the flavor and juiciness of these instant pot chicken thighs.
If you haven't taken the Instant Pot plunge and purchased one, you need to! One of my favorite reasons to cook in an instant pot is that the meat is always very tender and juicy. My instant pot pork tenderloin recipe is full of flavor and juices as is this whole chicken cooked in an instant pot!
You can serve this herb roasted instant pot chicken thigh recipe with a delicious strawberry spinach salad or try our mandarin blackberry salad. Both are sure to be a new family favorite.
How to make Instant Pot Chicken Thighs
I typically use thawed chicken thighs for this recipe you can easily cook frozen chicken thighs in the instant pot, making this appliance very versatile. If you decide to use frozen chicken thighs, make sure you double your cooking time.
The sautee function is pretty hot and chicken thighs do have some fat on them, so be very careful when browning them that you don't burn yourself with splashing oils.
Once you try this instant pot chicken thigh recipe, I know you'll want to make it again as your family will love it!
Are you looking for additional Instant Pot recipes to make your meal planning easier? Try these:
Yield: 4
Herb Roasted Instant Pot Chicken Thighs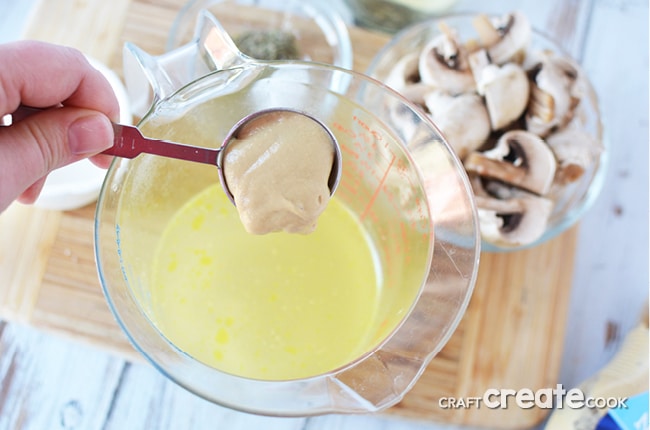 You'll love the flavor and juiciness of these instant pot chicken thighs.

Prep Time 10 minutes

Cook Time 11 minutes

Total Time 21 minutes
Ingredients
2 tablespoons oil
4 bone-in chicken thighs
1 cup chicken broth
1/2 cup white wine
2 tablespoons prepared Dijon mustard
1 container, 8 oz, fresh mushrooms, quartered
1 teaspoon salt
1 teaspoon dry thyme
1 teaspoon dry rosemary
1/2 teaspoon black pepper
fresh rosemary for garnish (optional)
Instructions
Place oil into the instant pot and set the pot to sautee. Place the chicken in the pot and brown the chicken thighs on both sides.
Add broth, wine and mustard together in a small bowl and mix. Pour over chicken in the instant pot.
Add mushrooms and spices to pot and seal the lid. Close the pressure release valve.
Cook on manual, high pressure for 11 minutes. When cooking cycle is complete, let pressure naturally release for 5 minutes.
Open the lid carefully and serve chicken and mushrooms with rosemary garnish if desired.
Notes
You can always substitute the wine for more chicken broth or water.