This instant pot pork tenderloin recipe will have dinner on the table in 45 minutes.
If you haven't grabbed an instant pot yet, now is the time to be sure it's on your Christmas list! The instant pot can do so many things, you'll wonder what took you so long to get one! From making hard boiled eggs in minutes, macaroni and cheese in 4 minutes to cooking a whole chicken in under an hour, the instant pot is the way to go!
I recently tried my favorite marinated pork tenderloin recipe in the instant pot and naturally, I wasn't disappointed. Plus, I find the instant pot is perfect for those days I don't plan ahead, or don't want to turn on the oven.
I think this pot would be amazing for camping or taking somewhere you want to make a hot meal, like an outdoor picnic! As long as you have electricity, you'll a-okay!
Pork tenderloin is a meat I sometimes forget about until it's on sale. Once I grab a package, I pull together my favorite marinade and am reminded of how amazing this recipe is. Pork tenderloin pretty much pairs well with almost any side dish.
I like to go with a spinach salad and rolls or a simple side dish like steamed vegetables. The flavor of this instant pot pork tenderloin is a bit sweet and really brings out the pork flavor.
Need some more instant pot inspiration?
Instant Pot Pork Tenderloin Recipe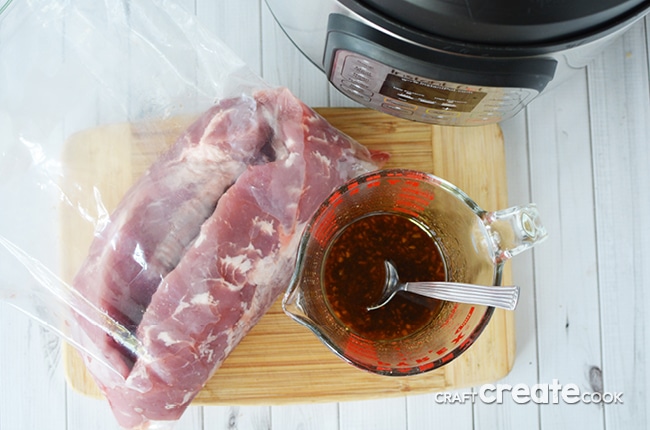 This instant pot pork tenderloin recipe will have dinner on the table in 45 minutes.
Ingredients
2-2.5lb pork tenderloin
¼ cup brown sugar
¼ cup soy sauce
2 tablespoons olive oil
1 tablespoon dried minced onion
1 teaspoon ground cinnamon
1 teaspoon garlic powder
Large resealable bag
Instructions
Place pork tenderloin in a large resealable bag.
Mix brown sugar, soy sauce, olive oil, minced onion, cinnamon and garlic powder together in a small bowl.
Pour marinade over the pork tenderloin in the bag and let set for 30 minutes or overnight in the refrigerator.
When ready to cook, place the meat and marinade inside the instant pot. Discard the bag. Close the steam release and lock the lid.
Set the pot to the meat function Meat, Normal, High Pressure for 30 minutes. Once cooking cycle is done, let the pressure release naturally for 10 minutes before releasing the steam.
Carefully remove from the pan with tongs, cut into 1" sections and serve.
Notes
Alternately you can cook this on Manual, High Pressure for 30 minutes in the Instant Pot.


Save
Save
Save
Save