The kids will get a kick out of these edible witch warts for Halloween!
I love Halloween. I think it's a combination of the changing seasons in Michigan, which also means you have to switch up your wardrobe and the warm colors that adorn our home decor, store shelves and outdoor leaves. I'm a big fan of warm colors - reds, oranges, browns - they just make me feel warm and cozy and that's what Halloween and fall is all about!
I also like fun and unique treats for my kids and neighbors. This witch warts recipe requires only 4 ingredients and almost every kids asks "What is that?" and I truly find so much joy in saying "Those are Witch Warts!" This recipe is low in sugar and when served in little black caldrons, a great Halloween treat!
You don't actually need a food processor to make this recipe, but it does makes things move a little quicker. An alternate option is to use a pastry blender to cut the butter into the flour and sugar. Either one will work, but a food processor will cut your time significantly. If you have a food processor but rarely use it, break it out and dust it off! This kitchen appliance is great for making Oreo Cookie Crusts as well as homemade pie crusts! And in this case, cookies!
Another tool I like to use for this recipe is a pastry cutter. You don't need one of these, you can use a knife, but if you are a gadget hoarder like I am, you probably have one at the bottom of your drawer. You can cut these shortbread cookies one of two ways: 1) Slice the dough into strips, separate the strips, and cut each strip into a triangle, or, 2) slice the dough into strips, and then add diagonal lines to create triangles as shown. Both ways will give you the same result.
My witch warts are shortbread bites! They have that lightly sweetened, crunchy, buttery, flavor. They almost melt in your mouth! I always tell the kids if they eat one, they'll get a wart on their nose, just like a witch!
Need some more fun Halloween Treats? Check out these recipes!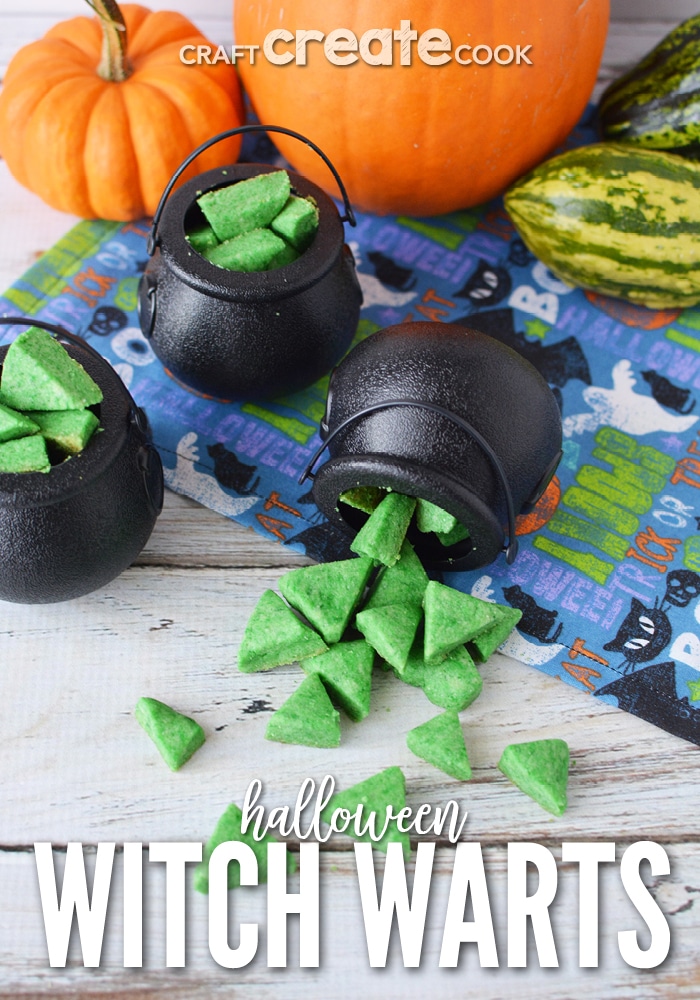 Halloween Witch Warts Recipe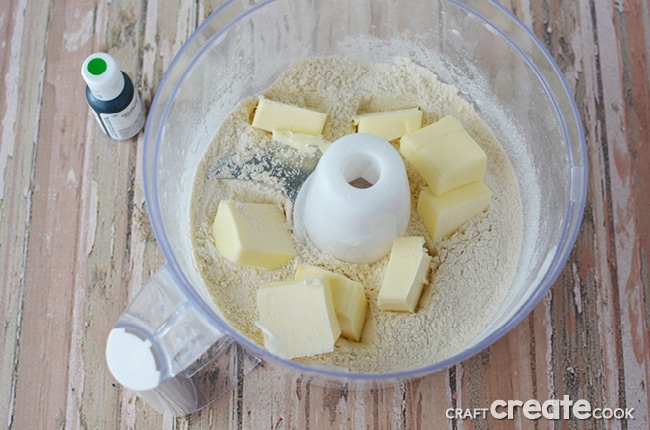 The kids will get a kick out of these edible witch warts for Halloween!

Prep Time 5 minutes

Cook Time 12 minutes

Total Time 17 minutes
Ingredients
1-¼ cups flour
3 tablespoons white sugar
½ cup butter, cold and cubed
1-2 tablespoons water
green food coloring or color gels
Instructions
Preheat oven to 325.
Add flour and sugar in a food processor and process for 5 seconds.
Add cubed butter and process for 15 seconds until combined well.
Add 1 tablespoon water and food coloring and process for 20 seconds. If mixture does not begin to resemble a dough and stick together when pinched, add 1 more tablespoon of water and process for another 10 seconds or until mixed through.
Press dough onto an ungreased cookie sheet and shape into an 9"x6" rectangle keeping cookies about ⅜" thick. Cut into triangles and separate.
Bake for 10-12 minutes or until bottoms just begin to brown.
Transfer cookies to wax paper to cool.
Pour a small amount of cookies into a caldron and serve your witch warts!