You will not be disappointed with this classic apple pie recipe! You'll make it once and it will be a family favorite for years to come.
When I was a kid, I got "into" baking. I was in the 5th grade and used to make treats and hand them out at my sister's basketball games. All of the parents in the stands loved my baked goods -- which typically were boxed creations. As I got a little older, I began to venture into uncharted territory, recipes I saw my mom and grandmas make and I tried them as well. One of these recipes was a Classic Apple Pie.
I've had this Crisco American Pie Celebration cookbook for a very long time. The copyright says 1989 and there's no UPC on it, so I'm thinking I sent away for it. Remember how cereal boxes and food containers used to have offers on them? You'd send $2 and get a cookbook, or a neat set of measuring spoons. I saved those product UPCs and mailed stuff in All. The. Time.
This cookbook is where my Classic Apple Pie recipe came from. I'm pretty sure it's the only recipe I've ever made in that book. And it's apparent by the food stained recipe page! I've made a teeny modification to the dough, but overall I follow the instructions to a T and it works perfectly every time. I'm so excited to be sharing it with you.
I also LOVE to make dough in my food processor. I only discovered this a few years ago. I always used a pastry blender and it took what seemed like forever to make the dough, but it's so worth it! And I cannot slice apples without my favorite apple slicer. It makes life so much easier!
Once you try my Classic Apple Pie Recipe, your going to want to make



Yield: 1 pie
Classic Apple Pie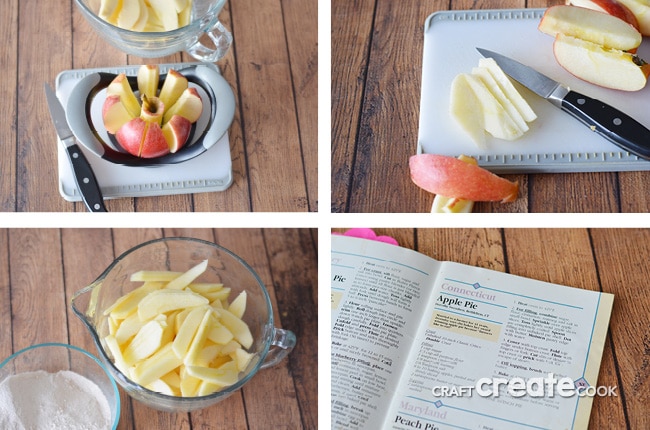 You will not be disappointed with this classic apple pie recipe! You'll make it once and it will be a family favorite for years to come.

Prep Time 30 minutes

Cook Time 50 minutes

Total Time 1 hour 20 minutes
Ingredients
For the Crust
2-⅔ cups flour
1 teaspoon salt
1 tablespoon sugar
1 stick butter, cold and cubed
3-6 tablespoons cold water
For the Filing
1 cup sugar
⅓ cup flour
1 teaspoon cinnamon
⅛ teaspoon nutmeg
⅛ teaspoon salt
8-10 baking apples or about 8 cups, peeled and sliced
4 tablespoons butter, divided
Instructions
For the Crust
Place flour, salt, sugar and butter in a food processor. Add 3 tablespoons water and process for 20 seconds.
Add additional water, 1 tablespoon at a time, and process for 20 seconds after each addition. You will know your dough is ready when it begins to "strain" your food processor.
Check to see if dough is ready by pinching it. It should hold together well but not be overly sticky.
Remove from food processor and divide into two balls. Wrap in plastic wrap and refrigerate for 30 minutes.
Roll dough onto a floured surface and place into a pie plate. Add filing and roll out the second piece of dough and place on top of the filling.
Gently trim the edges with a sharp knife and seal the edge with your fingers. Cut slits into the top of the crust and brush 2 tablespoons melted butter onto the top of the crust.
Bake at 425 for 10 to 15 minutes until crust begins to brown.
Reduce heat to 400 and bake for 40 minutes.
Cool until barely warm or room temperature before serving.
For Apple Pie Filling
Heat oven to 425 and combine sugar, flour, cinnamon, nutmeg and salt in a bowl. Stir to combine.
Sprinkle mixture over sliced apples and mix well.
Pour apples into pie crust.
Dot with 2 tablespoons of butter (slice in thin slices)
Add top crust and follow the directions above.
Save