Still searching for a cute Halloween treat? Look no further, these Mummy Cake Truffles will make your eyes and tummy happy.
Every once in awhile I stop by my Mom's house and there will be a cake sitting on her counter half gone. I'll ask her who's birthday it was and she'll laugh and say I just wanted cake. So once you get past the whole cakes are for birthdays thing, then your mind will be blown at all the things you can make.
One of my favorite is cake truffles or cake pops without the sticks. They are super easy to make and lots of fun for the kids to help. Just pick up these ingredients and you'll be on your way to some yummy Mummy Cake Truffles.
Any boxed cake mix (plus oil, eggs, and water)
Tub of frosting
Chocolate melting bark
Wilton white icing
You will also need:
Cake pan (any size will do the trick)
(2) Mixing bowls
Whisk
Spatula
Parchment paper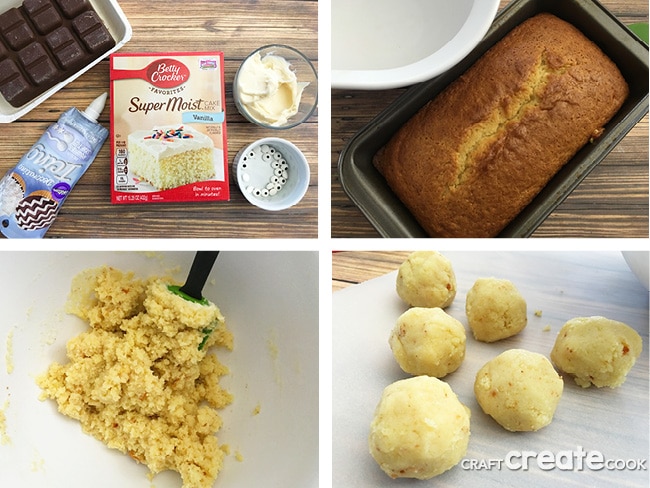 To start preheat your oven to 350 degrees and grease your baking pan with butter.
Now prepare your cake mix as directed on the box (usually calls for oils, water, and eggs). Pour your cake batter into your pan and bake as directed on the box.
Let your cake cool and scoop out the inside of the cake into a large mixing bowl (leave the top, bottom, and sides in the pan and discard).
Mix your cake crumbles with ⅓ cup of frosting, form your cake mixture into 1" balls, and place onto a piece of parchment paper. Once you make all your truffles, transfer them to the freezer and freeze for about 2 or more hours.

Heat your block of chocolate bark in the microwave for 1 minute, stir, and reheat in 15 second intervals until melted completely (hint: if it starts to over heat mix in a ½ teaspoon of coconut oil).
Place your cake truffles into the melted chocolate, use a fork or chocolate spoon to let the excess chocolate drip off, and place them onto a piece of parchment paper to harden.
Add two candy eyes on the top of each truffle and drizzle back and fourth with your white frosting to make the mummies.
You might also enjoy our: