These Cinnamon Roll Spiders will be a hit for a fun Halloween breakfast or brunch!
I love holidays. I also love surprising my kids with fun breakfasts, treats and snacks! Holidays are no exception and they always give me the perfect excuse to whip up fun and creative treats.
With Halloween only a few weeks away I am in full Halloween planning mode. I was trying to think of a fun Halloween breakfast that I could surprise my family with. I love cinnamon rolls. We make them for weekend breakfast all the time and they never last long. I always try to sneak a few in before the kids see them but sometimes that just doesn't happen. That's ok though, it's a fun tradition we have and my kids love help making them too!
When it comes to fun holiday treats I am all about saving time so I used store bought cinnamon rolls for these fun cinnamon roll spiders. Even if it's not Halloween and your kiddos love spiders these would make the perfect treat!
So grab a can of store bought cinnamon rolls, some black licorice rope, candy eyes, Wilton black Color Mist and let's get started!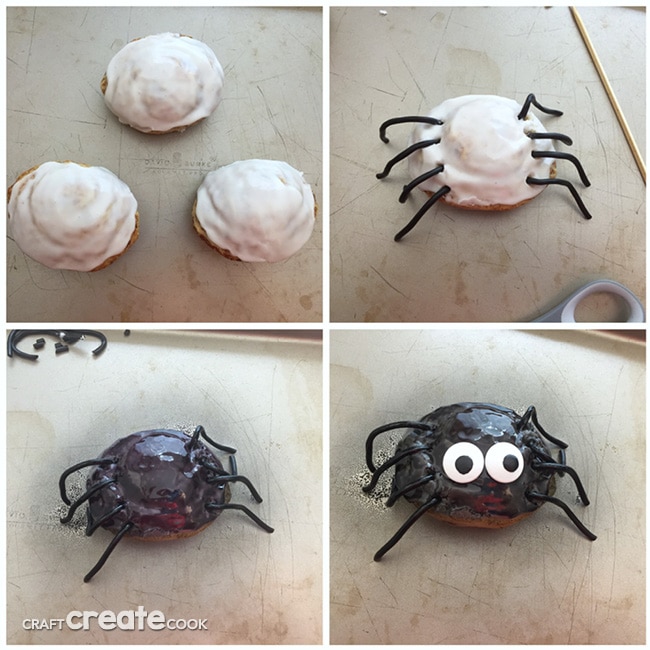 Yield: 8
Cinnamon Roll Spiders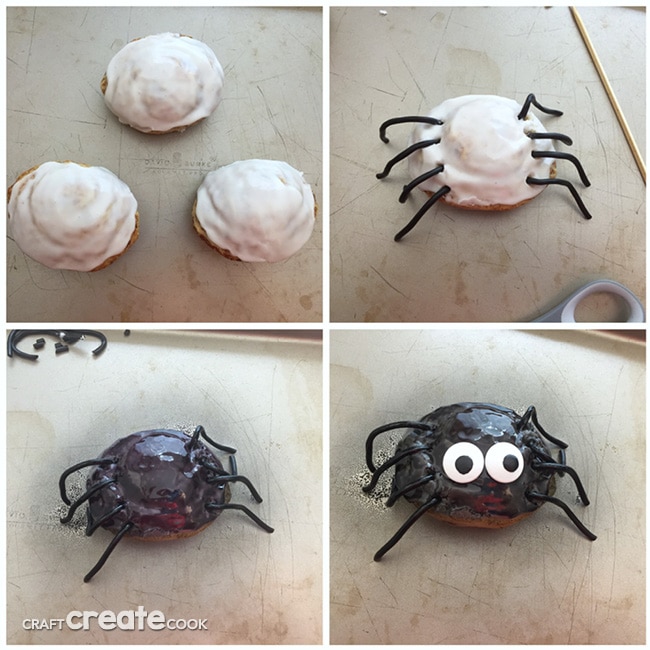 These Cinnamon Roll Spiders will be a hit for a fun Halloween breakfast or brunch!

Prep Time 5 minutes

Cook Time 12 minutes

Total Time 17 minutes
Ingredients
1 package of 8 ct cinnamon rolls
black licorice rope
Wilton black Color Mist
candy eyes
wooden skewers
kitchen scissors
Instructions
Preheat the oven to 350 degrees.
Open the can of cinnamon rolls and place them about 2" a part on a baking sheet. Set aside the icing.
Bake 12-14 minutes or until golden brown and heated through.
Remove from the oven and let cool.
Generously frost each cinnamon roll with the icing.
Use the wooden skewer to gently poke 4 small holes on both sides of the cinnamon rolls for the spiders legs.
Use the kitchen scissors to cut each black licorice rope into 2-3" pieces and gently poke them into each hole giving the spider 8 legs.
Repeat this process with each spider.
Once each spider has 8 legs, spray with spider with Wilton black Color Mist making them black.
Let the Color Mist set for a minutes and then give each spider 2 candy eyes. *If needed use some of the leftover icing as 'glue' to hold the eyes.


You will also want to make our Mummy Cake Truffles, Pumpkin Patch Halloween Treats and our Pumpkin Whoopie Pies!