These Easy No Bake Chocolate Bats are perfect for Halloween!
It may be August but fall is already on the horizon. With many schools already in session my kids are already thinking of Halloween and asking me about Halloween costumes. I love Halloween and everything that surrounds it. I love the costumes, the treats, trick or treating and more!
I started thinking about fun no bake Halloween treats and these easy no bake chocolate bats made of Twinkies came to mind. My family loves Twinkies. I grew up eating the occasional Twinkie and was super excited to find that Twinkies now come in NEW Chocolate and Chocolate Fudge Flavor!
I headed to my local Walmart store and grabbed a box of Fudge Covered Twinkies and a box of original Twinkies and got to work!
Easy No Bake Chocolate Bats
Ingredients:
Decorating bag
Parchment paper
Directions:
In a small microwave safe bowl, heat 1 cup of your black candy wafers on 50% power for 2-3 minutes, stirring every 30 seconds until melted.
Scoop your melted candy into a decorating bag and cut a tiny tip off the end.
Use your decorating bag to draw bat wings onto a piece of parchment paper (2 for each Twinkie) and carefully transfer to the fridge for about 5-10 minutes so the melted candy will harden quickly.

Dab a small amount of the black melted candy onto the back of each white candy and stick 2 onto the front top of each Fudge Covered Twinkie and then dab the top of each candy with a dot of your black melted candy for eyes.
Once the bat wings have hardened, carefully stick one into each side of the Bat Twinkies.
There you have, my own FUN and EASY twist on Twinkies!

How cute are these little bats! They are fun and super easy to make for your next Halloween classroom party or event! You're sure to get lots of compliments on your creative idea!

Yield: 8
Easy No Bake Chocolate Bats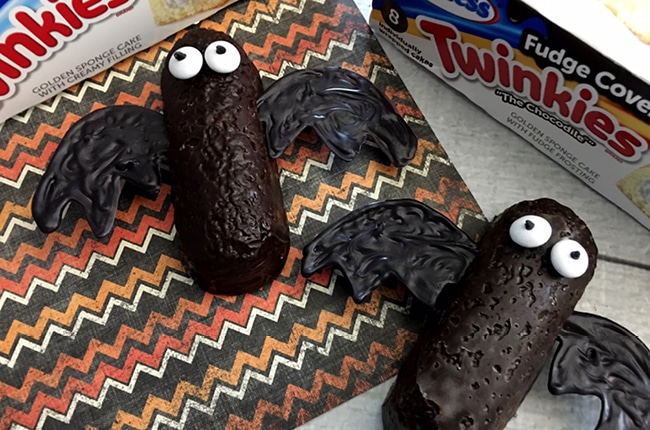 These Easy No Bake Chocolate Bats are perfect for Halloween!

Prep Time 5 minutes

Cook Time 20 minutes

Total Time 25 minutes
Ingredients
Fudge Twinkies
White chocolate covered candies
Black melting candy wafers
Decorating bag
Parchment paper
Instructions
In a small microwave safe bowl, heat 1 cup of your black candy wafers on 50% power for 2-3 minutes, stirring every 30 seconds until melted.
Scoop your melted candy into a decorating bag and cut a tiny tip off the end.
Use your decorating bag to draw bat wings onto a piece of parchment paper (2 for each Twinkie) and carefully transfer to the fridge for about 5-10 minutes so the melted candy will harden quickly.
Dab a small amount of the black melted candy onto the back of each white candy and stick 2 onto the front top of each Fudge Covered Twinkie and then dab the top of each candy with a dot of your black melted candy for eyes.
Once the bat wings have hardened, carefully stick one into each side of the Bat Twinkies.


You will also want to make these fun Twinkie treats: