Your family will love this classic easy pasta salad that is perfect for all occasions!
I love pasta. Hot pasta, cold pasta, any shape or form. I just love pasta! With the days getting longer and warmer I find that I love having a big bowl of pasta salad in our fridge. It's a great go-to for quick healthy lunches, a light meatless dinner or even as a delicious side dish. I also love that almost anything goes with pasta salad ingredients. I always have extra fresh vegetables sitting in the fridge: onions, broccoli and more that can quickly be chopped and added to pasta.
As for the dressing, anything goes as well! For this recipe I used Kraft Sun Dried Tomato dressing, but the great thing about this salad is you can use just about any dressing that you have on hand, or even whip up your own!
This easy pasta salad also makes a generous portion so you could take it to your weekend get togethers, work luncheons, picnics and potlucks!
Let's get started! First, you will want to bring a large pot of water to a rolling boil and add in 16 oz of tri color or regular rotini. Boil for about 9-10 minutes, stirring occasionally. You want the noodles cooked through but not mushy. No one likes a mushy noodle in their cold salad. Trust me.
While the noodles are cooking, take this time to chop up your fresh veggies. For this salad I tossed in broccoli, green onion and a red pepper. I also cut up some cheese from a block I had sitting in the fridge and tossed it in.
Remove the rotini from the stove and drain. Rinse the noodles under cold water and toss. Set aside and let cool. Once the noodles are cooled, dump into a large bowl and add all the fresh veggies, a small can of black olives, cheese cubes and some salt & pepper to taste. Finally add the dressing and gently toss. I started with ¼ cup of dressing and then added to taste. You can always add more dressing as needed. You don't want the salad soggy.
Cover the pasta salad and let set in the fridge until cooled. Serve and enjoy!

Easy Pasta Salad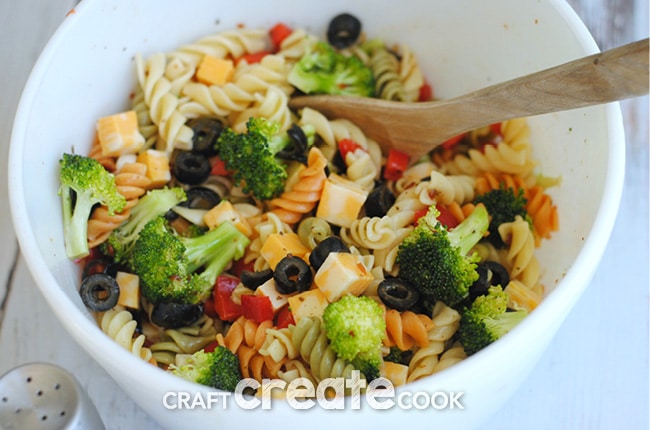 Prep Time 15 minutes

Cook Time 10 minutes

Total Time 25 minutes
Ingredients
16 oz tri color or rotini pasta, uncooked
1 red pepper, diced
1 small head of broccoli, cut into pieces
1 bunch of green onions, diced
5 oz can of black olives
1 C. Colby Jack cheese cubes
1 bottle of Kraft Sun Dried Tomato Dressing
salt & pepper to taste
Instructions
Bring a large pot of water to a boil. Add in the 16 oz rotini noodles and cook on a rolling boil for 8-10 minutes, stirring occasionally.
Remove from the the stove. Drain and rinse with cold water.
Combine the vegetables, olives, cheese cubes and pasta, gently tossing together.
Add ¼ cup of dressing and gently stir to coat the pasta salad.
Add salt & pepper to taste.
Refrigerate until ready to serve.


You'll also want to try: