The only thing better than the smell of this french toast casserole filling your home, is that you make it the night before!
Making a french toast casserole has been on my t0-do list for a while. I finally found a recipe that I knew I'd love! My family did, too! We ate almost all of it for dinner the other night! (I call breakfast at dinner, Sunrise at Sunset.) Next day we did this Pineapple casserole was also fun and tasty!
I had some left over bakery bread and decided it was perfect for this recipe. Okay, okay, I bought the bread on sale and never used it and it started to get hard, as it always does, and was about to mold if I let it sit for one more day. No sugar coating things here! So I sliced the bread into cubes, and placed it into my greased pan.
I mixed up my egg, milk and cream mixture, poured it on top, covered it with plastic wrap and tossed it into the fridge. Then I began working on the topping. The topping is the BEST PART of this entire recipe! It makes the top extra crispy, which I thought I might not like, but pair it with the soft bottom and it's the perfect combination of french toast! I find that a pastry blender is the perfect tool for the topping. Some recipes say you can use two forks to cut the butter and sugar mix, but I've never been able to figure out how to actually do that, so grabbing an inexpensive pastry blender has saved my life! After the topping is together, you refrigerate that overnight until you're ready to bake the next day.
The following day, take your french toast casserole out of the fridge and grab your topping, too. Break apart the butter topping and sprinkle it on top of your casserole, bake and in no time you're family will be asking for seconds!
This is not an overly sweet recipe, because my family LOVES to add maple syrup to their french toast! The syrup adds the sweetness and you can certainly add more sugar to this recipe if you'd like.


Yield: 8
French Toast Casserole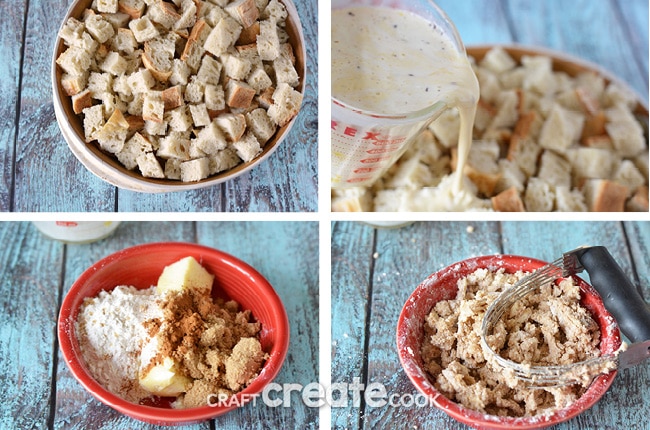 The only thing better than the smell of this french toast casserole filing your home, is that you make it the night before!

Prep Time 10 minutes

Cook Time 50 minutes

Total Time 1 hour
Ingredients
For the French Toast
1 loaf bread, cut into cubes
6 eggs
1 cup heavy whipping cream (or use half and half)
1/2 cup milk
1/4 cup sugar
2 Tablespoons vanilla
1 teaspoon cinnamon
For the Topping
1/2 cup butter, softened (1 stick)
1/2 cup flour
1/2 cup brown sugar
1 teaspoon cinnamon
Instructions
For the French Toast
The day or morning before, grease a large casserole dish and place bread in it. Set aside.
In a large bowl, add eggs, cream, milk, sugar, vanilla, cinnamon and whisk well. Pour over bread.
Cover with plastic wrap and refrigerate overnight.
For the Topping
Add butter, four, sugar and cinnamon to a bowl.
Use a pastry blender to mix the ingredients until it's small and crumbly. Cover and refrigerate overnight.
The Next Day
Preheat oven to 350.
Break apart the topping and sprinkle it over the french toast.
Bake, uncovered, for 40-50 minutes until top is crispy and bubbly.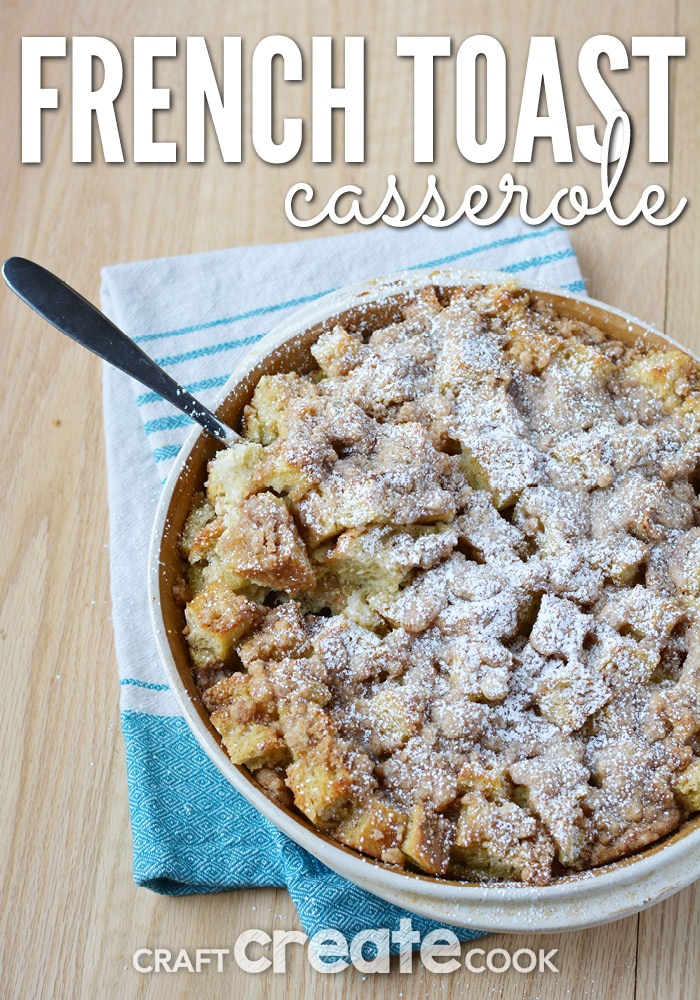 You'll also want to try: