This DIY Oven Cleaner only requires 3 ingredients and will leave your oven looking clean and shiny.
Okay let's be honest, have you even looked in/at your oven lately? I'm not talking putting your food in and taking it out. I'm talking really looking at the cleanliness of your oven. I know it's never been something on my priority list. I'd rather have the house clean, the stuff people can see. No ones opening my oven when they come over.
After buying our house several years ago, we cleaned the oven along with everything in the house but never deep cleaned it. I thought that stuck on grease would never come off so I just sort of gave up on it.
Then my husband brought up our oven the other day and said we should try something natural and let it sit overnight. We've been Spring cleaning for a couple weeks now, getting things clean that we normally overlook like our oven.
This oven cleaner I made only requires 3 ingredients, a little bit of time and some arm strength for the tough spots.
How to make our DIY Oven Cleaner:
Ingredients:
Make sure your oven is off and cool and remove the racks from your oven.
Combine your baking soda and water and mix until you have made a paste.
Let set overnight and use a clean, wet sponge to start really scrubbing. Some spots will easily wipe clean and the gunk that has been on for years might take a little more arm strength.
Rinse several times with a sponge and clean water, I kept a towel close by to soak up any excess water.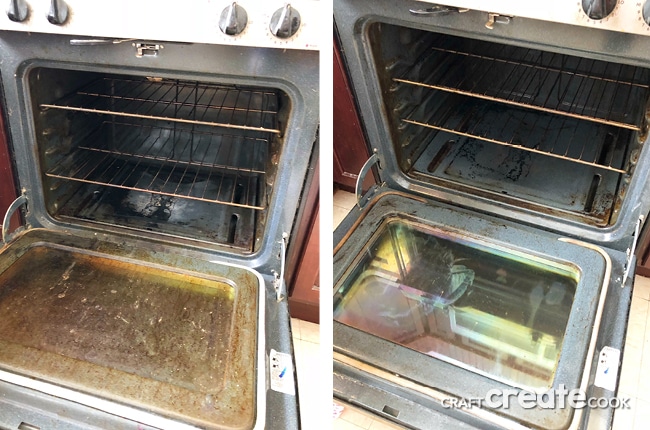 This really worked. Now I know the gunk isn't completely gone but look at the before and after pictures, it really is amazing. And I can't believe I was cooking our food in that dirty thing. Gross.
You might also enjoy our:
Chalk Paint Hutch Makeover – Our Chalk Paint Hutch Makeover will make you want to start painting!
7 Spring Decorations for Your Home – These 7 Spring Decorations are affordable, easy to make, and add seasonal decor to your home!
Essential Oil Sore Muscle Rub – If you've hopped on the new year, new you exercise band wagon like I have, you might need this essential oil sore muscle rub!