These 7 Spring Decorations are affordable, easy to make, and add seasonal decor to your home!
Spring might officially happen in March, but in Michigan, spring could happen anytime from March 20th through Memorial Day in May. You really never know what the weather will be like between these 2 months. We could have mounds of snow, or wet puddles or freezing temperatures. When I was a kid, I remember it snowed on Mother's Day. But with daylight savings time making the days seem so much longer, I'm always excited to add spring decorations around the house to get me in the mood for the new season.

Commercial Silk has an amazing product line of faux greens for your home. Perfect for indoor and outdoor use, you won't be disappointed by the quality of their product and the fast shipping. Make sure you connect with Commercial Silk on Social Media.
Facebook | Twitter | Google+ | Pinterest | YouTube
How to Make Spring Decorations for Your Home-Mason Jar Topiary
Materials:
Sandpaper (220 grit)
Paint Brush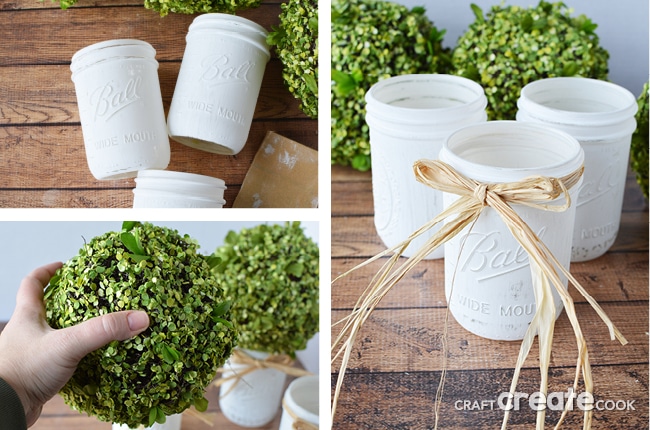 Directions:
Paint your mason jars with paint. I used one coat and let dry completely.
Use sand paper to gently remove paint from the raised areas on the jar and create a little distressing on the flat areas.
Place 1 jar between your knees. Take 3-4 pieces of natural raffia and tie it in a bow around the top of the jar. Trim the ends with scissors.
Place your Berry Orb on top of the jar and display for some fun spring decorations within your home. You can display all 3 together or separate them into three different places in your home! They add a fun burst of green color perfect for spring decorations.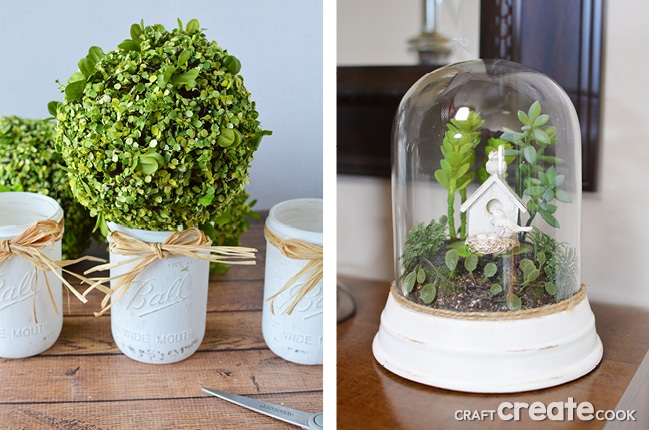 Disclaimer: I received product in exchange for a review. All opinions are 100% mine.