If you've hopped on the new year, new you exercise band wagon like I have, you might need this essential oil sore muscle rub!
With a new year always comes a fresh start and my New Year's Resolutions are usually the same:
Eat Better
Exercise
Clean & Purge My House
Write 2 Thank You Notes a Month
Stay On Top of Business Paperwork
Get Caught Up With Scrapbooking Family Memories
This year, one of the hardest things to dive into is exercising. I did purchase a treadmill from Craig's List 2 weeks ago and have been on it exactly 2 times. It's been very hard for me to get motivated and moving when it's very cold here, -10 with the wind chill. I know a run will warm me up, but I don't want to change my clothes to get run-ready!
And naturally after I take the running plunge, I'm SORE the next day. I swear, as I get older, the pain is worse and lasts longer. That's when I grab my essential oil sore muscle rub.
I typically apply my rub after a workout or before bed and then after my shower in the morning. At times I have a very stiff spot in my leg that needs attention, so I'll add some additional cream throughout the day. My essential oil stockpile is quite small, but I always rely on peppermint and lavender to help my fatigued body.
Peppermint essential oil is an excellent natural pain killer and muscle relaxer. Helping to reduce tension, inflammation and pain, it's one of the go-to oils I put into my sore muscle rub.
Lavender oil helps to ease muscle swelling and improve circulation. The anti-inflammatory and analgesic properties of lavender make it effective in helping to treat aches and pains.
I grab my beeswax and shea butter on Amazon and coconut oil I often pick up at a local store. Toss in some essential oils, and you're on your way to feeling better in no time!
What are some of your favorite essential oil recipes? Try some of these!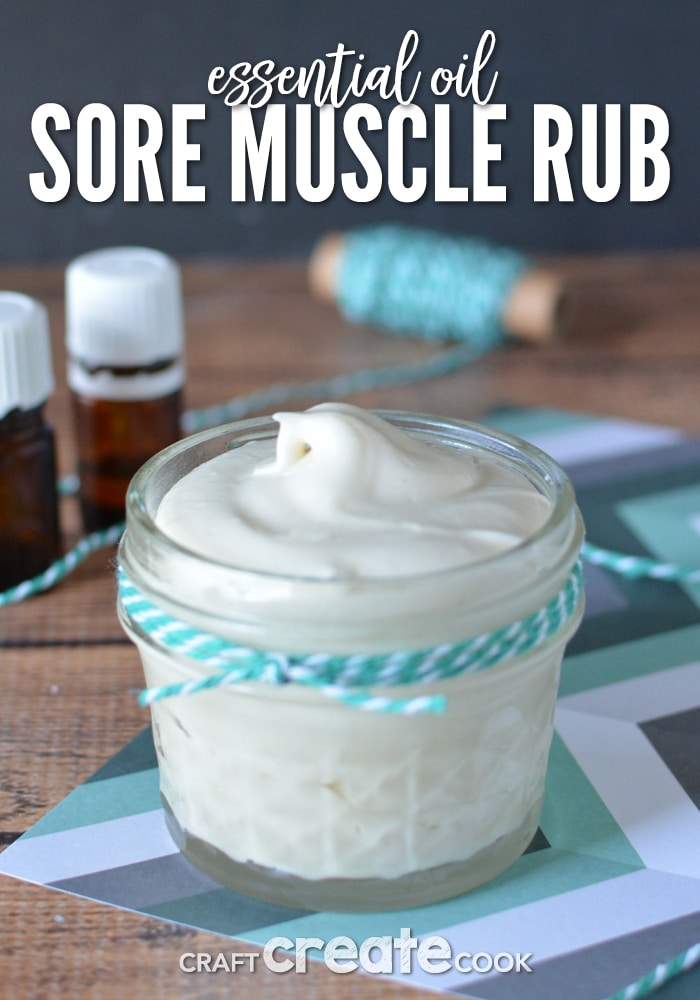 Essential Oil Sore Muscle Rub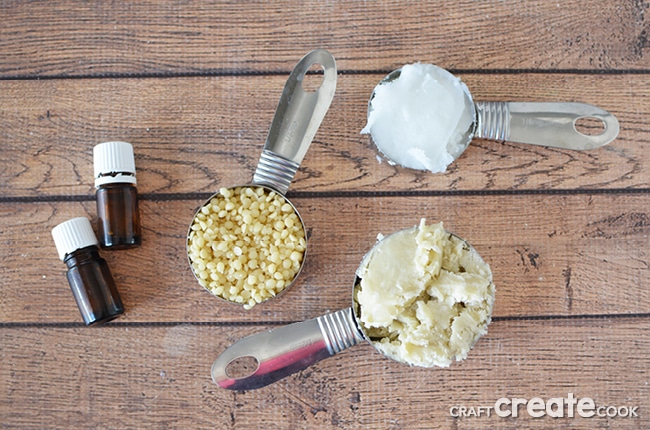 If you've hopped on the new year, new you exercise band wagon like I have, you might need this essential oil sore muscle rub!
Ingredients
1/3 cup beeswax
1/2 cup shea butter
1/2 cup coconut oil
15 drops peppermint essential oil
10 drops lavender essential oil
glass jar with lid for storing muscle rub
Instructions
Add beeswax, shea buter and coconut oil to a microwave safe mixing bowl.
Microwave for 60 seconds and stir mixture. Continue to microwave in 30 second intervals and stirring well after each increment. The last item to melt will be the beeswax.
Let mixture to partially solidify and whip with a mixer until smooth and stiff.
Store in an airtight glass container such as a mason jar.