Homemade Easter Pancakes will have everyone asking for more, please!
If you're a loyal stalker follower here at CraftCreateCook, you know I love serving breakfast for dinner. I call it Sunrise at Sunset and my kids also love eating it! One of their favorite breakfast foods is PANCAKES! My absolute go-to pancake I've been using for years is from the Better Homes & Gardens Cookbook. I purchased this cookbook when I was in college. It was my absolute favorite cookbook for years! It has all of the basic how-to things for cooking as well as good recipes. My roommate even used it and eventually bought her own when she graduated.
I've made this recipe so many times, I memorized the page number (126 in my edition) and then I memorized the recipe. I've doubled the recipe, tripled the recipe, and it's perfect every time. You might think it's easier to buy a box of pancake mix, but in all honesty, this is so easy to make and so delicious, I don't bother buying boxed pancake mix!
Now, because I like to be "that" mom, I often make fun pancakes for my kids. At Eastertime I always make Easter egg pancakes. My kids go crazy over them! And I've got all the tips and tricks to make them perfect every time. This time I also took advantage of using my Neon Food Coloring which really made some nice pastel Easter colors.
The trick to using a condiment container is to make sure you find one with a wide opening. I've been fooled and purchased containers that have a teeny tiny opening when I unscrew the lid. You can always cut the tip off to make it bigger, as you can see from the pink batter.
I find it's easiest to make smaller eggs as they look cuter and they are easier to flip!
If you like these Easter Pancakes, try some of our other breakfast recipes:
Save
Save
Save


Yield: 30
Homemade Easter Pancakes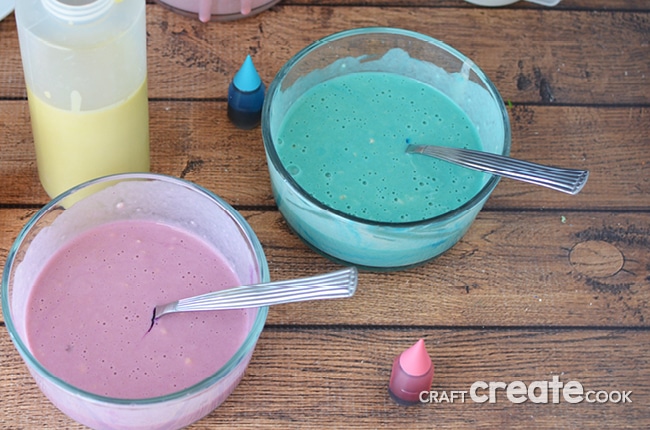 Our Homemade Easter Pancakes will have everyone asking for more!

Prep Time 5 minutes

Cook Time 15 minutes

Total Time 20 minutes
Ingredients
2 cups all purpose flour
4 teaspoons baking powder
2 tablespoons white sugar
1/2 teaspoon salt
2 eggs
2 cups milk
Neon Food Coloring
For Easter Grass
1/4 cup coconut flakes
1 teaspoon water
green food coloring
Instructions
Add flour, baking powder, and sugar in a mixing bowl and mix well. Make a well in the center of the dry mix.
Add eggs and milk and mix until just moistened (batter will be lumpy).
Divide mix equally into 4 bowls. Add neon food coloring and mix well so color is even.
Place colors into a condiment container.
Pour batter onto a hot griddle and add dots and zig zags to create decorated eggs. Flip a little sooner than usual, because if the pancakes brown too much, you won't see your fun pastel colors!
To Make Easter Grass
Add coconut, water and food coloring to a small resealable bag. Seal bag and knead until coconut is green. Sprinkle on plate with pancakes.