If you're looking for a way to soften your cuticles, you'll want to try our DIY Lavender Cuticle Cream.
Winter is here and it looks like it's staying awhile. Living in the midwest, you can expect snow and cold winters but it's not something I get used to. We've already had a blizzard with white out conditions and below zero windchill, and my face and hands feeling the cold weather. I've got my dry winter hands and cuticles back for the season.
I made this awesome DIY Lavender Cuticle Cream, a must have for this time of year to control my dry cuticles. I usually buy products like this but had a ton of materials left over from my DIY Lip Gloss, which surprisingly uses most of the same ingredients just in different amounts. You will need: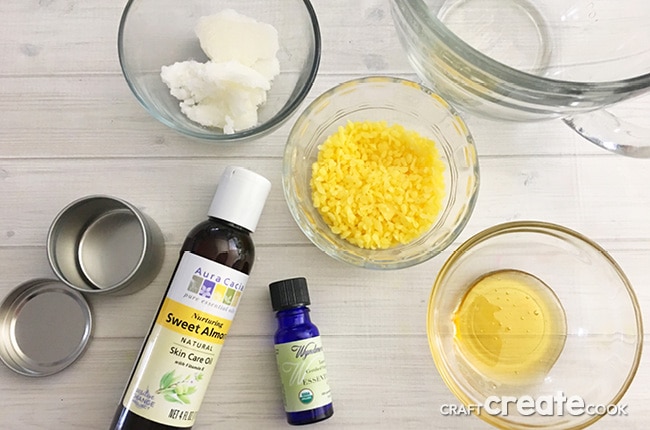 Honey
Glass measuring cup
Measuring spoons

How to Make Essential Oil Cuticle Cream
Make sure you are working in a clean area and sanitize your small metal containers by boiling the tops and bottoms for about 60 seconds in a pot of water and carefully remove them with a pair of tongs. Set aside to cool.
In a glass measuring cup, combine 2 tablespoons of beeswax, 1 teaspoon of sweet almond oil, and 1 tablespoon of coconut oil. Microwave for 1-2 minutes, stirring every 30 seconds until melted.
Stir in 1/4 teaspoon of honey and 3-4 drops of your lavender essential oil. If lavender isn't your favorite scent, try orange, cinnamon, peppermint or a blend of your own.
Carefully pour your hot mixture in your 8oz beauty container and let set for about an hour at room temperature.
To use your cuticle cream: Apply a small amount to your fingertips and rub into your cuticles for about 5 seconds.
*Essential oils should always be used with caution and discretion. Always test your essential oils on your skin by applying a drop to the soles of your feet or on the inside of your arm above the elbow to make sure you do not have an allergic reaction before using in your cuticle cream.
You'll want to try making some of our other DIY beauty products: