DIY Halloween bath bombs are inexpensive and fun to make and use!
Halloween is one of my favorite holidays. I love the crisp, cool air. I love costumes and I love trick or treating. It's hands down one of my favorite times of year and I'm excited that it is only a month and a half away! As soon as September rolls around and my kids are back in school, they start asking about Halloween costumes. Last year I made my middle kiddo this Easy No Sew Pizza Costume and she wore it for her Halloween party at school. This year, the youngest is wearing it which is great because it will save me some money!.
Halloween aside, my kids love science experiments and I love that they love learning new things. My oldest daughter is constantly asking to do science 'experiences' as she calls them. Sometimes I set her up in the kitchen and peek my head in while she's mixing together baking soda and vinegar with food coloring. Other times I enjoy helping out. One thing she really wanted to make was homemade bath bombs. She, like other kids, loves to watch YouTube and found a few channels where kids made their own homemade bath bombs.
To be honest, I'd never made bath bombs before so I was excited to try them. I searched out a few recipes online and settled on a basic bath bomb recipe that called for Citric Acid. I remembered searching high and low for it locally a few years ago but couldn't find it anywhere. It's a product used in bath bomb recipes and in canning. I opted to order my Citric Acid from Amazon and save myself the headache of driving around town. Waiting 2 days for Amazon Prime products and saving money was totally worth it!
Most bath bombs also contain essential oils to make them smell yummy. I love Lavender so we agreed to use lavender oil in our bath bombs. I found some fun Halloween molds from last season that I kept tucked away in the basement and we got to work. I think I had as much fun as she did making these.
DIY Halloween Bath Bombs
Materials:
Black gel food coloring
Several drops of your favorite essential oils
1 C. baking soda
1 C. citric acid
1/2 C. cornstarch
1/2 C. canola oil (don't use vegetable oil, we tried that because we had it on hand and our first batch was greasy).
Directions:
1. Combine baking soda, citric acid, cornstarch and canola oil.
2. Add 4-5 drops of essential oils and another 4-5 drops of food coloring and continue to mix until the color is mixed throughout the bath bomb mixture. The mixture won't be completely black as shown in the photos. Add more coloring if you prefer darker bath bombs.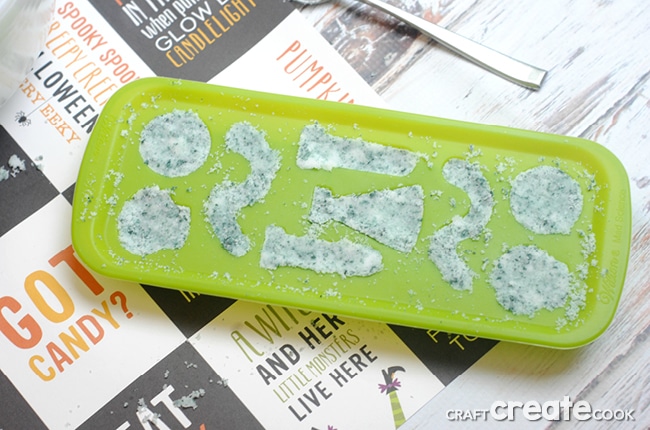 #3. Once all the ingredients are combined, pack the mixture into the silicone mold. Allow the bath bombs to firm up. I placed mine in the fridge to set for several hours prior to removing from the molds.
Once the Halloween bath bombs have set, store them in an airtight container in a cool, dry place. To use, simply drop 1-2 in a bathtub with warm water.
You will also want to make our:
Save