This Easy No Sew Kids Pizza Costume is perfect for Halloween and kids of all ages!
I don't know about you but I love Halloween! There is just something about it. It's fall, the weather is cool and crisp. There's just something in the air that I love. Here in Northern Michigan, the leaves have all changed colors and it's gorgeous. The leaves are quickly falling this week and the weather is starting to turn. By the time Halloween hits next week there will be hardly any leaves left on the trees and the it will be time to trick or treat with the kids. I can't wait!
Another reason I love Halloween is because I create fun and inexpensive DIY kids costume like this pizza costume. My daughter has a goofy personality. She is SO fun and I just love her. I took her school clothes shopping several weeks ago and Marshall's happened to have their Halloween costumes out. She picked out a fun cellphone costume. It was super cute so I gave in and bought it.
A few weeks went by and I got it into my head that I wanted to make a costume. I know, I know, I just bought one! Before she decided on the cellphone costume, she tried on a pizza slice costume and almost went with that. It was really cheesy. Literally. I got to thinking I could make a similar costume for less and a lot cuter.
How to make an easy, no sew pizza costume
I gathered my craft store coupons and headed out to Joann's. I bought a few yards of basic felt and got to work.
Materials
2 yards of light brown felt (I purchased the basic felt, nothing fancy)
1 yard of white felt
1/2 yard of red felt
scissors
measuring tape
#1. I don't sew. I'll just state that up front. As you can see I had my daughter lay down on the light brown felt and then cut a large triangle piece according to her size. If you don't have your child handy, I suggest measuring their height and using that measurement to cut the light brown felt into a triangle. Give a few extra inches for the pizza crust (see below).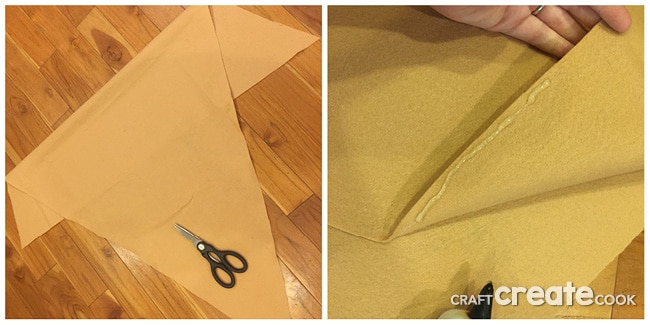 #3. Once the felt is cut into a large triangle you will want to fold the top portion over and hot glue all but one side closed. Let the glue set and then stuff with batting to form the pizza crust.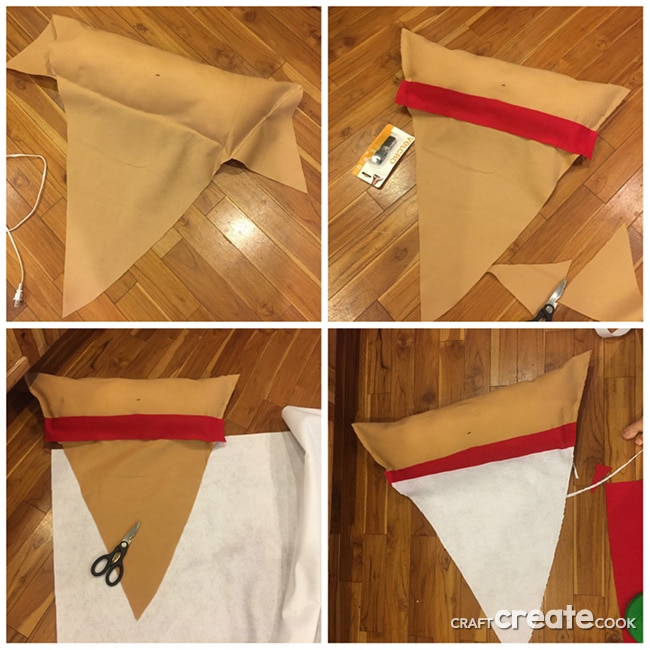 #4. Next, cut a strip of red felt for the pizza sauce to peek out at the top. Hot glue the red strip to the pizza crust.
#5. Place the white felt behind the pizza slice (see photo) and cut a white triangle to fit on top. Hot glue down along the edges. This will be the cheese.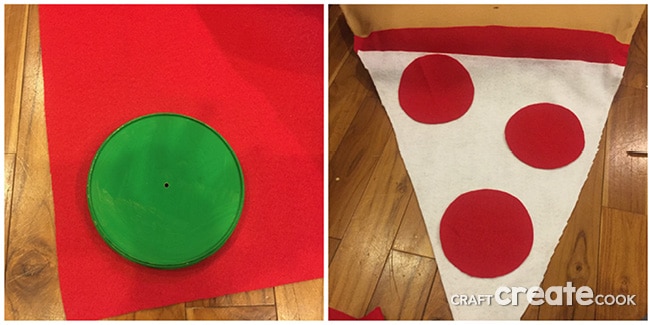 #6. Use a large coffee can lid to trace large pepperoni slices. Hot glue to the piece of pizza.
#7. Finally, cut another large triangle of brown felt for the back of the pizza slice. I used the front slice to measure. Hot glue the top of the crust to the back piece to the pizza leaving an opening for your child's head. It's best to have your child present during this step!
You will also want to make Easy No Bake Halloween Monster Treats and our Cinnamon Roll Spiders!