Our Craft Stick Christmas Ornament is easy to make and looks great on the Christmas tree or on top of gifts.
Every year around the day after Thanksgiving my family takes a trip to our local tree farm and picks out the perfect Christmas tree. We usually let our son pick out whichever one he thinks is perfect and he does a great job. It's super nice because they trim your tree and wrap it up and place it up on your vehicle. It's just a very fun and festive activity we like to do every year.
We don't really have a tree decorating theme, but I always like a colorful tree with bright lights, red and green ornaments and a box of handmade or yearly ornaments we gift our son with. I like our tree to be full of whatever we add to it, so the more ornaments the better.
When we get out the boxes full of ornaments I love to look through and see all the handmade ones that we have collected throughout the years, those are my favorite. And our Craft Stick Christmas Ornament is a perfect one to add to the mix.
How to make our Craft Stick Christmas Ornament: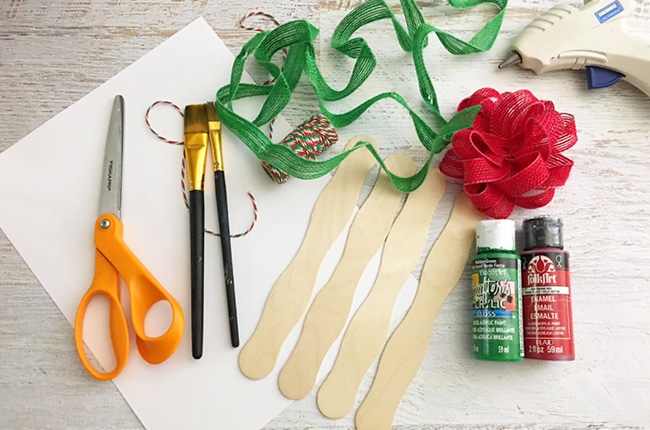 Materials:
1/2″ red or green burlap ribbon
5/8″ Christmas ribbon
Christmas twine
hot glue/hot glue gun
scissors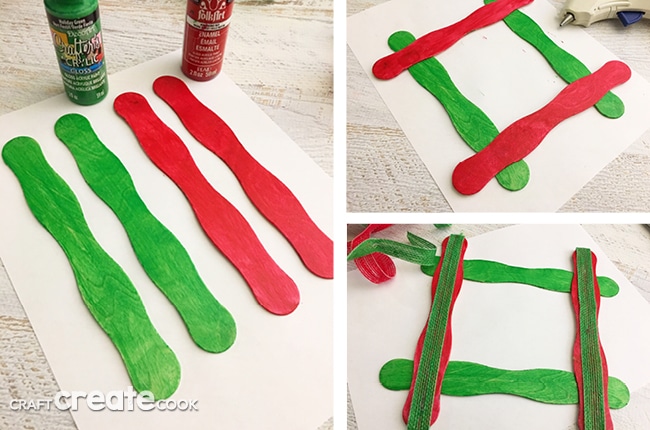 Lay out a piece of scrap paper and paint 2 craft sticks green and 2 red and let dry.
Glue the corners of your craft sticks together into the shape of a square, rotating colors.
Carefully glue your 1/2″ ribbon onto two craft sticks on opposite sides and fold over any excess to the back side and secure with glue.
Cut a 4″ piece of 5/8″ ribbon and tie the center into a knot. Fold a piece of 8″ piece of 5/8″ ribbon into a bow and tie the 4″ piece around the center and tie in the back. Glue the bow onto the bottom center of the ornament.
Cut an 8″ piece of Christmas twine and tie each end into a knot and glue each knot to the top backside of the vertical craft sticks.
Cut a piece of white paper out a little bigger than the opening, glue to the back side of the Craft Stick Christmas Ornament and you can write whatever you'd like onto the front.
My favorite kind of handmade ornaments are probably the ones that have pictures on them so I can look back each year and see what my child made when he was in what grade. So that's what I had in mind while making these Craft Stick Christmas Ornaments. You can either write something in the center or you can place a family photo.
You might also like our: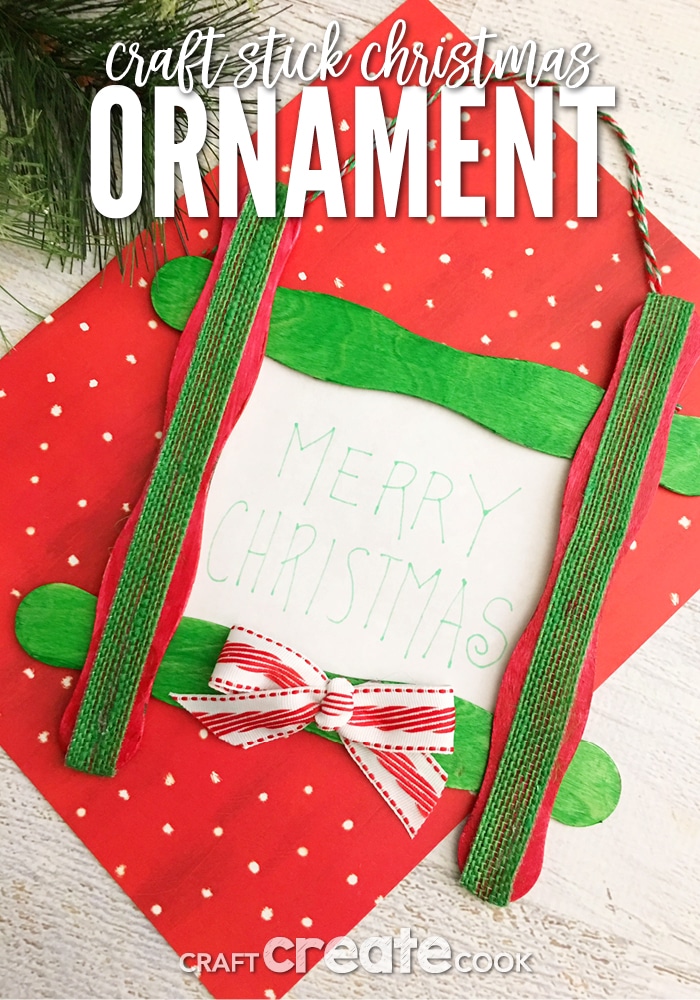 Save