This citrus honey homemade lip balm will keep your lips fresh and full of moisture.
I jumped on the essential oil bandwagon a while ago and I don't have a ton of oils, but I do love making my own DIY beauty products. I'm quite the minimalist when it comes to makeup and skincare so using a few key ingredients to make this easy homemade lip balm is perfect for me.
Citrus Honey Homemade Lip Balm using essential oils really only takes minutes to make! You grab your ingredients and melt, mix and pour! Before you know it you'll love this lip balm and it will be gone!
If you don't have the specific blend "Citrus Fresh" essential oil, try lemon, orange or grapefruit or a combination of the three.
I grab some of my ingredients from Amazon:
Beeswax in pellet form is easiest to measure and use.
Cocoa Butter comes in a hard block. Simply shave off the desired amount with a sharp knife.
Shea Butter is a thick paste-like ingredient.
What are some of your favorite DIY beauty products to make? Tells us in the comments below or make some other homemade beauty products:
Citrus Honey Homemade Lip Balm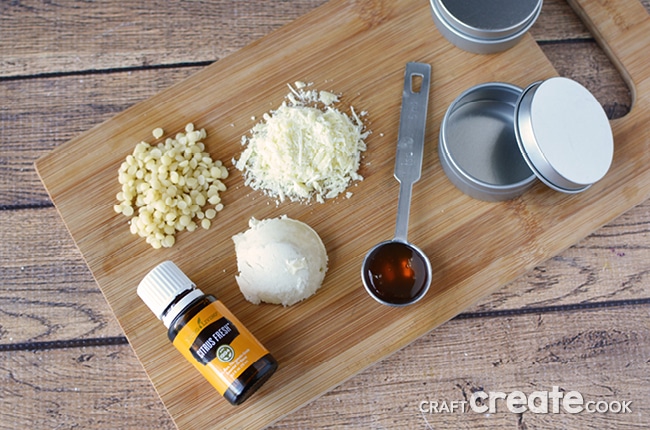 Ingredients
1-½ teaspoon beeswax
1 tablespoon cocoa butter
1 tablespoon shea butter
1 teaspoon honey
10 drops citrus fresh essential oil
Instructions
In a small microwave safe bowl, add beeswax, cocoa butter, and shea butter.
Microwave for about 2 minutes, stirring every 30 seconds. The beeswax will be the last thing to melt. Just keep stirring, it will melt!
When melted, stir in honey and oils.
Quickly pour into a small container and let set until hardened.
To use:
Apply liberally to lips as needed. Store in closed container at room temperature.

Save
Save