A homemade brown sugar scrub will remove dead skin and give you that healthy glow.
If you've followed some of my other DIY beauty product posts, you will remember that I stumbled upon this book at the library and saved some of my favorite recipe ideas. Today I'm sharing the brown sugar scrub recipe.
If you've never used a scrub on your skin, it could be because you just didn't know what to use it for! In general a sugar scrub can get rid of dead skin, but it also works very well if you use any self tanner. The key to creating a nice and even self tan is to wear gloves and to exfoliate with a scrub before application.
Another great use for a sugar scrub is to remove peeling skin from a sunburn. You need to be careful and make sure your sunburn is no longer tender and the skin is beginning to peel. Gently apply a sugar scrub on your skin to help loosen the damaged skin and reveal the new skin cells.
Sugar scrubs are great for problem areas, such as elbows, heels and feet. In the summer, my feet take a beating because they are exposed to the elements while I wear flip flops and sandals. Using a sugar scrub keeps them clean and free of dead skin.
There are lots of sugar scrub recipes to try, and this one is my favorite because it smells amazing. It makes my shower smell like a warm sugar cookie! It truly smells divine! With the amount of oil in this sugar scrub, you'll see a difference in your skin almost instantly. The water will bead up and create a moisture barrier, so your skin will have a healthy and moisturized glow!
Need some more easy, homemade beauty items? Check out some of our other easy posts:
Homemade Brown Sugar Scrub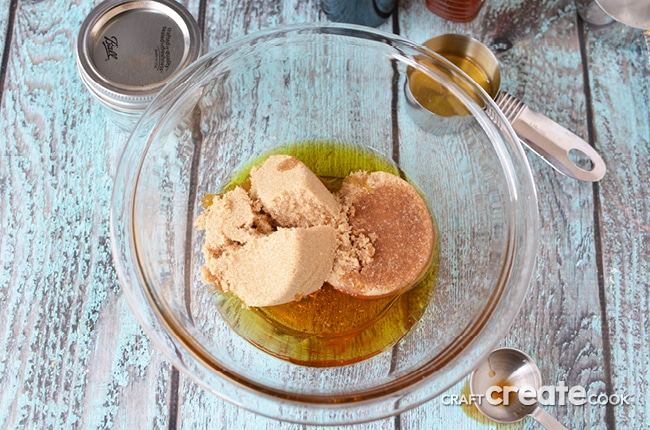 A homemade brown sugar scrub will remove dead skin and give you that healthy glow.

Prep Time 5 minutes

Total Time 5 minutes
Ingredients
2 cups packed brown sugar
1/2 cup extra virgin olive oil
1/2 cup honey
1 tablespoon vanilla
glass jar with a lid for storing
Instructions
To Make
Mix all ingredients together and place into a glass jar with a lid. Place in your shower/bathroom.
To Use
Wet skin before scrubbing onto body. Gently work it into the skin and rinse off.