I love turning little scrap bits of craft supplies into something fantastic. This little DIY fairy garden clothesline is the perfect choice. A few bits of scrap felt, some twine, and sticks or dowels, and you have the ideal little accessory for your fairy garden!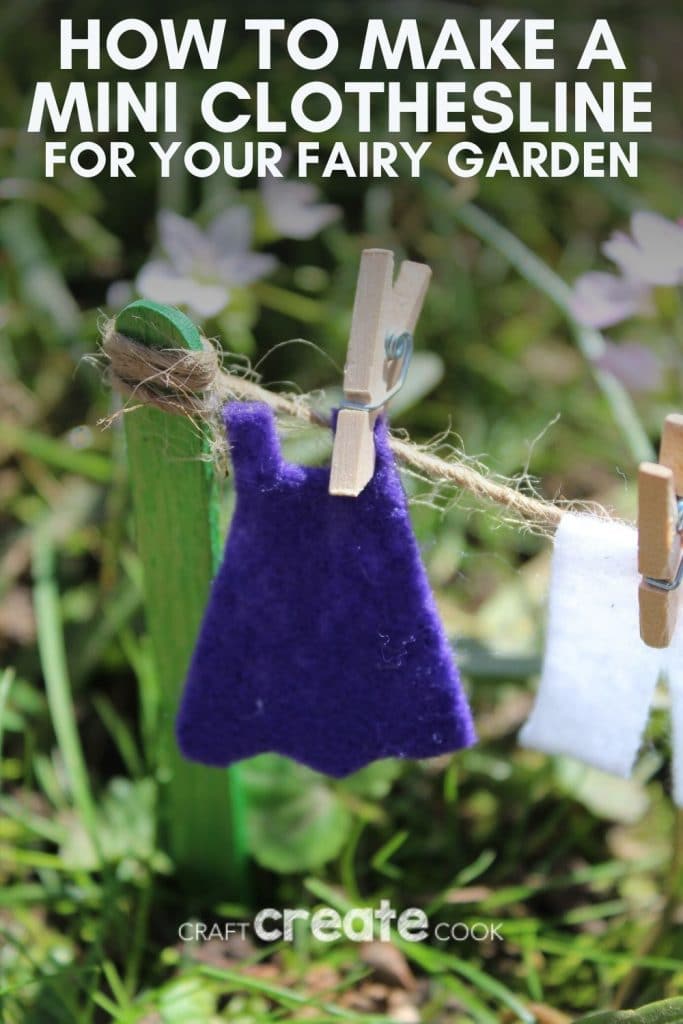 DIY Fairy Garden Clothesline
Have you noticed how expensive fairy garden accessories are becoming? Before you know it, you can easily spend a hundred dollars building a fairy garden with store bought supplies.
But don't fret just yet! The good news is, you can easily make your own fairy garden accessories using some simple and inexpensive craft supplies.
I love building fairy gardens, so why wouldn't I enjoy adding homemade little accents like these? This project is super easy and a great choice to make with the kids.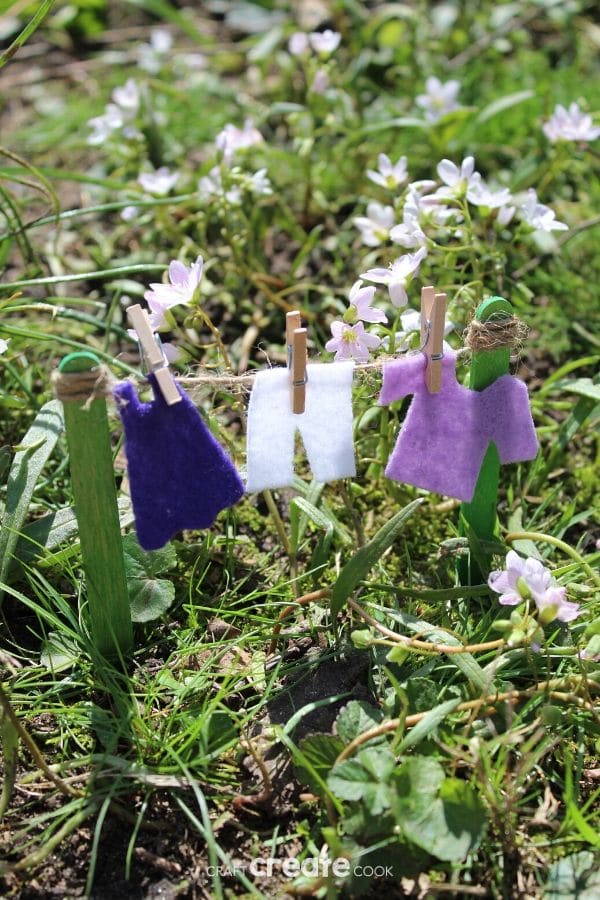 Is This Safe to Stay Outside?
If you are worried about the clothing holding up in an outdoor fairy garden, you should know that felt does fairly well. It won't destroy the felt being outside, but there is potential for it to get moldy if it gets wet. So, if you plan to put this outside in inclement weather a lot, you may need to replace it down the road.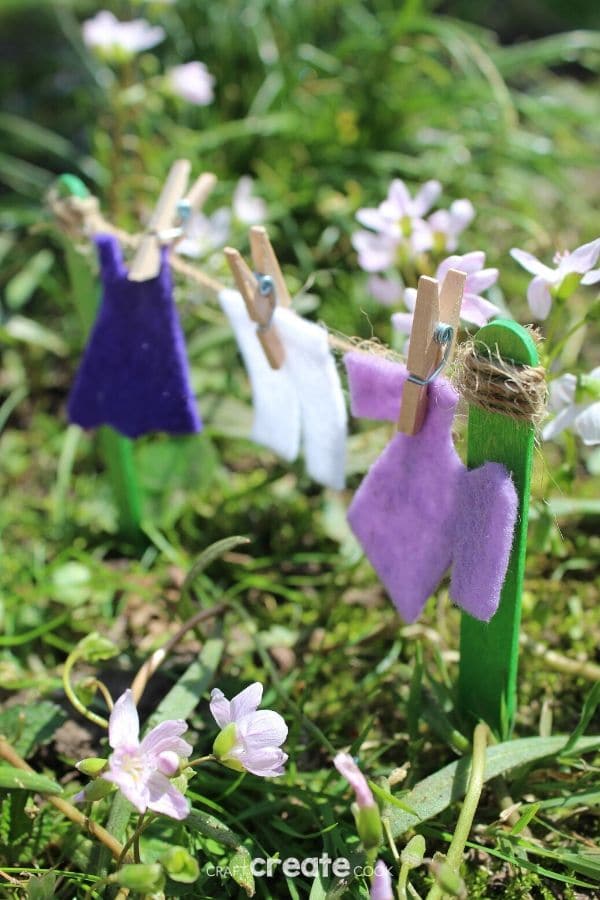 What Other Material Can I Use for the Fairy Clothing?
I used felt, but that doesn't mean you have to use the same thing. Depending upon where you want this to hang, you can use any number of materials. Below are some great ideas you could consider.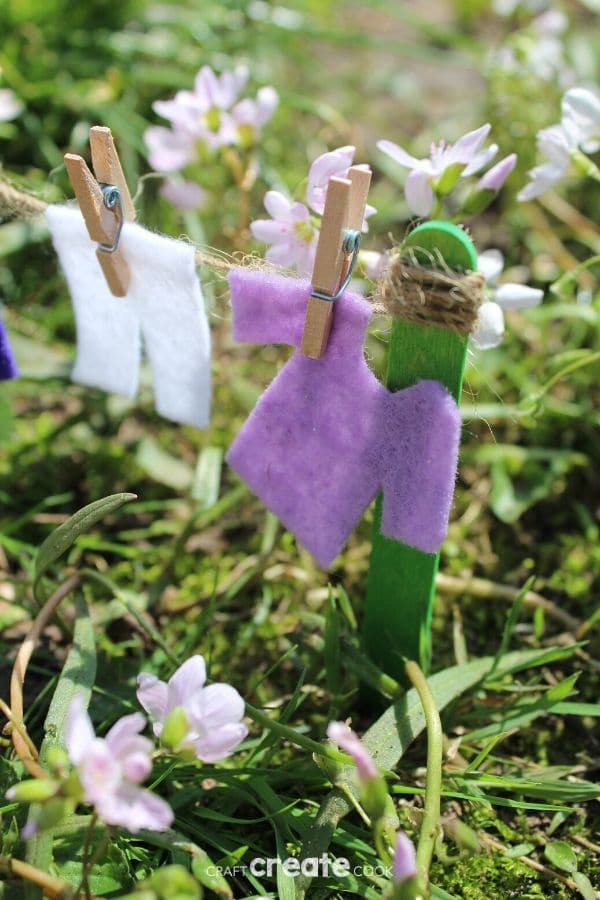 Do I Have to Hang Clothes on the Line?
No you don't! If you want this to be easy to keep outside despite weather, just leave the little clothing items off the line. It's not necessary to add clothing, but makes it a bit more fun in your garden!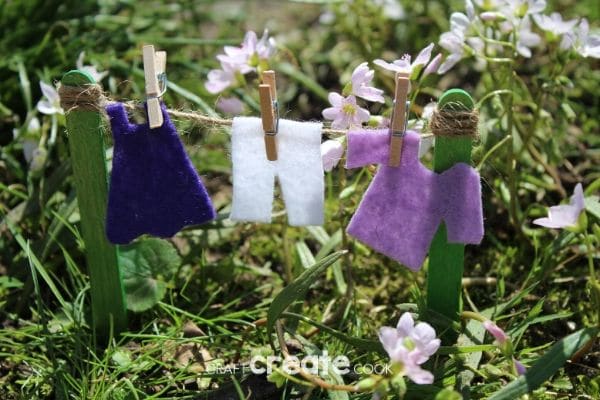 Supplies Needed
A word about supplies: The color of craft sticks and color of felt/fabric you use is up to you. You can use any colors that compliment your garden. We were able to find most of these items at our local dollar store, making this a fairy garden craft that is just as cheap as it is cute!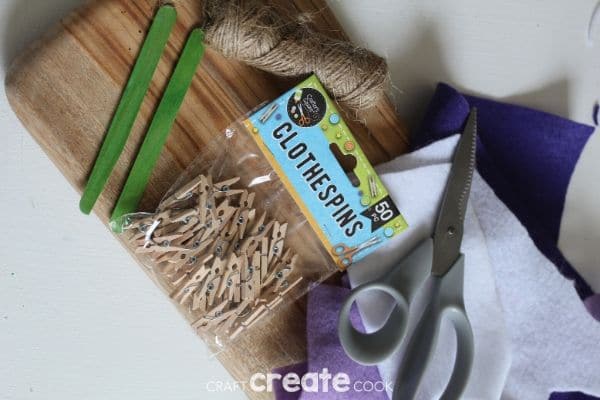 How to Make a Fairy Garden Clothesline
Fairies need a place to dry their clothes, right? This fun little clothesline allows them a sweet little spot perfect for hanging their clothes to dry in the sun.
Add a drop of glue to the first stick, then wrap twine around it 4-5 times.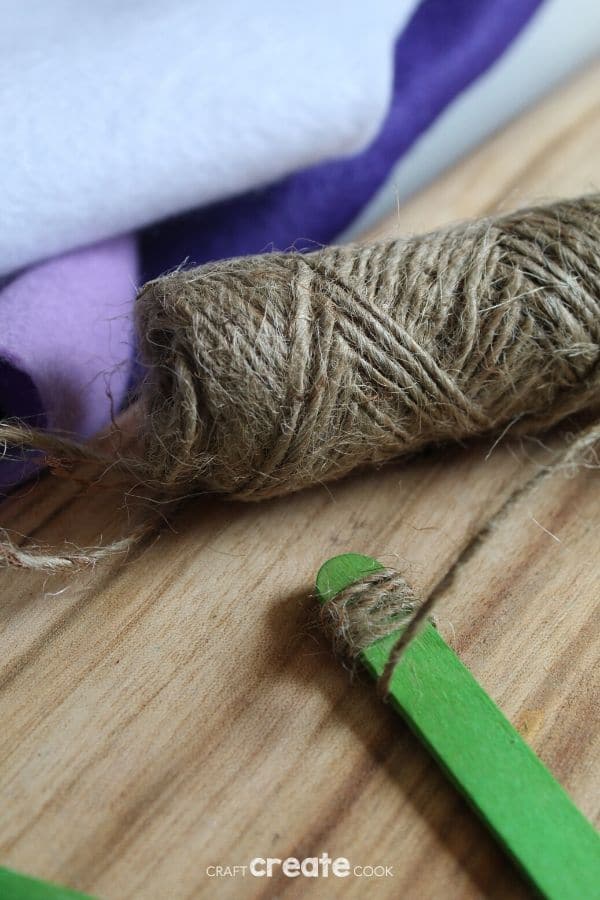 Hold the craft sticks 3-4 inches apart. This will allow the clothesline to hold about 3 clothing items.
Glue the other end of the twine to the second stick and wrap a few times to give it the same look.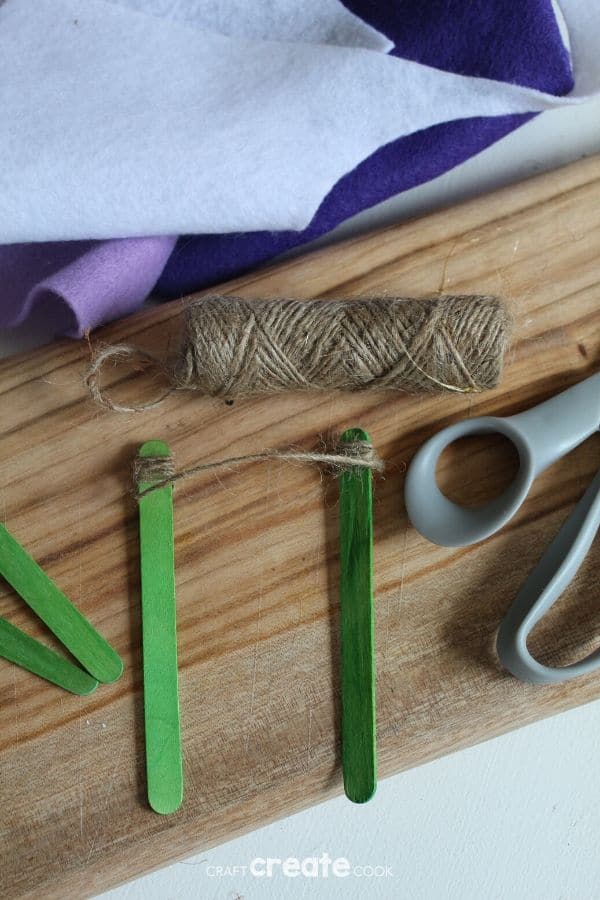 Trace or freehand draw a few pieces of clothing onto your felt. Shirts, pants, or dresses are easy to make.
Cut out the fairy clothes.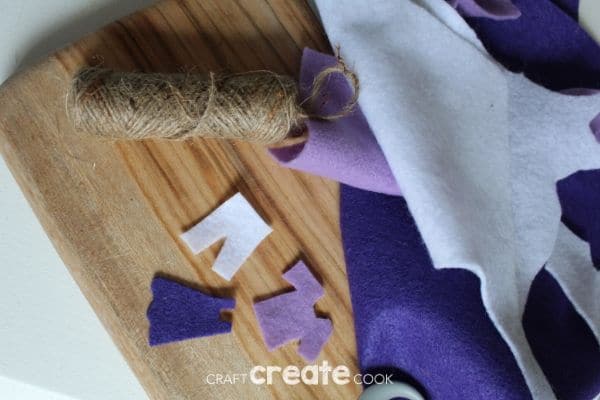 Clip the newly made clothing onto the clothesline one after the other. You may also want to secure the clothespins with a dab of glue to the twine.
I was able to fit 3 items, but you can do more or less depending upon the size of your clothesline.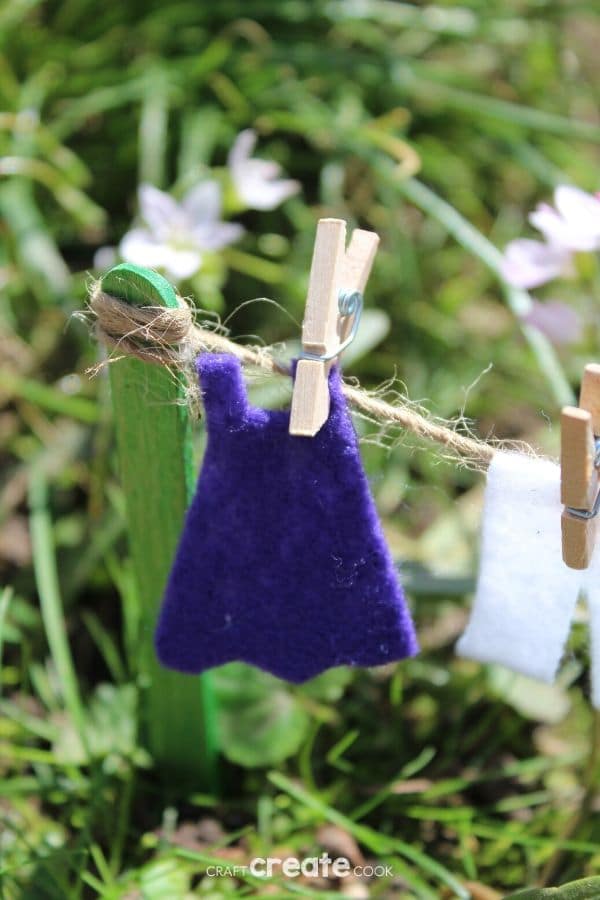 How to Setup Your Clothesline
Your fairy garden clothesline is now ready to be displayed. To set it up in your fairy garden, simply press the ends of the poles into the soil. Make sure they are arranged so the twine/yarn is pulled tight. This way, the clothing will display nicely on it and not sag down and hit the ground.
Now, your fairies can air their laundry! This is a fun and easy fairy garden craft that kids and even adults will enjoy. Plus, it is a frugal way to add some fun to your fairy garden. You can add one, or even two if you wish. Since these are so inexpensive to make, you can create one for your friend's fairy gardens too!

So grab some felt, start snipping out some tiny clothes, and give this easy DIY fairy garden clothesline a try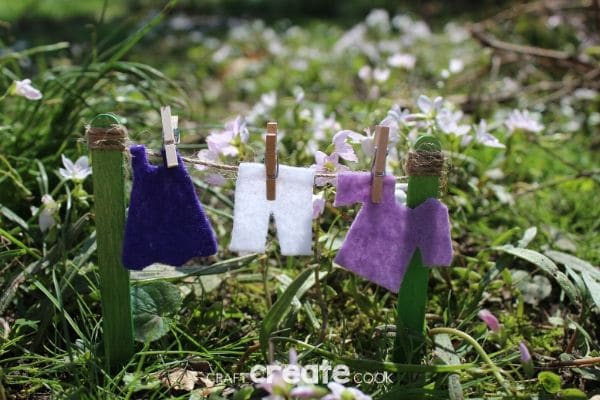 More Fairy Garden Craft Ideas
Yield: 1
Adorable Fairy Garden Clothesline Kids Craft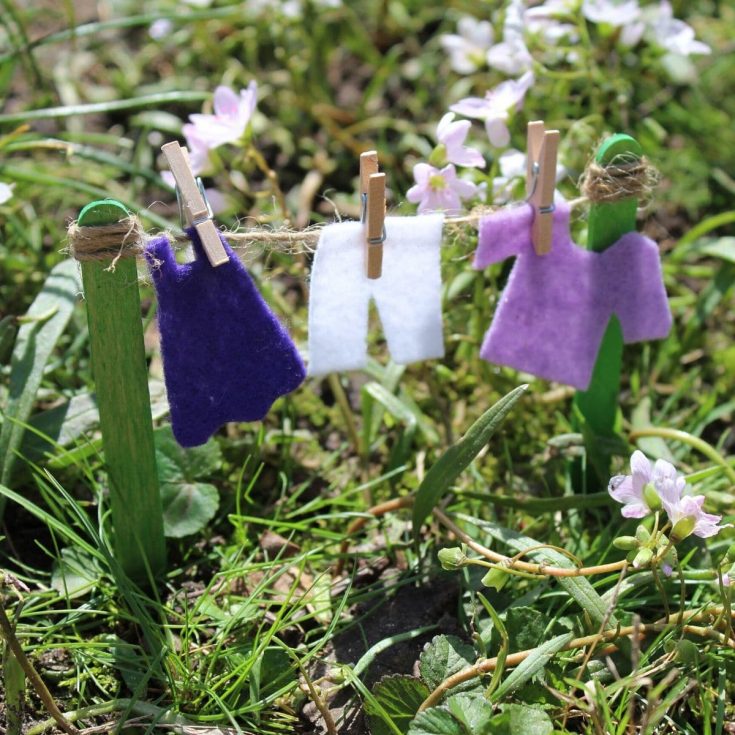 Grab the kids and turn ordinary felt and craft sticks into this adorable fairy garden clothesline! A perfect addition to any fun fairy garden or gnome home!
Materials
Instructions
Add a drop of glue to the top of one craft stick;
Place the end of the twine onto the glue and wrap 4-5 times around the stick;
Pull about 4' of twine, and on the other end of that length of twine, add another craft stick by adding a drop of glue and wrapping the end of the twine around and securing with additional craft glue;
Freehand or trace a few items of clothing out of felt, a dress, shirt, and pants are easy to make;
Cut out the fairy clothes;
Using mini clothespins, attach the fairy clothes to the twine between the two craft sticks;
Place the craft sticks into the soil of your fairy garden pulling taught so they line stays up and doesn't sag.
Notes
Make multiple clotheslines to go around your fairy garden so there is one at every house.
Make the clotheslines up to 6" long for more clothing.
Use any material you prefer to make fairy clothing for your line.
Recommended Products
As an Amazon Associate and member of other affiliate programs, I earn from qualifying purchases.