Turkey chili is great for using up leftover turkey!
I have a love/hate relationship with leftovers. I love the idea of them but then when I look in the fridge I think to myself 'Ugh, I don't wanna eat that. Again.' My husband isn't a huge leftover fan either so he isn't much help. The kids only eat leftover noodles and pizza so asking them for suggestions is useless, too. So, over the last few months I've made it my mission to use up leftovers in the most creative ways possible, creating a NEW meal that you wouldn't believe came from leftover food sitting in the fridge.
This turkey chili is awesome for using up leftover turkey meat (great for chicken, too!). During the holiday season I always get sucked into the fantastic turkey deals at our local Meijer store. You spend $25 in groceries and get $15 off a turkey making them dirt cheap. I usually pick up 2-3 because hey, turkey isn't just for holidays! The kids like it (they think it's a giant chicken) and we do get a few meals out of one turkey.
Haven't made a turkey before? They are actually quite easy and Kari did a great job explaining How to Cook a Turkey in this post! So, grab that turkey meat and let's get started!
Turkey Chili Recipe
Turkey Chili Recipe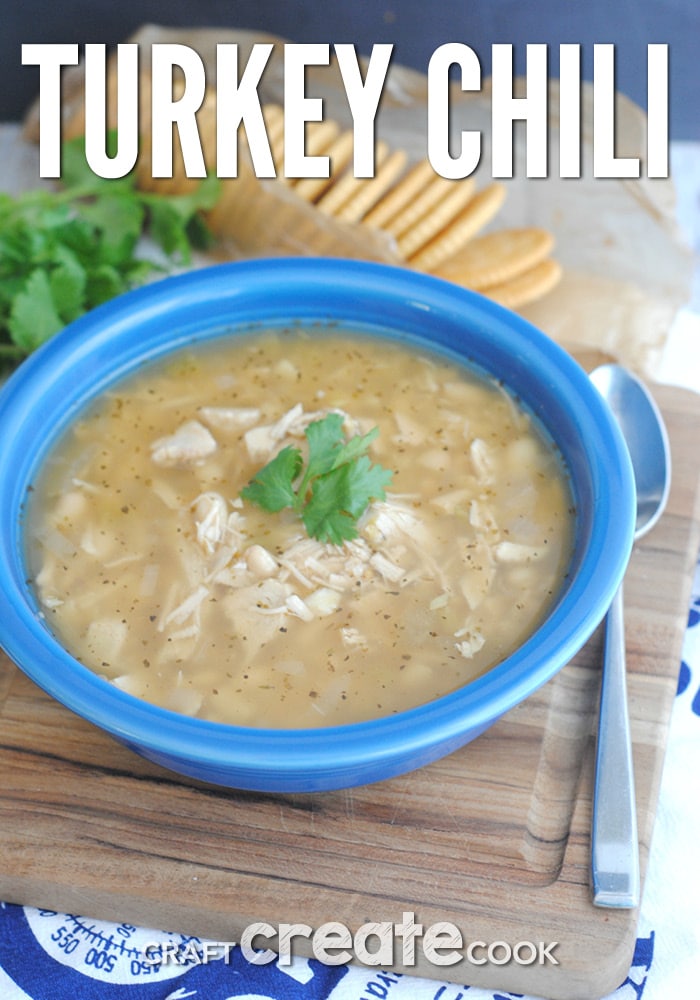 Turkey chili is great for using up leftover turkey!

Prep Time 5 minutes

Cook Time 30 minutes

Total Time 35 minutes
Ingredients
2 C. cooked shredded turkey
4 C. chicken broth
2 cloves garlic, minced
1 medium onion, diced
15 oz can Great Northern Beans
4 oz can green chilis
1 tsp. dried oregano
1 tsp. cumin
1/2 tsp. chili powder
1 tsp. salt
1 tsp. pepper
Instructions
Combine all the ingredients in the large dutch oven and simmer for 25-30 minutes on low/medium heat.
Serve with shredded Monteray Jack cheese and tortilla chips.


You will also want to try our other great leftover recipe ideas:
Save