Looking for an easy leftover meal? This meatless baked pasta is perfect for using up leftovers in the fridge!
My family loves pasta, especially my kids. We eat it at least once a week and try to make at least one meal meatless. My kids favorite way to eat pasta is simple: lots of pasta, some garlic salt and fresh parmesan cheese sprinkled on top. Yum! I even like it that way occasionally but my husband and I usually eat ours with some homemade marinara or white sauce.
When I make pasta once a week I often make the entire 16 oz box. We only eat about half so I end up storing the rest in the fridge making it perfect for leftovers and easy lunches. Pasta is so versatile that I can heat it up with some fresh vegetables and olive oil for a quick and healthy lunch or I can turn it into a new meal like this delicious meatless baked pasta casserole. I love that it uses everything I already have in the fridge (score!) and it's goes perfect with a large salad and some crusty warm garlic bread.
The next time you make a large post of pasta, make sure you save those leftovers for this yummy meatless baked pasta!
Meatless Baked Pasta Recipe
Meatless Baked Pasta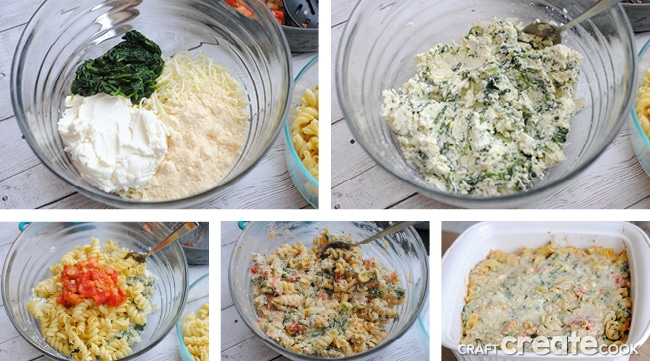 Looking for an easy leftover meal? This meatless baked pasta is perfect for using up leftovers in the fridge!

Prep Time 10 minutes

Cook Time 30 minutes

Total Time 40 minutes
Ingredients
2 C. cooked pasta (I used leftover rotini noodles)
2 C. spinach, steamed
1 tbsp. minced garlic
1 C. ricotta cheese
1/2 C. grated Parmesan plus more to sprinkle on top of casserole
1 C. mozzarella cheese, shredded
1 small onion, diced
2 medium tomatoes, diced
2 tbsp. olive oil
salt & pepper to taste
Instructions
Preheat the oven to 350 degrees and spray a 9x9 or 8x8 baking dish with non-stick cooking spray.
Heat the olive on medium heat, add in the minced garlic, diced onion and tomatoes. Saute for 5-10 minutes and removed from heat.
Combine the cooked pasta, spinach, Parmesan cheese, mozzarella and ricotta. Add salt & pepper to taste.
Pour the mixture into the baking dish.
Bake for 25-30 minutes. Top with additional cheese if desired.


You will also want to try our:
Save