This easy turkey pot pie recipe is great for using leftover turkey!
I can only eat so many cold turkey sandwiches after a Thanksgiving feast. My family usually eats around 1pm so I often enjoy a turkey sandwich later in the evening as we munch on snacks and play a heated game of Dominoes. After that I'm usually done with sandwiches. So, once you've mastered how to cook a turkey, you'll probably end up with some left overs, too! If that's the case, make these delicious turkey pot pies!
I use these 7 ounce ramekins and large refrigerated tube biscuits to create a delicious and semi-homemade dish that my family absolutely loves! This recipe makes 4 servings and my husband ate two of them himself! He said it was quite delicious. I enjoyed one the next day and it was just as good as the first! You could easily double the turkey recipe and make 8 servings. You will have just enough biscuits, too.
If you make these for a guest, you'll certainly "wow" them with the cuteness factor! And once they sink their teeth into this flavorful turkey pot pie, they will certainly be asking you for the recipe.
You'll also want to try our
Yield: 4
Turkey Pot Pie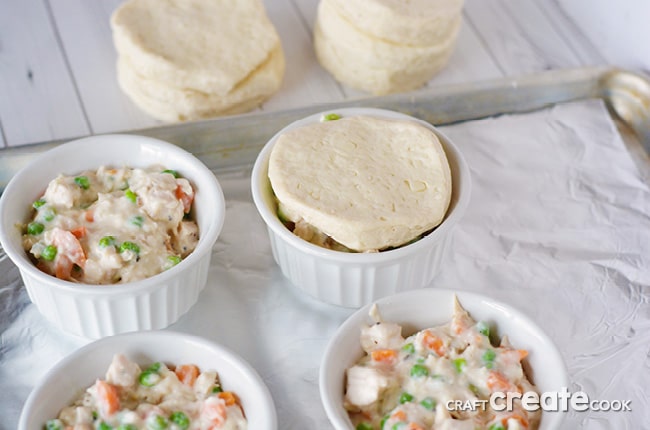 This easy turkey pot pie recipe is great for using leftover turkey!

Prep Time 15 minutes

Cook Time 15 minutes

Total Time 30 minutes
Ingredients
1 cup cooked turkey, cubed
1/4 cup creamy Italian salad dressing (or use regular Italian)
4 ounces cream cheese, cubed
2 tablespoons corn starch
1/2 cup chicken broth
1 cup frozen peas and carrots
1 package, large refrigerated biscuits (8 count)
Instructions
Preheat oven to 350. Line a baking sheet with foil and place 4 ramekin bowls on the foil. Set aside.
In a saucepan, add turkey, salad dressing and cream cheese. Heat on medium heat stirring until cheese is melted.
Add frozen vegetables and mix well.
Add cornstarch to chicken broth and mix well. Stir into mixture and continue to heat and stir until bubbly and thick.
Spoon mixture into prepared ramekin bowls.
Flatten each biscuit slightly with your fingers. Place one biscuit on top of each bowl.
Place the remaining biscuits on baking sheet to bake.
Bake 12-15 minutes or until biscuits are golden brown.