We show you how to cook fool-proof juicy and tasty turkey for your Thanksgiving dinner!
Maybe it's a no brainer, but on Thanksgiving we eat turkey in America, among a slew of other side dishes and desserts. We also gather together as a family and enjoy each others company and a friendly game of Dominoes. At least that's what we do at my house! If you don't normally host Thanksgiving, you might not know the easiest way to cook a turkey and I'll show you how!
There's this super secret thing called a roasting bag that will make your life 100% easier. It literally makes a no fuss, no attention needed delicious and juicy turkey. Every. Single. Time. I'm not kidding. I've never had a messed up turkey when cooking it this way. Make sure you grab your bags NOW, because as it gets closer to turkey day, the shelves are wiped clean of this amazing product. You can find them in the aluminum foil aisle at most grocery stores.
How to Cook a Turkey
You will need the following items:
thawed, uncooked turkey
1 tablespoon flour
2 disposable deep dish roasting pans
1 baking sheet
Recipe below to season your turkey
My other secret is a disposable pan. Actually not one pan, but two pans. I put my bird in two pans and then put the pan onto a baking sheet. Why all the fuss? Well, the baking sheet is much easier to carry than a disposable pan and the baking sheet will help catch the drippings if when you cut through the pans while carving your turkey.
I guarantee your turkey will be juicy and delicious every single time you cook it in a roasting bag. And if you are unsure of how to carve a turkey, trust the experts!
And if you have leftover turkey, make sure you make our Turkey Pot Pies!
Save

How to Cook a Turkey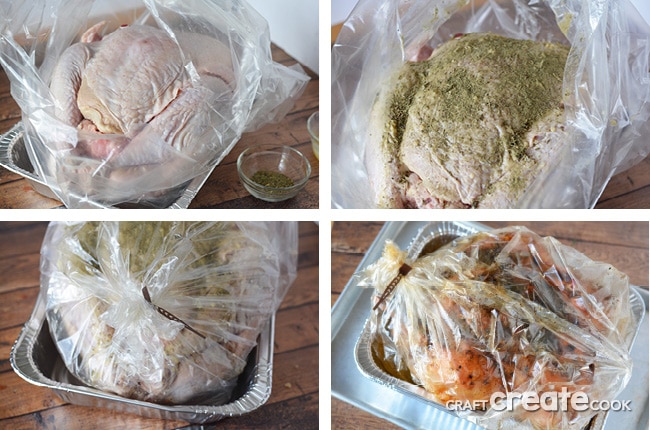 We show you how to make fool-proof juicy and tasty turkey for your Thanksgiving dinner!

Prep Time 10 minutes

Cook Time 2 hours

Total Time 2 hours 10 minutes
Ingredients
1 turkey, thawed (note the weight of your turkey for cooking time)
1 tablespoon flour
2 tablespoons melted butter
2 cloves minced garlic
1 teaspoon dried basil
½ teaspoon salt
½ teaspoon ground sage
½ teaspoon dried thyme
Instructions
Move your oven racks so that your turkey will fit into the oven.
Preheat oven to 350.
Rinse your turkey with cold water and remove the neck and giblets and discard if desired.
Open your bag and place flour inside. Hold the bag tightly and shake it to distribute the flour.
Place your oven bag into the 2 pans with the opening near the side. Open the bag and then place the turkey into the bag.
Spread melted butter onto your turkey and sprinkle with remaining ingredients: garlic, basil, salt, sage and thyme.
Seal the bag with the supplied twist tie and cut six slits in the top.
Cook the turkey according to the weight: 1.5-2 hours for 8-12 lb. 2-2.5 hours for 12-16 lb. 2.5-3 hours for 16-20 lb. 3.5-4 hours for 20-24 lb.
Remove from oven and let set for another 15 minutes. Remove the bag and carve. I choose to carve it in the pan, but you are welcome to remove it and place it onto a carving board if desired.


Save