These Mini Rice Krispie Treat Composition Books are as cute as they are yummy!
For as much as I don't want to admit it, back to school is upon us and I'm trying to savor every. last. bit. of. summer. That being said, school is already starting for a lot of children across the United States. In August!! Here in Michigan, it's a law that school's don't go back into session until after Labor Day because Michigan summers are when a lot of locally owned businesses rely on the summer income.
Even though I'm not ready for the kids to go back yet, I love stocking up on back to school supplies and planning back to school lunches. With back to school lunches come back to school treats. I love Rice Krispie Treats. I make them several times a year because they're simple and quick. When I'm in a pinch I buy a box of the premade Rice Krispie Treats. They aren't homemade but do come in as a close second. They are fun to remake into different treats too!
With back to school upon us, I started thinking about what type of fun treat I could make for the kids. Composition books are a school essential and when I discovered Wilton's Cookies and Cream Brownie Crunch I knew I had to recreate them as Rice Krispie Treats!

You only need a few ingredients:
White Chocolate Mini Kit Kats
Once your have all your ingredients assembled, the composition books don't take much time at time!


Yield: 8
Mini Rice Krispie Composition Books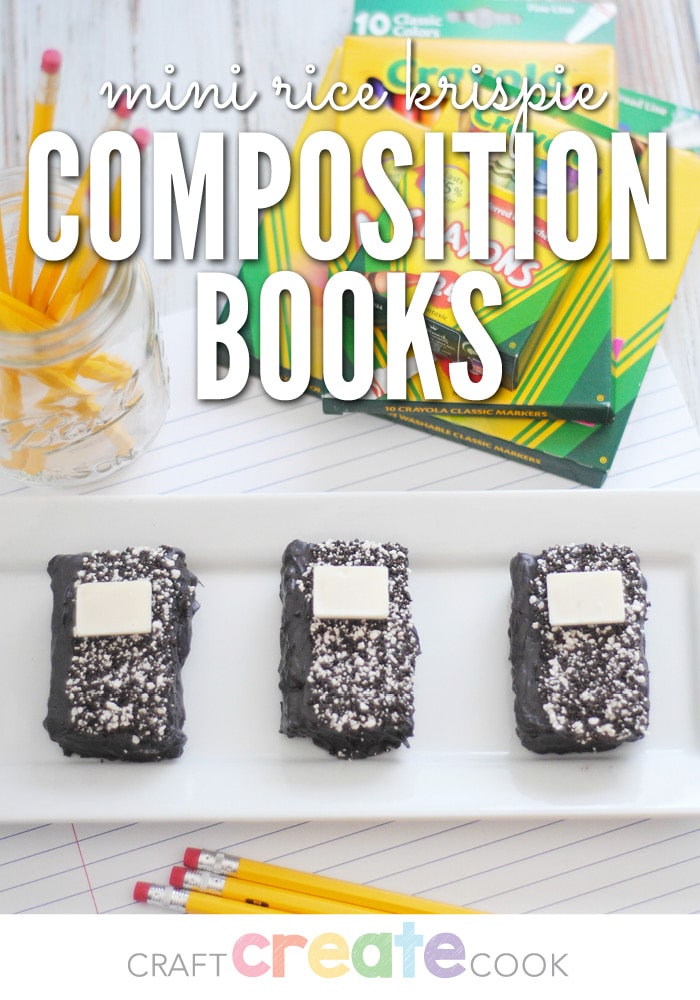 These Mini Rice Krispie Treat Composition Books are as cute as they are yummy!

Prep Time 5 minutes

Cook Time 20 minutes

Total Time 25 minutes
Ingredients
8 ct package Kellogg's Rice Krispie Treats
10 oz Wilton black candy melts
Wilton Cookies and Cream Brownie Crunch
White Chocolate Mini Kit Kats
Instructions
Open the Rice Krispie Treats and discard the wrappers. Set aside.
Line a baking sheet with wax paper.
Pour the black candy melts into a microwave safe dish. Heat in the microwave for 30 seconds and stir. Repeat until melted.
Dip the Rice Krispie Treats in the melted chocolate one at a time. Gently coat with chocolate and lift the treat out using a fork. Allow the excess chocolate to drip back into the bowl. Place the Rice Krispie Treat on the wax paper.
Gently pour the Wilton Cookies and Cream Brownie Crunch on ½ of the chocolate coated Rice Krispie Treat. Use your finger to gently spread the crunch over ¾ of the treat to resemble a composition book cover.
Use a small paring knife to slice the bottom off a mini white chocolate Kit Kat. Use a little bit of melted chocolate on the bottom as 'glue' and place in the middle of the composition book cover.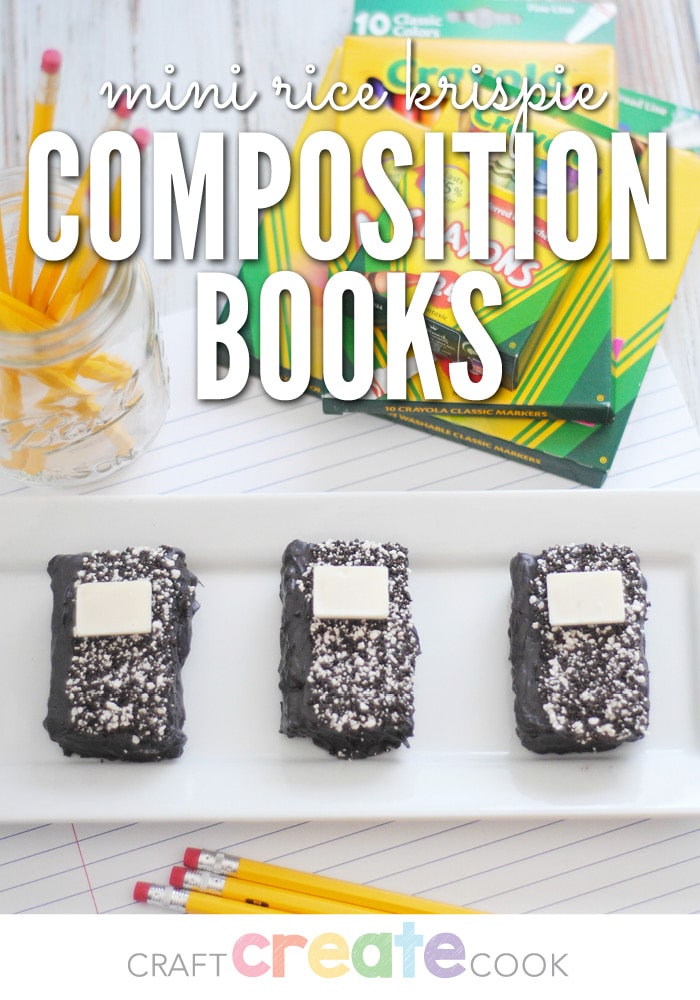 You will also want to make:
'Smart Cookie' Sugar Cookies - So cute and so easy to make. Perfect for back to back to school!
Portable Homework Caddy - With school starting, now is the time to put together a homework station, complete with pencils, erasers and snacks!
Classroom Cleaning Kit for Teachers - Teachers are some of the most dedicated and hard working people I know. Why not surprise your child's teacher with this awesome cleaning kit filled with cleaning goodies and stored in a unique re-useable box!