This Golden Oreo lasagna is a vanilla version of an all-time favorite layered no-bake dessert!
One of our most popular recipes on the blog is an Oreo dessert that is so full of chocolaty goodness that I am drooling just talking about it. There is just one problem at my house, however… my son won't eat chocolate.
Now I'm not sure if this is something he will grow out of or what. I can't imagine a live, grown human who doesn't like chocolate. I know they exist, but I just don't understand what is not to love about chocolate!
Needless to say, I am tired of fighting that battle and I just try to make everyone happy for the most part with the desserts I make these days.
I made a few swaps to our original recipe and came up with this Golden Oreo lasagna, which I am pleased to say was a favorite by all who tried it.
No Baking Necessary
I loved this dessert too, even beyond the taste, because it is so easy! During the summer, it is all about the no-bake desserts that keep your kitchen cool and are hassle-free. In fact, when I ran into some issues with pan size that you will read about later, it was no big deal to make a second dessert in no time.
Here's what you will need: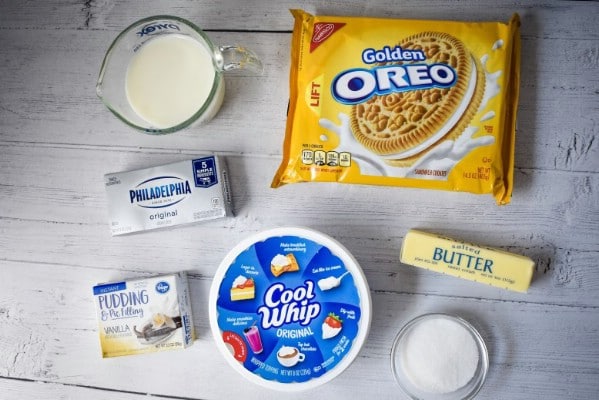 1 Pack of Golden Oreos (14.3 oz), divided
1 cup of milk
8 oz. cream cheese
3 oz package of vanilla pudding
8 oz. container whipped topping, divided
3 tablespoons melted butter
1/4 cup of sugar
9×13 or 9×9 glass pan (depending on the thickness of layers desired, more info on this below)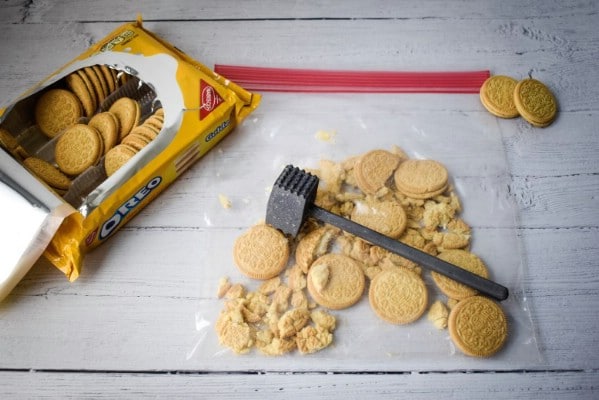 The Crust
You will probably use the whole box of Oreos in this recipe between the crust, the topping, the optional garnishes and the ones you will surely eat while making the recipe. Start with just 20 Oreos in a Ziplock bag and crush them. I used a meat mallet, but you can use anything from a rolling pin or a food processor if you are feeling fancy. The cookies can be crushed into small chunks and pieces, they do not need to be finely ground down.
Pour the crumbs into a medium bowl and add the melted butter. Stir and knead until well mixed.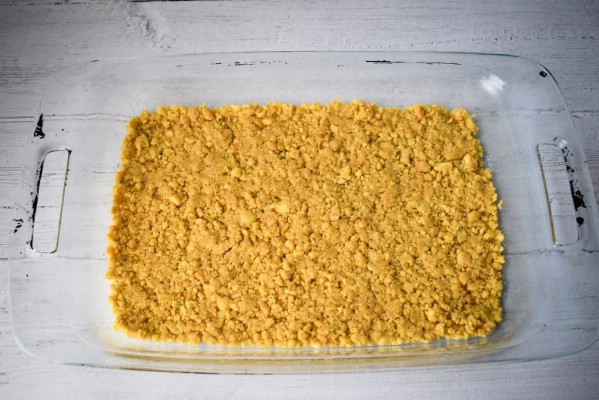 Press the mixture evenly into the glass pan. It might seem looser than a traditional crust and this is okay. After it chills, the crust becomes solid and easy to cut and serve.
In the first image above, I am using 9x9pan to make the crust and other layers thicker as you will see below. Here I am using a larger pan which creates thinner layers.
Next, soften the cream cheese and place in a bowl. Add the sugar and blend with a hand mixer until smooth. Gently fold in roughly half of the container of the whipped topping. I used a rubber cake scraper for this and for spreading on the layers.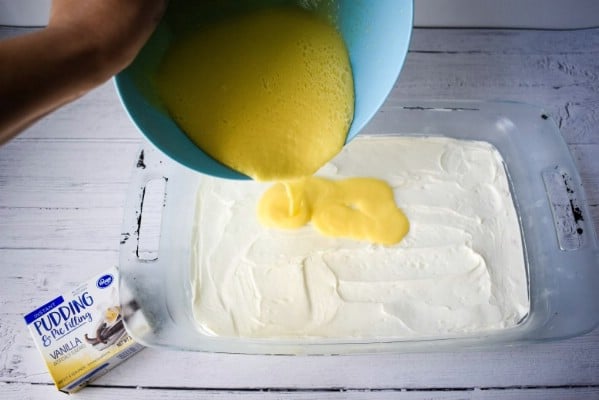 Now you are ready for the pudding layer. Combine the pudding mix and milk in a medium-sized bowl. Whisk until smooth and let sit for about 2 minutes. Carefully pour and spread it over the cream cheese layer in the pan.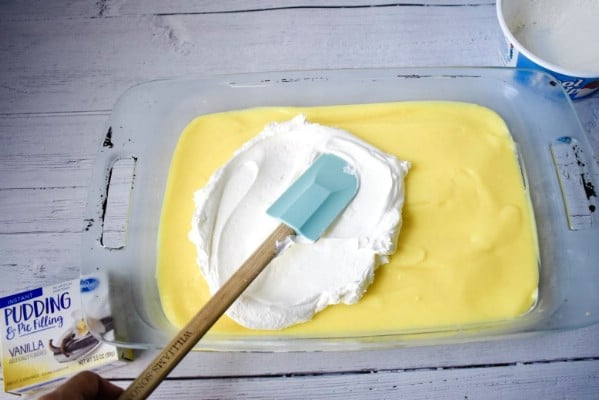 Spread the remaining whipped topping over the pudding without too much pulling or dragging. Mistakes, where the pudding shows through, can easily be covered with cookies in the next step.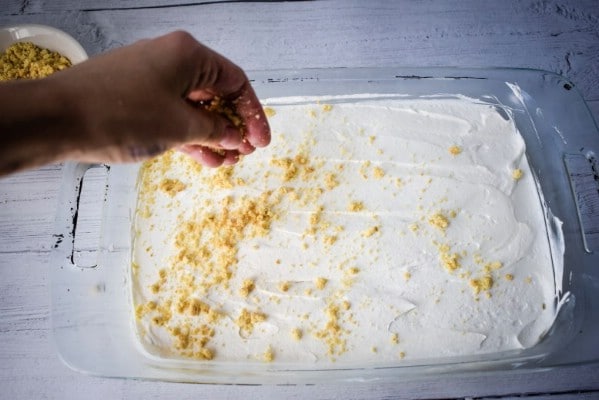 Set aside about 6 full Oreos for garnish, and crush the remaining ones in the gallon bag. Sprinkle evenly over the whipped topping and you are done. Put it in the refrigerator for 2 hours before serving. Your super-simple, crowd-pleasing Golden Oreo lasagna is done!!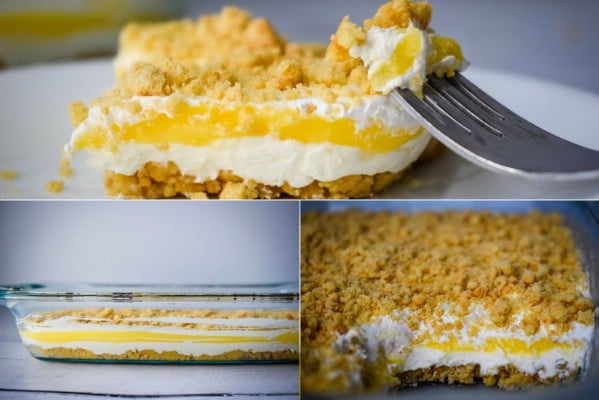 After I finished the first pan of this dessert, I was not happy with the thickness of the layers. I decided to make a second one in a smaller pan and was much happier with the result. I did not change any of the ingredients or quantities, only the pan measurements were different. Of course, the taste was the same, so it is just a matter of preference.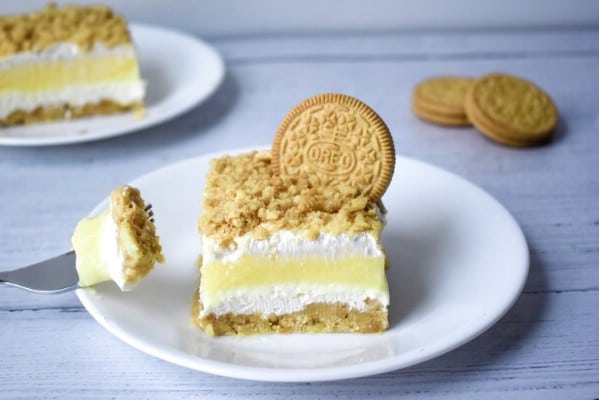 This Gold Oreo Lasagna got me thinking of a few other "non-chocolate" Oreo flavors that you could substitute:
Lemon Twist Oreos for a more tart flavor.
Pumpkin Spice Oreos for a fall treat.
Carrot Cake Oreos would be a perfect match with the cream cheese flavors.
Red Velvet Oreos (technically chocolate, but maybe it will trick the haters around here!).
Looking for some other summer dessert ideas? We've got some ideas…
The original chocolate Oreo version is always a hit!
Another no bake favorite is our no bake peanut butter Oreo pie.
Love Lemon? Check out these cream cheese lemon bars that are perfect for summer.