Make Your Own Trolls Easter Eggs and put some "Sunshine In Your Pocket!"
The other day I caught myself singing aloud in the store. And I was all alone. Now usually when I "sing a tune" in the store, I'm with my kids. Which makes me feel like singing aloud is not as odd, since there's a 3 year old sitting about 24 inches from my face in the cart and he will usually sing along with me. The lyrics I was so joyfully singing were from the Trolls Movie! "I got that sunshine in my pocket…"
Now as you know, I'm a bit obsessed with anything Trolls Related. Any food, craft or trolls item I see, I get excited. I think it stems from my love of bright colors, feel good music and just the fact that those tiny little creatures are so cute and happy. Now you can buy Trolls Easter eggs in the store, but it's more fun to make your own! That way you can play with them before the Easter bunny delivers treats to your house!
How to Make Your Own Trolls Easter Eggs
Materials:
Plastic Easter Eggs
Colorful Craft Foam Sheets (I grabbed these from the Dollar Tree!)
Google Eyes
Scissors
Permanent Black Marker
Ruler or Tape Measure
Directions:
To make Hair: Generally all of the hair is the same size, so cut a 2″ x 3″ square of craft foam. Along the short edge cut the foam on a curve. Cut on the long edge to create an hourglass shape. Opposite of the curve, cut the hair by making angled cuts and creating spikes. For the orange hair you'll round the edges, for the blue hair, you'll make a wider "hourglass shape." Attach the hair to the egg with hot glue.
To make Ears: Stack two small pieces of craft foam together and cut 2 identical bean shapes at the same time. Attach to the side of the egg with hot glue.
To make Noses: Cut an oval shape out of craft foam and make two small indents with your scissors to create the nose.
Attach the eyes and nose onto the egg with hot glue.
Cut out additional accessories and details for your trolls such as a headband, headphones and bows with craft foam. Attach with hot glue.
Draw eyelashes, eyebrows and a smile on your Trolls Easter Eggs with a black permanent marker.
Need a few more fun Trolls Crafts? Check out these: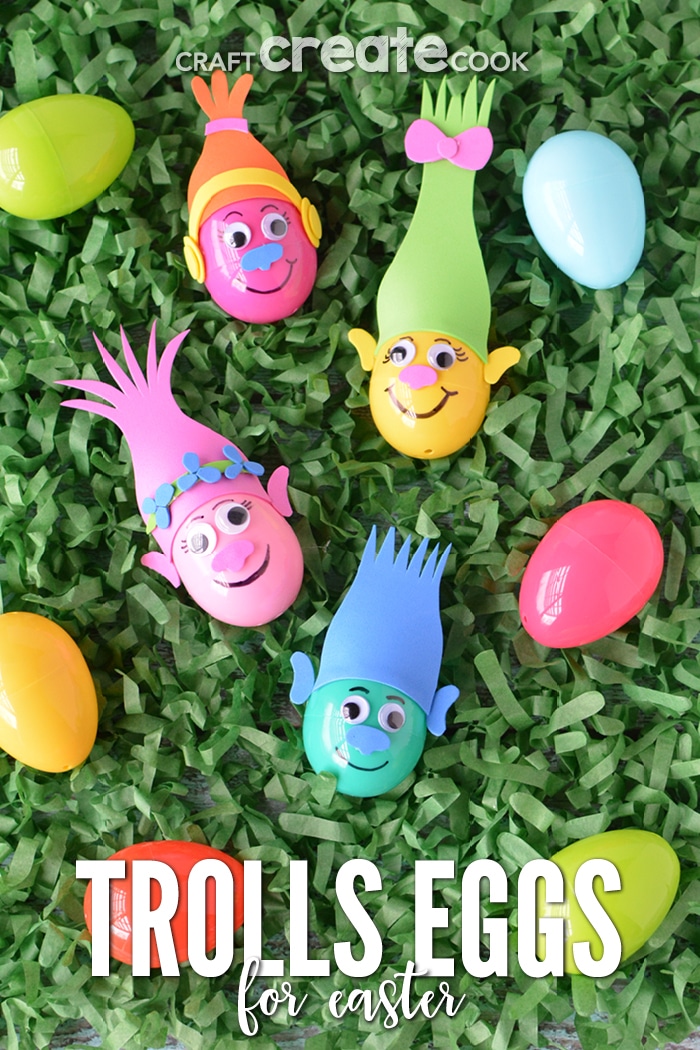 Save
Save
Save
Save